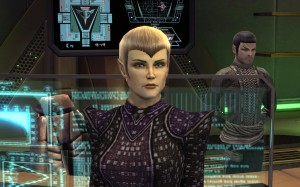 Only weeks after celebrating their third year anniversary, and a year since the game turned Free-to-Play, Star Trek Online has announced a brand new expansion: Legacy of Romulus.
Play as a Romulan or Reman, for the Romulan Republic. We're talking about a complete new faction here, with flyable Romulan Warbirds. More excitingly, we'll see the return of Empress Sela, voiced by the one and only Denise Crosby. How fantastic.
This is more than just an additional faction though, this will be STO's first full-on expansion. Complete with a new user interface design that is not only customisable, but actually looks a lot more reminiscent of the famous LCARS system from the TV shows. The character creation tools have been redesigned, and the Trait system re-worked, so that those abilities are no longer permanent.  Captains are going to have the chance to unlock new advanced traits, to further specialize their crew.
Players will now have the ability to play for the United Federation, Klingon Empire, or Romulan Republic from level 1. Something that wasn't allowed before, with the Klingon Empire previously unlocking at level 25.
The new expansion launches on 21st May. See you ingame…
[nggallery id=1390]