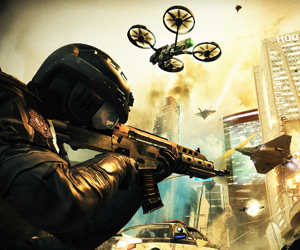 Maps, glorious maps. That's what Activision and Treyarch are bringing you Call of Duty: Black Ops II players on April 16. The Uprising DLC pack includes four new maps set in "exotic" locations, along with a new mini Zombie campaign in "Mob of the Dead".
The maps take players around the world. From Magma – set in a Japanese village where volcanoes tend to erupt, to Encore – which is set in England's capital, right after a music festival has wound down. Vertigo sees players take battle to India, whilst Studio is a remake of the fan favourite "Firing Range".
The more interesting part of this DLC however, has to be the zombie-centric part. Featuring the vocal talents of Ray Liotta, Chazz Palminteri, Joe Pantoliano, and Michael Madsen, Mob of the Dead is about four gangsters that are trying to break out of Alcatraz prison. Obviously, plans are foiled by the pesky undead and the jailbirds have to worry about being zombified, rather than coming up with a route off the island. One new feature here is Purgatory – once players are dealt with by the biters, they are sent into the afterlife. Whatever that means.
Coming to Xbox LIVE first on April 16, Uprising is included in the season pass for those that purchased it, and will cost 1200 Microsoft Points for that that didn't. No date on when it will be coming to other platforms, but I'm sure we'll hear about that in the near future.
Call of Duty: Black Ops II is available now for Windows PC, Xbox 360, PlayStation 3 and Nintendo Wii U