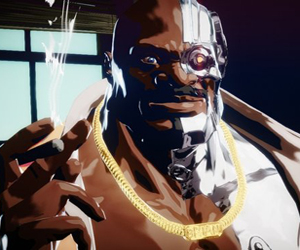 Any trailer that includes Flight of the Valkyries is all the better because of it. A new Killer Is Dead hype video released today and it's difficult to make sense of its wonderful and nonsensical imagery.
But, the main takeaway is that there is a character in Killer Is Dead called Bryan. Bryan!
Honestly, what else would you expect from Grasshopper Manufacture? Everything that the developer touches doesn't necessarily turn to gold, but when the hit a home run, it's mayhem is a joy to behold.
At this point in time it's difficult to entirely tell what the gameplay will entail, but it looks like a more advanced version of No More Heroes with guns, as well as sword-action.
You can check out the trailer below. Did I mention there was a character called Bryan in there?
Killer Is Dead will be released in Summer 2013 for Xbox 360 and PlayStation 3