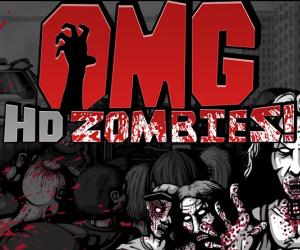 A game we looked at back in October 2012 on iOS (for Mobile Monday) is coming to PS Vita, in yet another show of indie support for the device, in what we're dubbing "Year of the Handheld".
The original game actually came out in 2011 and is (currently) ranked in the top 10 PSP games of all time on Metacritic.
As you'd expect, there's a list of new features and additions, which are as follows:
Improved Graphics – OMG HD Zombies! has been completely redrawn in HD.
More levels – Not only have the existing levels been remade, but Laughing Jackal have added 19 new levels, upping to total to 100.
More Zombies – Laughing Jackal have added 3 new classes of zombie to the original five.
More Upgrades – Laughing Jackal have boosted the number of upgrades, bringing the total to 100.
Trophies – 12 new trophies to unlock, achieved via a mixture of game completion and fulfilling special gameplay conditions.
Online Leaderboards – Compare your skills to the best zombie slayers around the world with over 100 leaderboards.
Touch Controls – Choose between the traditional control method and the brand new touch screen control method.
Prestige Mode – Something extra for the completionists out there. Complete the game to 100% Platinum standard and you can Prestige the game and start over again. As a thank you for Prestiging and starting the game over, you get a multiplier to your leaderboard ranking that increases with every Prestige level. You can Prestige up to 20 times and get some truly HUGE scores!
New Comics – As well as 2 new endings, we reveal more of the back story to the zombie outbreak in our specially extended comic book intro.
We don't have an exact release date yet, but Laughing Jackal do say the public will get to play in a "a few weeks time". Until then, have a look at the four new screenshots they've sent us, and the trailer for the original game.
[nggallery id=1436]
OMG HD Zombies will be released on PS Vita in the coming weeks.