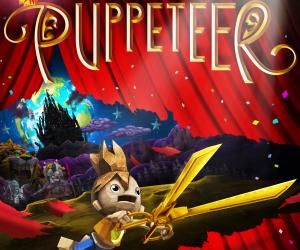 It's coming soon, but not soon enough: September 11 is the magic date, and it'll cost €39.99.
To celebrate this news, Sony have released a few trailers that show off more gameplay from the weird and wonderful looking Puppeteer, that show off the fact that each Hero Head possesses a power that once belonged to one of the four legendary Moon Heroes. The Moon Heroes are the folks who fought bravely to protect the Moon Goddess from being overthrown by the evil Moon Bear King and…actually, this sounds a bit mad, doesn't it?
At GDC just passed, Sony showed the first of these two Moon Heroes, and we've got the videos of both, along with a brand new story trailer and the packshot of the game. Phew! Something I noticed that rather excited me, is the "3D" icon on the packshot. Having watched the trailers, this could look incredible in 3D – especially the snake bit at the end of the Ninja Head trailer.
So, in order, the trailers are: Story Trailer, Knight Head Trailer, Ninja Head Trailer. Enjoy, and don't forget to let us know what you think via the comment section at the bottom of this article.
[nggallery id=1415]
Puppeteer will be released on September 11, exclusively for PlayStation 3.