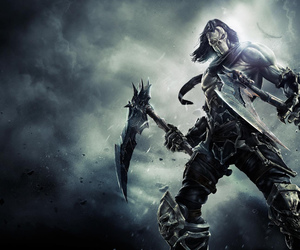 It's taken a while, but all the leftover pieces of intellectual property once owned by THQ has now found a new home.

Let's not beat around the bush here, there was a lot of people genuinely upset about Darksiders not being scooped up by anyone, but that's now been rectified, as Nordic Games have grabbed it, along with Red Faction, the MX series, Destroy all Humans!, Summoner, Marvel Super Hero Squad, and more that they've not yet revealed. It cost them $4.9 million! With approximately half of the Darksiders team now working at Crytek, here's hoping that Nordic Games pick up the rest of them.
Gearbox Software grabbed Homeworld, whilst 505 games purchased Drawn to Life for $300,000.
According to Polygon, a court document reads:
The Debtors accepted Nordic's offer of $4.9 million for substantially all the IP except two titles, Homeworld and Drawn to Life. The bids for individual lots for the assets, excluding the Homeworld lot, did not exceed $4.9 million, and Nordic paid a premium over such individual bids to acquire the aggregate lots.
How do you feel about this? Lead designer on Darksiders 1 and 2, Haydn Dalton said this via Twitter:
Congratulations to Nordic Games for purchasing the Darksiders IP in the THQ auction. Look after our baby guys.
What do you make of this news? Excited for Gearbox's Homeworld? Hopefully for Darksiders III? Let us know in the comment section, below.