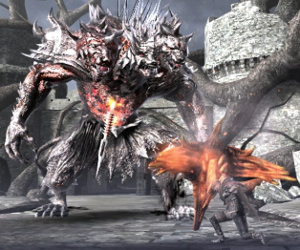 With a team that looks like a who's who of Japanese industry stalwarts, Soul Sacrifice appears to be shaping up rather nicely.
Keiji Inafune of Megaman fame is one of the lead designer's on the game and also the man that's credited for coming up with the interesting gameplay mechanic. Basically, for those that don't know: players are able to sacrifice parts of their body for various attacks within the game itself. These sacrifices will then be marked upon the body of the game's protagonist. Sounds a tad like NeverDead, but Soul Sacrifice's mechanic won't be infinite, it seems.
Yasunori Mitsuda (Chrono Trigger) and Wataru Hokoyama (Africa) are also behind the music for the action RPG that you'll be able to experience in mere days. A meaty demo will be available to download via PlayStation Network on April 17.
The PS Vita is always screaming out for more software and there will be plenty of eyes on this one, simply because of Inafune's involvement.
Soul Sacrifice will be released on May 1 in Europe and April 30 in North America for PlayStation Vita