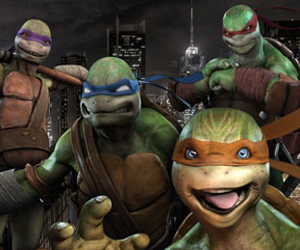 PIZZA! RADICAL! TURTLES! YEAH!
Activision have released a brand new trailer that shows off a little bit of their upcoming Teenage Mutant Ninja Turtles game. Based on the Nickelodeon series and not the cartoon that we grew up on – unless you're really young and not an old man like me, Out of the Shadows is a third-person action title that looks to take some inspiration from Rocksteady's Batman games.
Development is being handled by Red Fly Studio, who worked on Mushroom Men and the Wii port of 2009's decent Ghostbusters: The Video Game.
The trailer below focuses on Michelangelo's combat. For those that remember, Michelangelo was the one turtle who was sometimes the butt of the joke and gorged on pizza a lot.
Growing up, the Turtles were a regular fixture in my childhood, so it would be pretty cool if this turned out to be good. We can hope, I suppose.
Teenage Mutant Ninja Turtles: Out of the Shadows will be released in Summer 2013 for Windows PC, Xbox 360 and PlayStation 3