The Walking Dead: Survival Instinct Gets Herd Mode DLC (It's Like Horde Mode, but Spelled Differently)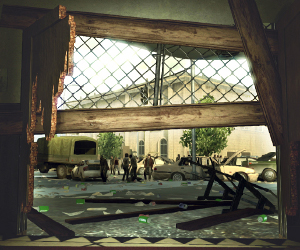 Why? I don't know…but, if you feel so inclined, you can get DLC for The Walking Dead: Survival Instinct on Steam, right now – which we heard about thanks to Ashton Raze.
The Walker Herd Survival Pack is available at €4.99/£3.99. Basically, it's Horde Mode. Survive for as long as possible whilst waves of zombie chaps and chapettes are looking to feast on your bits and bobs.
Purchasing this will also add a few new weapons to your arsenal in story mode including: a survival knife, sawtoothed machete, kukri, reinforced hatchet, and advanced machete. To access these, you must begin a new game, otherwise Daryl will still be using the bog standard weaponry.
Did you buy The Walking Dead: Survival Instinct? If so, you can get this, too. If you want, I guess.
The Walking Dead: Survival Instinct is available now for Windows PC, Xbox 360, PlayStation 3 and Nintendo Wii U