In 2011, Activision struck gold once again. Going through the publisher's history, they've had massive hits with the Tony Hawk series, Guitar Hero and the biggest franchise that won't let up – Call of Duty. However, who knew that their most recent success would come from Spyro the Dragon.
The Skylanders franchise has proven its worth across the globe and all at Activision and developer Vicarious Visions are aiming for an even bigger reception from their upcoming title: Skylanders SWAP Force. Recently, we had the opportunity to speak to executive producer David Nathanielsz about many aspects of the future of the series.
It's no secret that the Skylanders series has been a massive success for Activision and Toys For Bob. It must also be stated that Vicarious Visions worked on the 3DS version of the original game, the Wii U edition of Skylanders Giants and you've also handled the development of the iOS games. However, this is the first title in the series where Vicarious Visions takes centre stage as the game's main developer for all home consoles. Is there any feeling of pressure within the studio?
The guys at Toys for Bob did an amazing job creating a game with a robust new universe, original hardware and a unique new way for kids to play by bringing toys to life in a videogame. They established a new genre, raised the bar on both quality and innovation in the kid's gaming space and did it all over again with Skylanders Giants.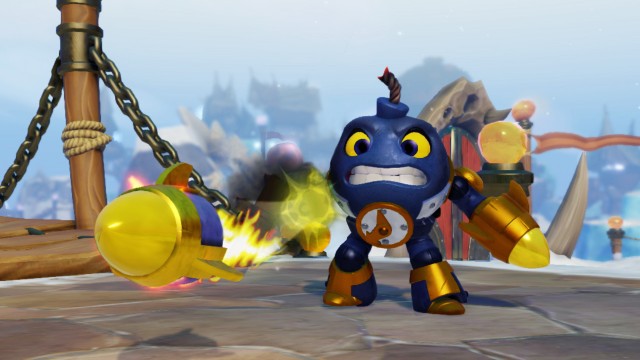 With Vicarious Visions already being a partner in the franchise, joining the team full-time was a natural step for us. We believe that we're bringing a lot of innovation to the franchise, allowing TFB time to focus on fresh things for the future. We are committed to quality toys and enhancing the gameplay experience with each game. We have big shoes to fill, but having been part of the franchise's family since its inception, and helping the franchise receive critical acclaim, we're more than up for the task!
In such a short space of time, Skylanders has become an established IP and I'm sure there are reservations about tweaking it too much, on the publisher's side of things. Have Vicarious Visions had complete creative control in terms of the gameplay in Skylanders SWAP Force? As a studio, have you been allowed to explore interesting avenues for the game?
Yes, we've been able to explore some really interesting new ideas. When we started working on the project, we wanted to deliver a new experience that brought a unique and innovative hook to both the Skylanders gameplay and to the toy design. When the team came up with the concept of certain Skylanders being able to swap their powers with each other, we knew right away that the idea had great potential.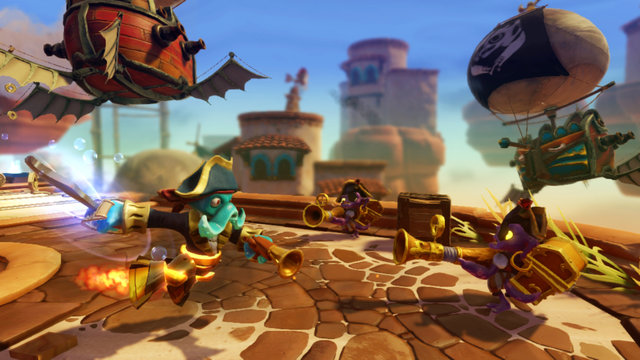 We're also really excited about the new characters that we're releasing this year. Our team of artists, designers and animators went all out to create a bunch of brand new Skylanders. They all have amazing new powers and personalities. And with the 16 brand new SWAP Force Skylanders, there are over 250 different characters players can explore in the game. For instance, if you have Stink Bomb and Blast Zone, you can swap around your parts to make Stink Zone or Blast Bomb. In fact, with each new character you add to the mix, you exponentially grow the possible character combinations.
Undoubtedly, the biggest change to the series is the brand new, swappable Skylanders. It's been stated that all Skylanders from previous games can be used in Skylanders: Swap Force, but have they become some-what irrelevant thanks to the new crop of Skylanders?
All toys from Skylanders Spyro's Adventure and Skylanders Giants will be compatible with Skylanders SWAP Force, and they will maintain their upgrades and level status. That means the entire Skylanders line-up is playable – and powerful! – in the latest game. If you already have a collection of Skylanders, they will be extremely valuable in your fight to save the Skylands from Kaos and his minions. In fact, all your returning Skylanders now have the added ability to jump in the new game.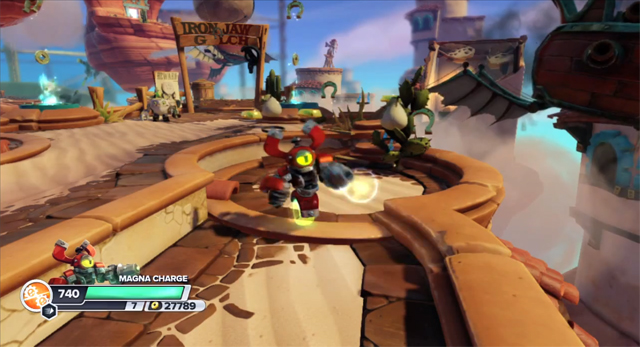 Kids are the main audience for the game, but are there any plans with Skylanders SWAP Force to include something for the "big kids"? Speaking from experience, my only exposure to Skylanders is with Skylanders Giants and that surprised me with its depth – upgrading, levelling up…etc. Are you catering towards both ends of the spectrum here, or will adults feel left out when it comes to Skylanders SWAP Force?
We're absolutely catering to both ends of the spectrum. What you discovered with Giants is true for all of the Skylanders games – the games are great for kids and adults alike. Skylanders has always been very much about shared family fun, and that ethos is a big part of SWAP Force. We believe the possibilities presented by the swapable powers of the characters is something adults can have as much fun with as the kids – especially the more competitive mums and dads who can get really strategic with it!
Earlier this year, news broke that Disney were attempting something similar to Skylanders with Disney Infinity. We know that Avalanche Studios' game is coming to retail in August, but a date hasn't been set for the next Skylanders yet – other than the vague "Fall 2013". This leads some people to believe that Infinity will hit store shelves before Skylanders SWAP Force. Does Disney Infinity worry you at all? Is there any fear that the crowd could be split between the two games?
We can't comment on Disney's game; however we are focused on continuing to bring innovation to the category we created with this franchise alongside Toys for Bob and Activision. Plus, Skylanders SWAP Force offers interactivity, customization and value on a level that has never been seen ever before!
That "Fall 2013" release date seems in line with the launch of PlayStation 4 and Xbox One. Are there any plans to bring Skylanders SWAP Force to either next-generation system?
Skylanders SWAP Force will be compatible with the next generation consoles including the PlayStation 4 and Xbox One. We can also confirm the game will be available in Europe from October 18th.
We here at GodisaGeek always like to ask the tough questions and there's one burning issue that our readers will want to know about…do you keep your ketchup in the fridge, or the cupboard?
At VV we have a fridgeboard. The top half is a fridge, the bottom half is a cupboard. That's where we keep all of our tasty condiments – like ketchup, mustard, and mustchup and ketchtard.