Gamers often have what they refer to as their "Pile of Shame", a list of games that they know full well they should have gotten around to play – because their friends did, because of great reviews or sometimes just because it's developed by a production house that you admire. Ninja Theory's 2010 game Enslaved: Odyssey to the West was one of those games on my Pile of Shame; even though the Xbox 360 version of the game has been sitting on my shelf for a good six months or more.
With the recent release of the Premium Edition of Enslaved: Odyssey to the West – which was released on PlayStation 3 and, for the first time, Windows PC – I jumped at the chance to get into the game that so many people spoke extremely highly of.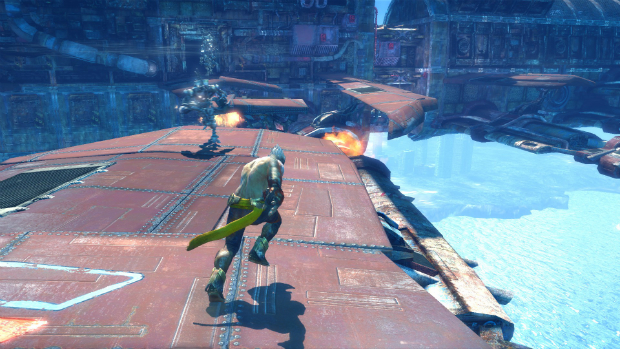 The Premium Edition of the game isn't as feature-rich as some "Premium Editions" we've seen in the past, but that's just because not a lot of DLC was released for Enslaved: Odyssey to the West when it was first released. The Premium Edition contains the 'Pigsy's Perfect 10 DLC', along with three character skins which can be applied once you've gotten to the end of the game. These skins are 'Ninja Monkey', 'Classic Monkey' and 'Sexy Trip'.
If you've never had the chance to play Enslaved: Odyssey to the West (and I'm telling you, you should) then you may want to watch the first chapter of the game – where Monkey and Trip escape from a slave ship which was transporting them to "The Pyramid" – in the video you can see below.
Looks pretty interesting doesn't it?
As I mentioned earlier, this is the first time that Enslaved: Odyssey to the West has been released on the Windows PC platform and, as such, a few graphical enhancements have been made. To this end, we thought we would put together a little video for you showing the difference between the Windows PC version of the game, and the Xbox 360 version.
This video is the same section of the game that you may have seen in the above Let's Play video (only without the commentary) and shows some of the obvious differences between the two versions of the game. Pay particular attention to the lighting and shadows as well as the sharpness of the textures.
Well, that's it, the Premium Edition of Enslaved: Odyssey to the West. We hope you enjoyed this "Trip" down memory lane (well, to 2010 at least). Feel free to comment below if you've been playing the game, if you're just getting around to playing it for the first time or, indeed, just if you feel like shouting at me for only just getting round to playing what turned out to be a pretty special experience.
[nggallery id=1652]