With the recent release of Xbox One and PlayStation 4, the next generation of video game consoles is well and truly here. While we're busy kicking things off with a slew of next-gen reviews for your reading pleasure, we also feel it's important to remember what has gone before.
To this end, we bring you the GodisaGeek Top 25 Games of the Generation, a five-part, week-long countdown of our favourite releases from the last 8 years. There are some true classics included, and each is presented with a few words from our esteemed staff and editorial team about why we feel they deserve a spot. We hope you'll get involved and let us know your favourite games of the generation, too.
Without further ado, please read on for numbers 25 – 21…
25. RAYMAN ORIGINS
DEVELOPER: UBISOFT MONTPELLIER / PUBLISHER: UBISOFT
FORMAT: XBOX 360, PLAYSTATION 3, PS VITA, 3DS, WII, PC
RELEASE DATE: 15th NOVEMBER 2011
Even occupying the "bottom" spot on this esteemed table is no small achievement, and Ubisoft's Rayman revamp deserves every word of praise uttered in its direction. Going back to the series' more popular 2D days, Origins' brand of fast-paced, joy-inducing platforming is incredible on any platform – but, arguably, the Vita version has the slightest edge. A masterclass in making gameplay fun.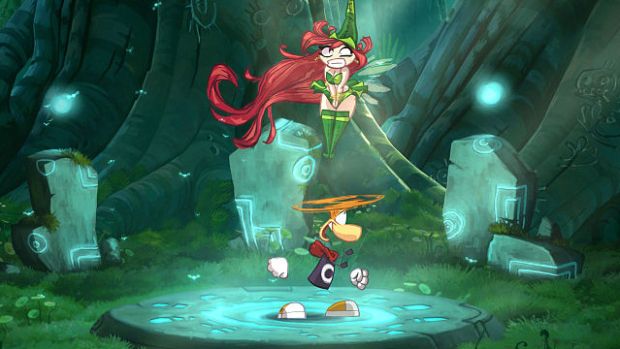 MARTIN BAKER: Rayman Origins was a game that came totally out of left-field for me. Sure, it looked good, and it had the platforming charm of a lot of games that occupied my childhood, but it wasn't until I got my hands on it at Eurogamer 2011 that I was truly sold. The armless wonder was well and truly back; I couldn't put it down. I completed everything there was to do the Xbox 360 version, and when the PlayStation Vita came out, I did it all again on there too!
24. ASSASSIN'S CREED: BROTHERHOOD
DEVELOPER: UBISOFT MONTREAL / PUBLISHER: UBISOFT
FORMAT: XBOX 360, PLAYSTATION 3, PC
RELEASE DATE: 19th NOVEMBER 2010
If we extended this list to encompass our Top 100, we'd wager you might find at least two other Assassin's Creed games on there, not least this year's stellar Black Flag but, quite unanimously, we've voted Ezio's second jaunt as not only our favourite AC, but also as the 24th best game of this generation.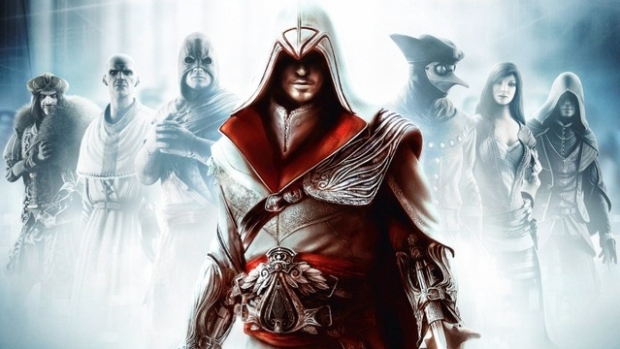 MICHAÉL MURPHY: For me, Brotherhood represents the pinnacle of the Assassin's Creed series. The second outing for Ezio finally saw the series reach its full potential by rectifying the missteps of its predecessors and expertly balancing style and substance. Taking place in arguably the best location so far, Rome, the beautiful architecture and deep history of the city perfectly lends itself to what makes these games great. With finely-honed gameplay, a rich and intriguing narrative steeped in lore, and optional side pursuits that are fun, rewarding and relevant, Assassins Creed: Brotherhood is the very embodiment of the phrase "third time's the charm".
MARTIN BAKER: Ezio Auditore da Firenze is arguably one of the best video game characters to come out of this console generation. Street smart, witty and deadly, he has all the hallmarks of a legendary creation. And I was hooked as soon as I met him in Assassin's Creed II. Take that character and place him in one of the most historic cities in the world, the heart of the Roman Empire, and you've got the makings of a truly amazing game; and that's exactly what Assassin's Creed: Brotherhood is.
The addition of the Brotherhood mechanic, the historic setting and the fact that you finally get to finish what you started in Ezio's first outing, all come together to make Assassin's Creed: Brotherhood the best game of the entire series to date.
23. VANQUISH
DEVELOPER: PLATINUM GAMES / PUBLISHER: SEGA
FORMAT: PLAYSTATION 3, XBOX 360
RELEASE DATE: 26th OCTOBER 2010
Platinum Games is a studio known for being just slightly off-the-wall. Uber-violent Wii-exclusive MadWorld, the excellent Bayonetta and recent mass superhero dust-up The Wonderful 101 are just some of their more exotic titles, and it's been said more than once that there's no genre they won't turn their hand to as long as it involves some kind of bombastic action. 2010's sci-fi shooter Vanquish is an example of Platinum Games at their frenetic best, combining fast-paced, OTT gunplay with a hyperactive cover-mechanic and one hell of a dollop of confident swagger.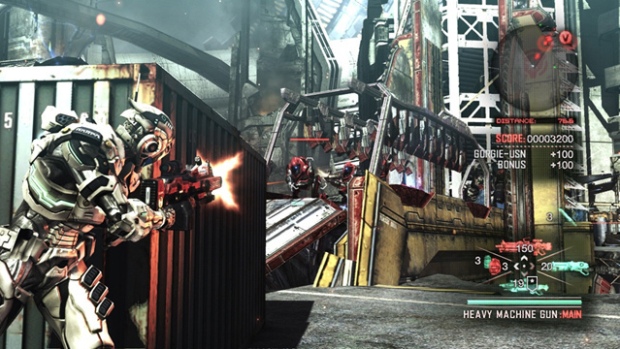 LEE GARBUTT: Platinum's magnum opus is a game I will never play again. It was brutal, punishing, exciting, bombastic, frantic, adrenaline-pumping and absolutely ridiculous. I spent months mastering every technique and weapon, devising my own strategies and tactics to defeat the tidal waves of enemies that the game throws at you. Every stage feels like a chaotic warzone, and the incredible pace of Vanquish's action was enough to actually make me feel ill. After many, many months I saw off all of Vanquish's formidable challenges and I swore never to play it again – not because I didn't enjoy it, but because I never want to sully the memory of such an engrossing game.
BEN SKIPPER: Platinum make games that are proud to be exactly that. Some games strive to emulate movies, others endeavour to tell stories that more often than not fall flat, but Platinum make games purely about having fun. Vanquish is a hot slice of utter madness best enjoyed with a triple-figured heart-rate. Play it.
22. DEUS EX: HUMAN REVOLUTION
DEVELOPER: EIDOS MONTREAL / PUBLISHER: SQUARE-ENIX
FORMAT: PLAYSTATION 3, XBOX 360, PC, WII U (DIRECTOR'S CUT)
RELEASE DATE: 26th AUGUST 2011
The original Deus Ex, developed by Ion Storm way back in 2000, became a cult classic thanks to its wonderfully evocative concept and its unprecedented focus on player choice. 2011's prequel-cum-reboot-cum-remake, Human Revolution, wowed both fans and initiates by staying true to the core concepts of the original while giving us a new world to explore and a new vision of the future to marvel at – maybe even to fear.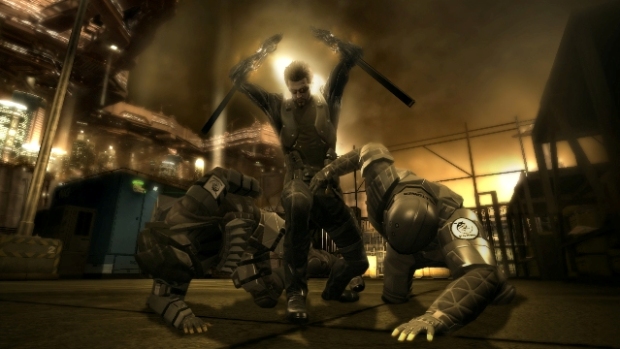 ROBIN PARKER: Deus Ex was far from perfect, but is remembered as a classic nonetheless. Human Revolution was never one hundred percent faithful to the roots of the series, but instead created a new, living world to immerse ourselves in. The idea of adapting and improving the human body is core to Deus Ex, and this theme of adaptation flows into specialising and transforming not only your character but your game as a whole – dependent on how you want to play. Ultimately, the choices you make may be fairly superficial, but the feeling of shaping your own adventure remains a strong and powerful one.
MICK FRASER: Player choice is what makes Square-Enix's sci-fi prequel so playable. All roads lead to more or less the same conclusion, but the journey is what matters in Human Revolution. Play it loud and violent, or quiet and non-lethal, talk your way out or fight your way out, choose who to betray, and who to stand by. The story, the setting and that gorgeous art style combine to create a world that invites you in, then gives you the tools and toys that make you want to stay. The recent Director's Cut edition took what was already excellent and made it outstanding. Deus Ex: Human Revolution is one of those games that you simply must play at least once.
21. CALL OF DUTY 4: MODERN WARFARE
DEVELOPER: INFINITY WARD / PUBLISHER: ACTIVISION
FORMAT: PLAYSTATION 3, XBOX 360, PC
RELEASE DATE: 9th NOVEMBER 2007
Despite there being an undeniable abundance of FPS titles available on modern consoles, when you say the words "Military Shooter" to anyone, the first thing they'll think of is Activision's now legendary franchise. Although the fourth game in the series, Modern Warfare is single-handedly responsible for the evolution of online multiplayer, influencing almost every shooter that has come since, including its staunchest rivals. There's a reason Call of Duty games outsell the competition every year, and it began with Modern Warfare.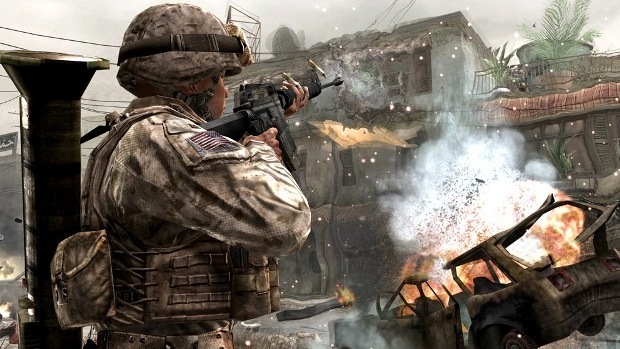 CALVIN ROBINSON: Call of Duty 4: Modern Warfare changed the first person shooter genre on consoles forever. It had one of the most solid multiplayer experiences we had ever seen, with twitch-based action that just felt so tight, and a ranking system that rewarded the player for continued play. The single player campaign set the bar for cinematic blockbuster experiences akin to Hollywood movies. This was the game that influenced so many shooters after it, and spawned the ridiculously lucrative, immensely popular annual Call of Duty release cycle.
So there you have it, folks: numbers 25 – 21 of our Top 25 Games of the Generation. Check back tomorrow for numbers 20 – 16, and in the meantime feel free to let us know whether you agree or disagree with our choices so far.