Vicarious Visions and Activision are branching out their Skylanders series to focus on bringing vehicles to life in their new title, Skylanders SuperChargers, which will allow players to explore mountainous terrains, deep sea environments and the skies of Skylands like never before.
SuperChargers aims to deliver "powerful, tricked-out land, sea and sky vehicles" and promises "an unprecedented high octane action-adventure videogame where fans have the freedom to speed across Skylands' roads in vehicular combat, race down roaring rapids and engage in aerial dogfights as they barrel roll through enemy swarms."
Villain Kaos returns with his new super weapon – the "Doomstation of Ultimate Doomstruction" – capable of eating the sky itself and it's the players job to mobilise the Skylanders to defeat this threat. SuperChargers will be compatible with all 300+ Skylander toys from previous games, allowing any character to pilot vehicles. Unlike the characters, vehicles won't have a base pad. Instead they have moving parts – such as wheels- being they truly can be used as regular toys.
A starter kit will be available, containing the game, a portal, Super Shot Stealth Elf, Spitfire and the car Hot Streak. Interestingly existing Skylanders players won't need to buy a new pad to play the game, and only a land vehicle is required to complete it; with the sea and sky areas optional.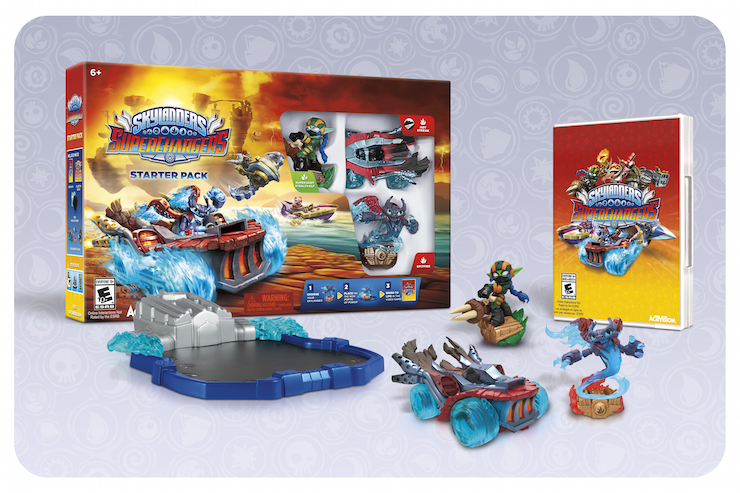 A press release for SuperChargers lists the main features:
Vehicles-to-Life – For the first time, players can take their Skylanders vehicles straight from the real world into the videogame via the Portal of Power to explore the land, sea and skies of Skylands.  The vehicles are aligned by element and terrain type, giving players unique abilities and diverse experiences across different settings throughout the game. Not only are the vehicles playable in game, but many will have movable parts making the toys fun and playable outside of the game.
More Diverse Gameplay – The game delivers a dynamic, story-driven gameplay experience, filled with vehicle-based and on-foot adventure – complete with  combat, puzzles, mini games, activities and platforming — all set within a variety of compelling environments. There will be 20 new vehicles toys that fans can play with that feature a variety of designs and types – race cars, motorcycles, boats, tanks, helicopters, jets, submarines and more.

Land: Stunt, skid, and drift while driving and experiencing high octane combat
Sea: Explore underwater seas, race down roaring rapids and ride the surf and waves
Sky: Engage in aerial  dogfighting and enjoy freedom of flight with 360 degrees of control
New and Returning Heroes – A brand-new class of Skylanders, known as SuperChargers are ready to buckle up and throw down in their fight against evil. Skylanders SuperChargers introduces 20 new SuperChargers toys and supports all 300+ Skylanders toys from previous games, enabling any Skylanders character to pilot land, sea or sky-based vehicles. SuperChargers also have special in-game abilities that help Portal Masters fight Kaos.
Customised Vehicles – In Skylanders SuperChargers, kids explore Skylands like never before by going behind the wheel of powerful, tricked-out vehicles. SuperChargers will have the ability to customize vehicles in-game with super cool modifications and upgradeable weapons.  As players travel throughout the game, they can also discover hidden mods such as a volcanic booster engine that spews lava rocks and jet wings with feathers made of gold.
SuperCharged Combos – For the ultimate gaming experience, players can pair a SuperCharger Skylander with its unique signature vehicle to create a SuperCharged combination, unlocking an exclusive mod that revs up the performance of both the vehicle and character.
Fast-Paced Storyline – Fans can immerse themselves in an all-new, high-velocity adventure that ignites imaginations and fuels excitement as they speed through Skylands like never before.
Skylanders SuperChargers will be available on PS3, PS4, Xbox 360, Xbox One, Wii U, Wii, 3DS and iPad. It will release on September 20 in North America, and September 25 in Europe. You can check out some of the products below and read our interview with the developers here.