For many of us, the early naughties were spent joining mafias, taking part in fashion parades or trading rare 'furnis' in shady casino rooms. We are of course talking about the teen craze that was Habbo Hotel. Now known simply as 'Habbo', the website is still going strong, with 3 million active users and a seemingly endless supply of furniture and badges.
To celebrate their 15th birthday (and making us all feel really old) we're giving away a whole heap of Habbo goodies.
[Update] As a gesture to our friends over at HabboxForums, we're extending the giveaway by one week. We'll announce winners on Monday 24th. We're also adding new ways to enter. Follow and tweet us @GodisaGeek with your answers, be sure to include the hashtag #habbo15.
[Closed] This giveaway is now over. Winners will be contacted shortly.
We recently had a chat with their CEO Antti-Jussi Suominenm to discuss all things Habbo, past, present and future.
"As it is our 15th Anniversary, there are lots and lots of exciting things planned beyond the 15th August and the mega-prize. We have a MASSIVE new game feature coming in around Halloween, we can't say what it is right now, but it is a game-changer. Watch this space."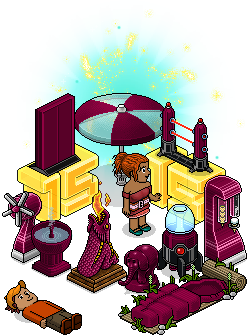 If you would like to be in with a chance of winning a Habbo t-shirt and keyring, all you have to do is answer the following question correctly:

Habbo Hotel launched in the UK in what year?
15 runners up will also receive 31 days access to Builder's Club and 15 Credits!
E-mail your answers to competitions@godisageek.com with the subject line Habbo 15. Winners will be selected on Monday 16th 24th August. Lucky winners will be emailed / DM'd in due course. Terms and conditions apply.