Nintendo held their final Super Smash Bros. Direct tonight, announcing the final batches of DLC to come for the game. If you missed it, don't worry! We've got you covered.
Corrin from Fire Emblem: Fates Joins the Fight
The protagonist of the upcoming Fire Emblem title was announced as a playable character, with both male and female incarnations, similar to Robin. That takes the total of Fire Emblem characters featured in the game to six. Corrin will become available next February. See his/her announcement trailer below.
Final Fantasy VII's Cloud Available Today
Out of nowhere, it was announced that Cloud Strife will be available in Smash starting from today. Cloud comes with a brand new Midgar-themed stage, and should be available within the next few hours. Pricing starts at $5.99 for 3DS or Wii U alone, or $6.99 for multi-buy. UK pricing to be confirmed. See his fighter trailer below which shows off his moveset, courtesy of NintendoLife.
Bayonetta Gets Wicked, Becomes Playable in February
Alongside the Corrin announcement was the news that Bayonetta will join the fight. Bayonetta was the #1 voted character in the Smash Ballot before Cloud, so it was only fair she made the leap to Smash. She will also become available in February alongside Corrin. See her trailer below.
New Mii Costumes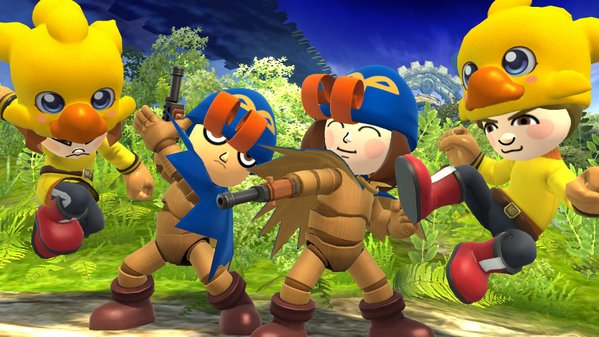 Nintendo also announced, to the joy of the 1% of people who play as a Mii Fighter, that new costumes will be added. See a quick list below.
Geno (Super Mario RPG)
Chocobo Hat (Final Fantasy)
Bionic Armor
Takamaru (game unreleased in US)
Ashley (Wario Ware)
Gil (Tower of Druaga)
Tails and Knuckles (Sonic)
More Amiibos
Nintendo announced the release date of the Ryu, Roy and Famicom colour R.O.B. as being March 18, as well as confirming the development of an amiibo for every newly announced character: that's Cloud, Bayonetta and Corrin.