Life can be unpredictable, sometimes. You can make as many powerpoint presentations as you want and plan everything to a tee, but there are occassions where you're thrown a curveball and you have to deal with it, accordingly. There are certainties, too, though. When I was younger and I'd hear the Glenroe theme tune bellowing out from the television on a Sunday night, I knew it was time for bed because the school week was right around the corner. No matter how often they tried to call it quits and date other people, Ross and Rachel were destined for each other. And every October/November, a new Assassin's Creed game is released.
Last week, Ubisoft confirmed that there would be no Assassin's Creed game this year. In a blog post, the French publisher said, "Since the release of Assassin's Creed Unity, we've learned a lot based on your feedback. We've also updated our development processes and recommitted to making Assassin's Creed a premier open-world franchise. We're taking this year to evolve the game mechanics and to make sure we're delivering on the promise of Assassin's Creed offering unique and memorable gameplay experiences that make history everyone's playground."
The Assassin's series has been a tour de force since 2007. We've seen multiple protagonists, we've travelled to many different lands and we've some really strange stuff involving aliens or something — the Assassin's Creed story is weird…and shit. The series has excelled at points like Brotherhood and nosedived into oblivion with Revelations. Assassin's Creed III turned many off the hooded hijinks for good, while Black Flag turned some others into big fans. It's been up and down, for sure, but you could always guarantee that there would be a new one, every single year, since ACII in 2009 — 2014 saw Ubisoft release two on the same day.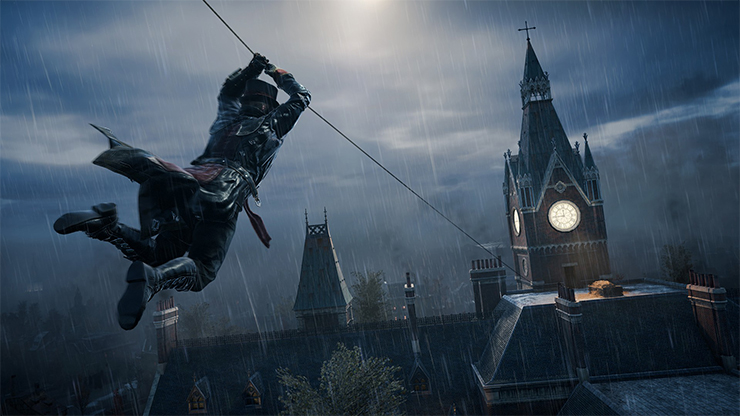 While Syndicate was generally regarded as a step in the right direction for the cash-cow, the stench of it's predecessor, Unity, still lingers. The video game playing public weren't happy with AC's jaunt around France, with many calling it a technical shambles. But you're well up on all that, if not, watch these Debatables on it! People have been claiming this gives the series some time to breath and potentially innovate once it comes back. Sony's Shuhei Yoshida even went on record in 2015, stating that he "hated" series' that have yearly entires, so you're not the only one who isn't a fan. Chances are we'll have a new main entry Assassin's in 2017, but at least we don't have to feign excitement for another twelve months because annualised games are terrible.Or, are they?
Every year, without fail, we know we'll get a new Madden and a new FIFA from EA, we'll get new WWE and NBA games from 2K and we'll also be gifted with entries in the Football Manager and PES series' from Sega and Konami. With established sports, it's pretty difficult to reinvent the wheel — as enjoyable as it would be to kick Sepp Blatter's head around a minefield, I think the upcoming Pro Evolution Soccer will revolve around twenty-two men chasing after a size five sphere. Speaking of PES, though, last year's instalment was regarded by many as the greatest football game ever made. While we generally know what to expect from annualised sports games, they can still surprise us, regardless of the fact that they come out, every single year. Plus, when you see that both FIFA 16 and FIFA 15 were two of the top seven games in 2015, in terms of sales, is it any wonder that publishers are keen to pump out sequel after sequel, in quick succession.
But, if sports games are an anomoly and one that we can't factor into this discussion, the gun-wielding elephant in the room is a holding an AK-47 with his trunk and killing hundreds of people in the name of America, usually. Since 2003, not one year has passed without a Call of Duty game. A staggering statistic. But, it wasn't until '07 before people really took notice of the now unstoppable juggarnaut.The original Modern Warfare made people life-long fans of the series and Modern Warfare 2 cemented Call of Duty as the world's most prominent video game property. Every November we get a new CoD, and with it, we get detractors hoping for its downfall. I guess everyone loves seeing the big boy being taken down, but like Stephen Hendry did to Jimmy White in the early 90's Call of Duty keeps swatting away every Titanfall, Homefront and Battlefield that comes its way. Black Ops 3 made Activision $550 million in its opening weekend, making it the biggest entertainment launch of last year, but it also sits on a 79 on OpenCritic and an 81 on Metacritic. They're well made, good games, for the most part. And sure, you see a new Call of Duty on shelves every single year, but with their current three developer system including Treyarch, Infinity Ward and Sledgehammer, each studio is getting three years to work on their effort, which gives time to do a little bit more than just fart out a new shooty shooty bang-bang game about murder.
It's not cut-and-dry. We've seen once powerhouse entities in the video games space suffer due to franchise fatigue like old school Guitar Hero. We've witnessed the rise and fall and fall hard of Tony Hawk's skateboarding offerings. Two Activision IPs that brought in an unfathomable amount of cash for the American publisher, until they ran them into the ground. So, even though their first-person shooter doesn't look like slowing down anytime soon, they're well aware of the pitfalls of annualised titles. Publishers want to make cold hard cash, it's simple. We're looking for the best gameplay, most engaging stories and breathtaking visuals — they want money. The two don't have to be mutually exclusive, of course, but when it comes down to it, the more zeroes at the end of their sales figures, the happier they'll be.
Assassin's Creed: Syndicate saw poor first week sales, which was blamed on Unity's poor reception from the general public, which is no doubt a large reason (possibly the only reason) that we're not getting an Assassin's Creed, this year. Call of Duty: Ghosts was seen as a dip in form for Activision's shooter, but they never waivered from their yearly strategy and that series doesn't show signs of faltering, monetarily, all that much. Syndicate's second week sales were improved on Unity and we don't really know much more than that, but I can't imagine it being all that stellar if they're putting the brakes on Assassin's Creed: 2016.
For punters, the occasional break is good. Absence can make the heart grow fonder and come October 2017, the want for more hidden blade action could be through the roof, leading to more people content with opening their wallets and even happier suits in the Ubi boardroom. I don't think annualised releases are inherently bad, but when it comes to Assassin's Creed, I think a little time in the shadows is good for everyone involved.