Back at E3 in July I was able to sit down with Konami's Adam Bhatti, and we chatted for a good while about PES 2017, which is shaping up to be remarkable. We discussed the new, groundbreaking features, scoring goals, the completion and much more.
One of new, great features in PES 2017 is Player ID, in which real life elements and characteristics of a footballer are incorporated into their virtual counterpart. I had no idea about its existence when I first experienced it, as my Manuel Neuer, thanks to his advanced starting position, was out to close down an attacker in a flash.
"It's what Pes is all about, it's about the focus of bringing out the individuality of the game. Last year we created a game which was about pace and power, a lot of football games, sports games, are about those kind of things so what we wanted to do was really go to basics and bring out the elements of the players.
Certainly with the goalkeepers in particular, we've actually completely re-done the goalkeepers and we actually think they are the best goalkeepers in any football in history. It sounds crazy to say, but the more you play it the more you understand. They're not too good, they're not too bad, they're just very natural and then you have the Player ID as well.
You've got Neuer who is a very offensive 'keeper he stands up on the halfway line, he rushes out and then you've got 'keepers like Cech who are more about staying on their line, shot stopping and things like that. Same with the outfield players as well, a thing that we've brought in is something called "real touch" and it's about the first touch system, and what that does is complete change the type of the game.
It completely changes the game being from a kick and rush and all about strength, and it becomes about appreciating these small, technical players like Cazorla, Iniesta, it makes these sort of players really stand out as well. It's something that we've really worked on. "
Another new feature is the, what could be, revolutionary Adaptive AI system. In which the AI will adapt to how you're playing against it in game.
"We've got this new feature which is super groundbreaking, we've been working on it for many years now, it's called Adaptive AI – it's absolutely incredible. It's crazy because I feel like a mad scientist talking about it, it's where the AI learns how you play and changes their tactics in game. It sounds so simple but, for example, if you use wingers a lot they'll double up on the wings. If you sign a player in Master League and you pass to him quite a lot, they'll double up on the player. But it's not only in how you attack, if when they go forward you intercept the ball quite a lot, they'll start doing long balls. It's crazy to see, it's working wonderfully right now, it's a balance of obviously avoiding the whole scripting scenario but wait until you see it in action and certainly when you play Master League and when you play single player modes, you'll be able to see it in it's full force. We haven't really thought about situations throughout a season, maybe that's the next step, this is more about rather than each game, it's about every moment in each game."
I've played around five or so hours of PES 2017, and it's so easy to tell where Player ID has been used as so many players feel so distinct and authentic. Antonine Griezmann is jinky with the ball and deadly in the box, Toni Kroos is calm and composed, Jerome Boateng can ping a ball with pin point accuracy over sixty yards, Paul Pogba is physically imposing, athletic and extremely skilful, Oliver Giroud is big and slow but is dominant in the air, Carlos Tevez is a bull dog, Lionel Messi is clearly the best in the world but even he can't do everything on his own. Player ID genuinely makes every player feel different from the next one. Not only does this make the game feel wonderful, it also means there is an actual reason to delve into different tactics, formations, line ups and styles of play.
"So how we did that, we had to give a lot of attention and detail to the players and what we did was we really focused on working with a bigger data collection team. So we actually have over 150 people from around the world working on the stats and the data, and what they do is they'll be watching a football match, they'll go to the games, they'll watch it on TV, they'll read newspapers, read match reports and they'll do this for all the leagues in the game and all the players in the game. Obviously the more well known players will be the ones who stand out more. Then you can start to feel the differences.
Our database system also has two new stats as well: body control and physicality. The body control is just about how you can bounce off challenges and physicality is for players like Giroud; so if you pass a ball up to him he can hold a defender back as well. So they're the kind of stats that we've brought in."
PES has come in for justified criticism in the past for its blank, unimaginative and dull menus and confusing UI. Thankfully all these have been given a long overdue makeover in PES 2017, making them fresh and, vitally, easy to navigate.
"It's a really quick fix for giving the user a sensation that the game is fresh and new. We had the same design for two years and I think we wanted to freshen things up naturally. A lot of the HUD design in match, the gameplan screen has been updated, the cut scenes have been completely changed in terms of the angles also the replay system as well.
The replay system now is definitely based on broadcast, so you get a much nicer angles, same with the off-side line and things like that. What we tried to do is just make it visually more appealing. We always talk about game play and I think the presentation in PES, even from us, does get lost at times."
In my time with PES I've scored plenty of goals, and near enough everyone has been completely different. Be it an ugly rebound, an instinctive finish in a goalmouth scramble or a sublime free kick or a thunderbastard into the top corner, every single one has felt rewarding to score.
"Even though you scored a wide variety of goals I hope that you felt like you earned it as well."
Aside from the type of jammy goals that happen just as frequently in real football, I had.
"Goals came far too easily last year and I think we really wanted to make it a bit more challenging, even to get in the position to score. Obviously it depends on the person you're against and their level but certainly that satisfaction of scoring a goal as well. The new animation system, with how the players react to the ball and how they shoot, with that being included hopefully it does feel fresh and new every time you score."
No doubt you all remember the issues PES 2016 had with the squads on launch, and the PES team certainly haven't forgotten.
"It was more than a problem last year with the squads. We had a huge positive moment with PES 16, the highest rated sports game of this generation, not just football, but every type of sports game, and when we launched it was a disaster and we're really sorry about that. This time we have fixed it, this year PES 17 will 100% have a day one update. But going further every week we'll do live updates, which we brought in last year but last year was just online, this year it's online and offline as well. So whenever you play your friends or whoever you will be able to have the updated squads, updated team line-ups, form and things like that. It's really important for us, to let everyone know."
Pro Evo is often, idiotically, lambasted for not being able to compete with FIFA in terms of licenses and kits. So do the team put much stock and credence into this themselves?
"We're always trying for new licenses. Arsenal, that haven't been licensed for ten years in PES, are in this year's game. So for us it's something that we're always going for, but it's now what we're known for and it's not our USP. I think that if EA ever lost big licenses you wouldn't see them for many more years, I don't mean to say that in a disrespectful way, I just mean that that is what they're about.
Everyone buys that game, when we used to play PES 6 back in the day, the reason why we used to have similar sales wasn't because of the quality let's face it. For us I think we still have to focus on that, we had a big six or seven years on PS3 and when we got to FOX Engine and we came to PS4 we had a moment to turn it around and one of the reasons we did turn it around is because we focussed on it. Not at all linked licences, kind of, but we do have added data sharing on PS4 this year as well, so whatever kit design you want you can share it with your friends nice and easy."
Speaking of FIFA, this year's edition into the series will feature a story mode that follows the story of a young Alex Hunter as he makes his way up the footballing hierarchy. It's a first for football games, so what does Adam make of it?
"I think it's interesting what they're doing and it's really good to see and see how it goes, really. I think for us it's really innovating through the game play and actually creating stories when you play the game, I know that sounds super cheesy but it's true. I think the way that we're doing the new AI system where it learns how you play; we want there to be that story that you put in your own mind. Certainly when I used to play PES and Master League I used to create those stories by myself and things like that. Overall, we're always interested in new things, we're all interested in new technology, so we want to be where our fans and whatever our fans want, to be honest."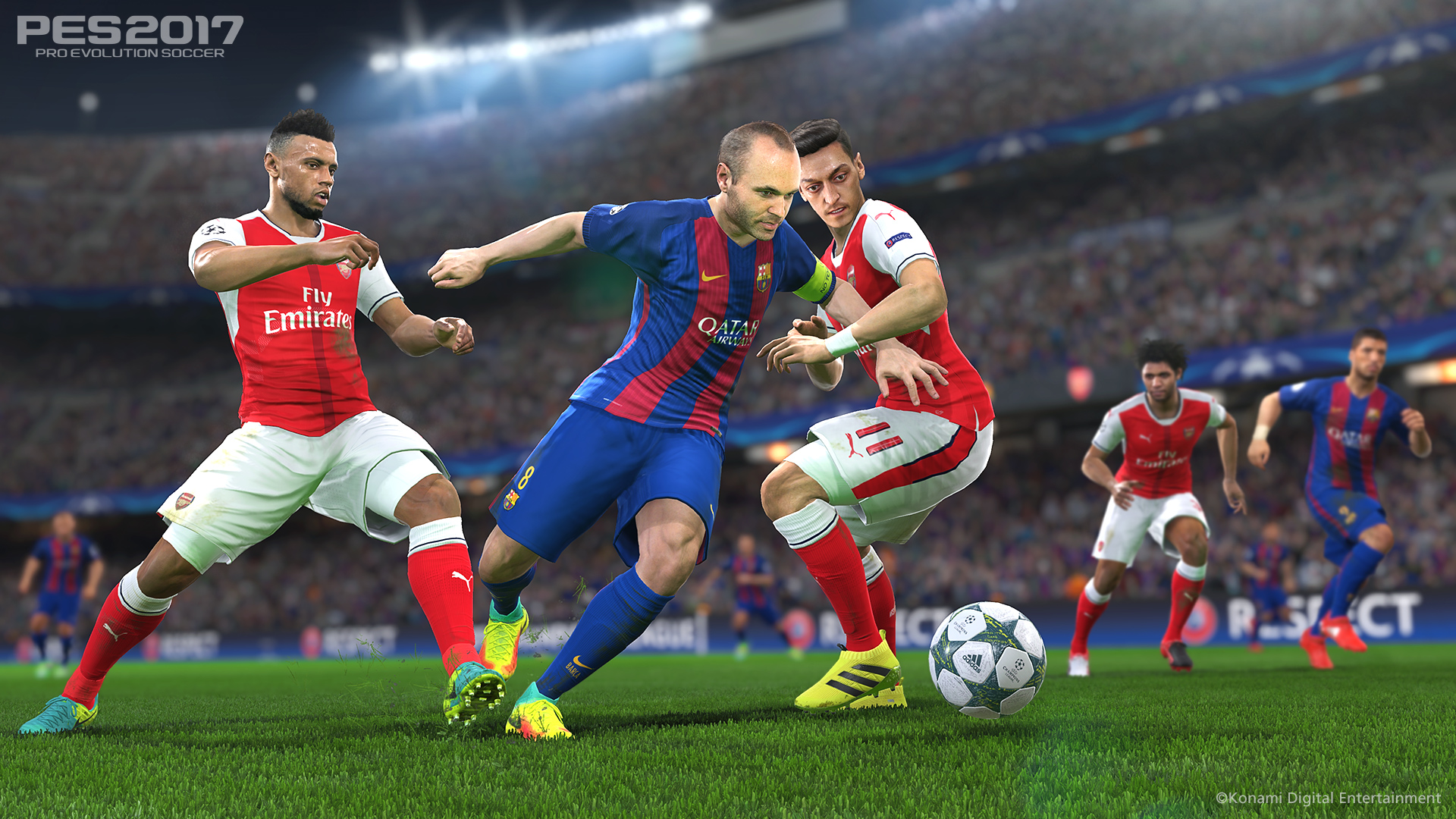 So what else has changed in PES?
"we've completely changed the passing, we've got advanced instructions which is the strategy stuff which is like really focussing in on what makes the difference between tiki-taka and the possession game. We've got gagen pressing which is the counter attack game where you press high. There's also corner kick controls so if you press the d-pad when you get a corner there are options for attacking and defending. So for attacking you've got trail or pack the six-yard box. For defending, that age old question, do you man-mark or do you go zonal? Lots of things like that, so gameplay wise there are quite a lot of things there."
"Last year the fans were quite upset because we always had this balance, this tightrope, of arcade versus simulation. They felt like we were just leaning towards the arcade just a little bit too much. It was a lot of fun last year but the people who really invest time and effort into PES over the months and really get into it just felt that there weren't as many layers as there used to be. We wanted to bring that back so what we did was try to find a balance so it's not frustrating for a new user but also making sure that we're bringing in some realism, I think that PES is here because everyone feels that it is the real football game, if you know football you play PES, and we want to keep that for sure. We're always listening to the community, the changes to MyClub and Master League have been all about the community. In MyClub we brought in an Auction House, so rather than having the roulette system you can specifically go for a player you want. Master League, Jesus Christ, in Master League there's been a huge amount of stuff: from the transfer budgets you have now, separate budgets from when you sign a player then to their salary, you have a new day and night cycle, you have deadline day. You have player growth, so if you go and loan a player to another team and he comes back and he's played he'll be even stronger. A new training system as well. It's crazy what we've done to Master League and that's all for the fans, because what we found was that MyClub and Master League users are two different users actually so we had to put just as much effort into one as the other."
And the most important question of this and any interview, where does Adam Bhatti keep his ketchup.
"Cupboard"
Correct.