One of the biggest changes that the new generation of consoles has brought with it, is the ability to take screen shots of the games that you are playing. Since this feature has been available, I have fancied myself as a bit of an in-game photographer. Anyone that's on my friends lists for Xbox One and PS4 will know that I'm a pretty happy snapper, taking screen grabs of anything that I find interesting or amusing. I feel I need validation in my photography exploits so I thought I'd share a few here.
Tom Clancy's: The Division
Huge Refuse Pile
I wasn't a huge fan of The Division to be perfectly honest. I thought it was competent enough, but the end game didn't do enough to keep me engaged. I was struck, however, by some of the things you could find in the abandoned streets of New York, for example, the picture below of the huge refuse pile. It was so large that it stopped me in my tracks for a few moments while I took in just what had happened to the city.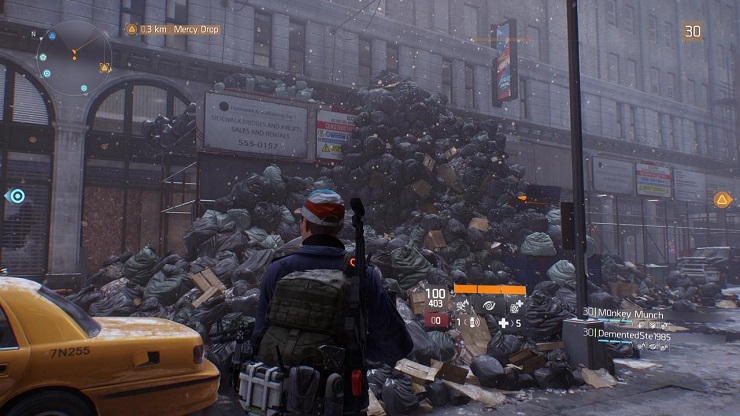 Bus Stop Cock
One thing I did enjoy about The Division was the ability to gad about town with some of my online friends. I have played with some of these people for nigh on ten years online, and we are absolutely, positively a mature and sensible bunch. On an unrelated note, I have no idea who carved out this Bus Stop Cock with bullets on the side of a van.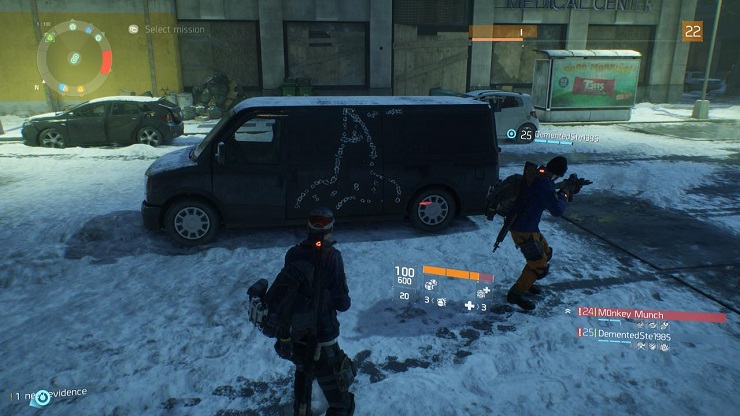 Fallout 4
The Bomb
I have sunk many, many hours into Fallout 4 and have yet to finish it, my attention being currently taken elsewhere. Looking through my screen grabs of my time spent so far in the Commonwealth it appears there is a rich vein of material for me. Below is a shot I took right at the beginning of the game as the bomb goes off and everything in this world changes. It's tough to capture a moment during a cut-scene, but I really liked what I managed to get here; the explosion and the reactions of the people who will be dead in only a matter of seconds.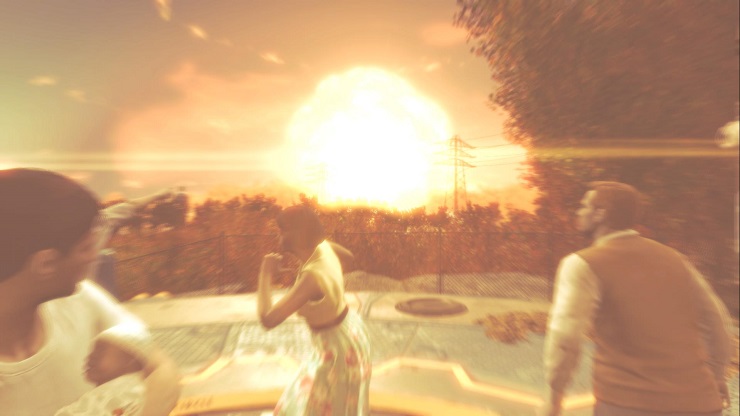 My Base
Fallout 4 isn't a very pretty game, but every now and again you might see something that catches your eye. Most of the time it was the light that drew me, and particularly the morning light as the sun came up. I took this picture at one of these moments as the sun rose behind the base that took me about seven hours to build! I love that house in Sanctuary, I just need to find a way of keeping that bellend Preston Garvey from sleeping in my bed when I am not there!
The Throne Room
More often than not, the pictures I take are of really random things that amuse me, like this guy that was waiting for me to clear a load of Mirelurks out of the town he lived in. The fella lived on his own in the destroyed town, and I think he had clearly gone insane. When I returned after clearing the town I was greeted with him sitting on his throne. He looks like he's really mad with me for disturbing his quiet time!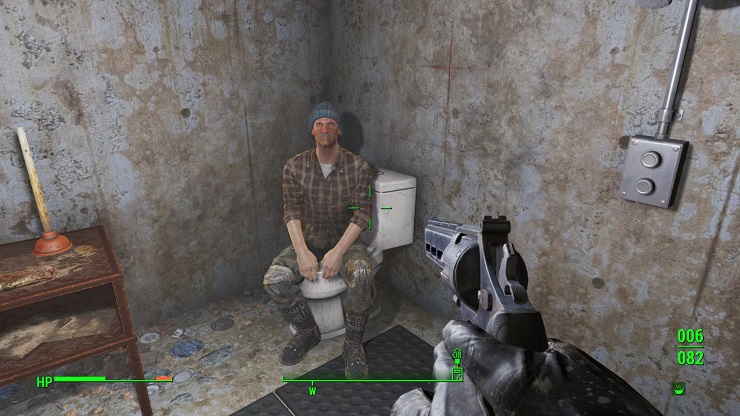 Cyberdyne systems called, they want their T-800 back!
As you progress through Fallout 4 you meet lots of synthetic enemies, and during a particular section of the main story you come across these guys.
It can't be reasoned with, it can't be bargained with…it doesn't feel pity of remorse or fear…and it absolutely will not stop. Ever. Until you are dead."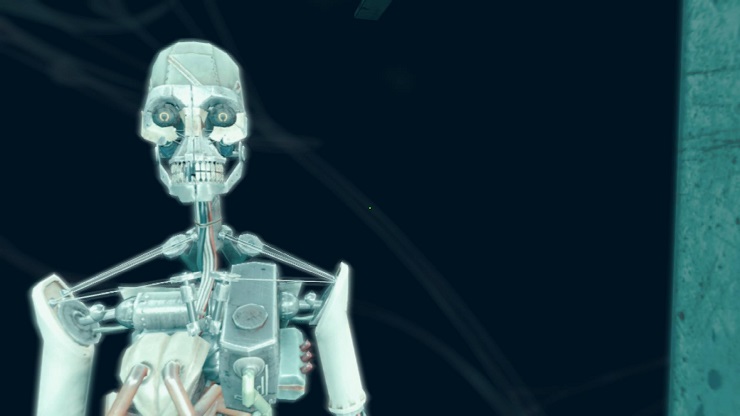 The Witcher 3: Wild Hunt
I don't want to alarm you dude, but…
Much has been made of the beauty of The Witcher 3, and I have taken my own fair share of breath-taking scenery shots, but the ones that really stand out for me are some of the pictures I have taken over the various bugs and imperfections the game has. After a difficult start with the game, over the time I have spent with it, I have come to the conclusion it is the finest fantasy RPG I have every played, but… it is buggy as hell. The first instance of this in very early in the game after you fight the Griffon in White Orchard. My poor pal, Vesemir appears to have misplaced something.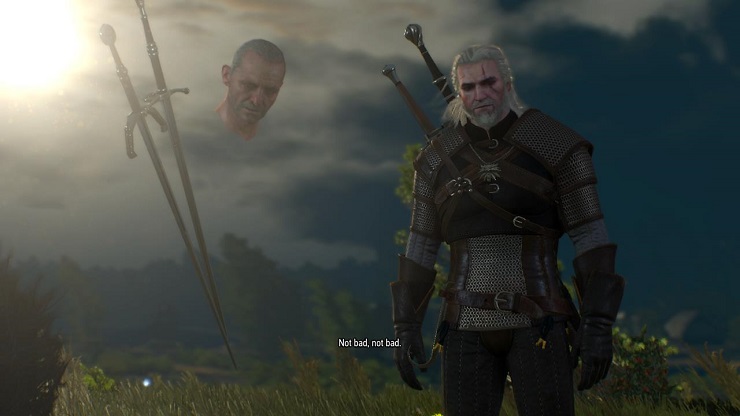 Oh Roach!
Roach is both the best and worst horse in games. During my time playing The Witcher 3, I've built up an internal narrative between myself and Roach, and in my world she is a complete dickhead. You know that kind of friend who does stupid things all the time to make you laugh? That's Roach.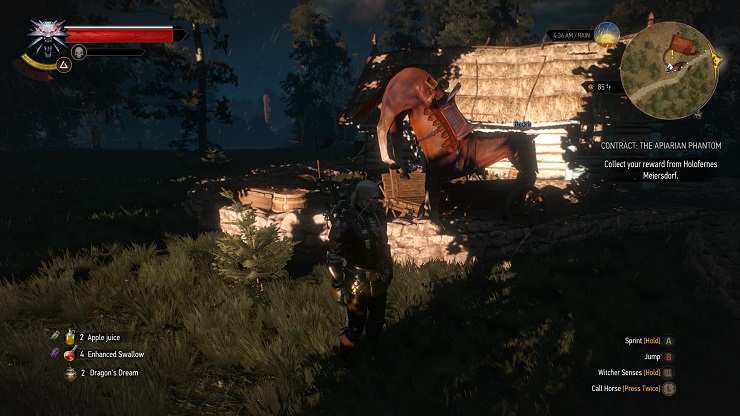 Raging!
One of the barriers I had with The Witcher 3 when I first started playing it was that I absolutely despised Geralt. I just thought he was a total prick. I detested him so much that the slightest thing about him annoyed me; the way he walks like one of those testosterone buffoons in the gym who think their lats are so large they can't put their arms straight by their sides, and the way his hair floated about in the breeze just wound me up no end. Over time though (and after a haircut) I have come to appreciate Geralt, I may even have a bit of a crush on him; he's still a dick though. This picture sums up what I love about him now, he just looks so fucking pissed off at yet another mess he has to clear up. Look at him, you can tell he is silently raging.