Ubisoft has teamed up with headphone makers Focal and French jeweller Tournaire to release some Assassin's Creed Origins headphones.
The set up above is called Listen Wireless and will retail for €249, that's fairly reasonable for a set of high end headphones. They're equipped with Bluetooth connectivity, a double microphone for better voice clarity and up to 20 hours of battery life. These are limited edition and have only 2,222 available units to purchase.
Something a bit different though are these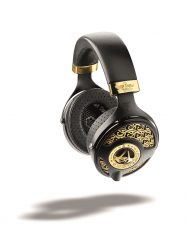 These have been made in connection with the jeweller Tournaire. These have hand crafted 18 carat gold elements, and come on a solid gold bust of Assassin's Creed Origin's lead character Bayek's head. These are also limited edition, but don't expect to buy a set of these if you are Joe public, they'll retail for €12,000. Put those eyes back in your head.
Both sets will be sold exclusively through the Ubisoft store.