The fantastic Ys VIII: Lacrimosa of DANA hits the Switch later this month and a lot of potential buyers and fans of the game have been asking various questions about the port, the game itself, and more as we inch closer towards Nihon Falcom's debut on Nintendo's hybrid system. When it was announced in the mini direct a while ago, everyone was pretty much shocked because Nihon Falcom has been mostly a PlayStation focussed developer in recent times. Here's everything you need to know about the upcoming port of one of my favourite games from 2017: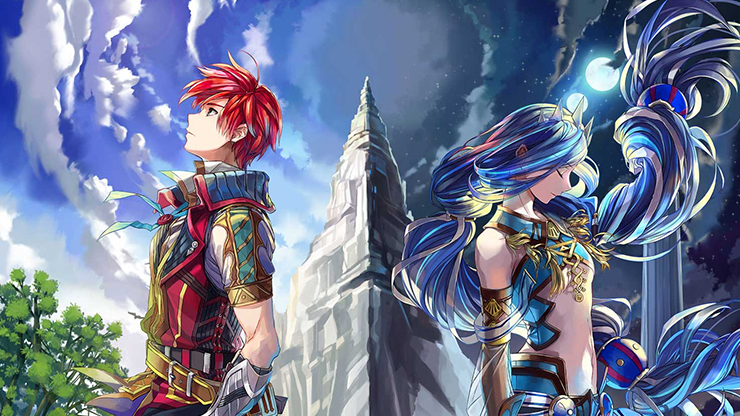 Tell me about the Ys franchise and Ys VIII: Lacrimosa of DANA?
Ys VIII is an action RPG that was originally released on PS Vita and then PS4 in Japan. The PS4 release had a lot more content and is generally considered the definitive version of the game. The Ys franchise is one of gaming's biggest hidden gem as I like to call it. I discovered it through Ys: Memories of Celceta on PS Vita before going deep into it. Ys VIII is the best and most modern of all the entries. It released in the West on PS4, PS Vita, PC, and is now releasing on Nintendo Switch.
What kind of game is Ys VIII?
It is an open world esque action RPG with multiple playable characters and fantastic combat. While most entries are more gameplay and combat focussed, this one has a generous serving of a lovely story alongside the combat and exploration segments. Read my review of the PS4 version here.
Do I need to have played previous games to enjoy this?
You don't need to have played previous games and this is a fantastic starting point into the franchise. If you'd like to play another older game before jumping into the newest release, I'd recommend Ys Origin (available on PS4, PS Vita, Xbox One, and PC) or Ys: The Oath in Felghana (Available on PSP, PS Vita, and PC).
How big is the download?
Ys VIII is 3.3 GB on Vita and 15.69 GB on PS4. The Switch version as of now is 14.1 GB.
When is it releasing worldwide?
NIS America titles usually have different releases dates across regions and this one is no different. Ys VIII: Lacrimosa of DANA releases on June 26 in North America, June 28 in Japan, and June 29 in Europe on Nintendo Switch.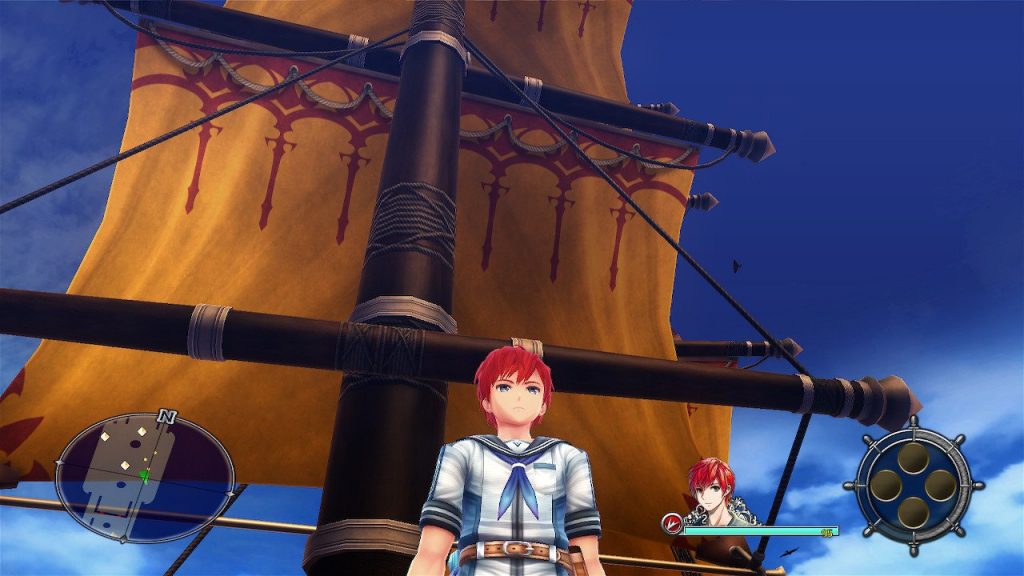 Is there a retail release?
NIS America has been good to the Switch with physical releases and Ys VIII gets a nice launch edition. The first run edition is called the "Adventurer's Edition" and it has the game, a double sided map and poster, collector's cards, and a reversible cover.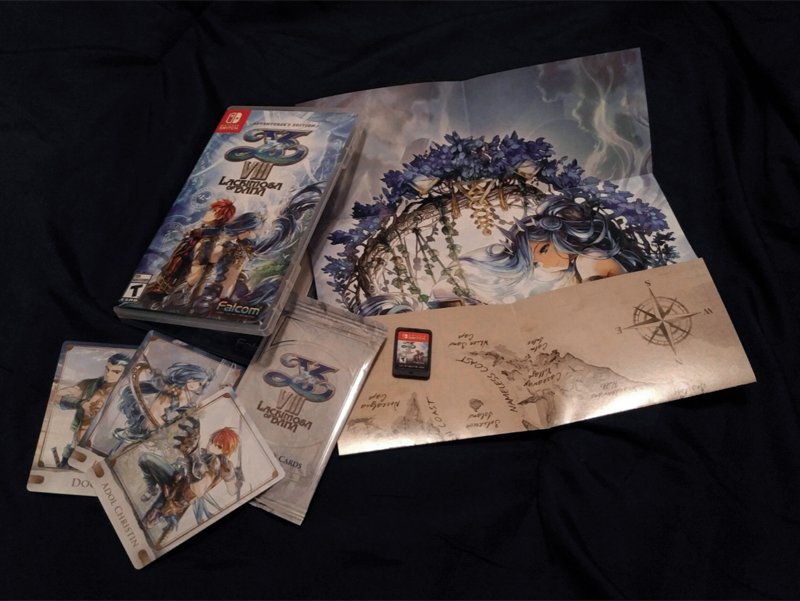 What about a limited edition?
Yes but it is NIS America store exclusive in both Europe and North America. The Limited Edition includes the following:
Ys VIII: Lacrimosa of DANA for Nintendo Switch
Hardcover Book
Softcover Art Book
Original soundtrack featuring 15 of Ys VIII: Lacrimosa of DANA's most memorable tracks
Mistilteinn Replica Letter Opener
Collector's Box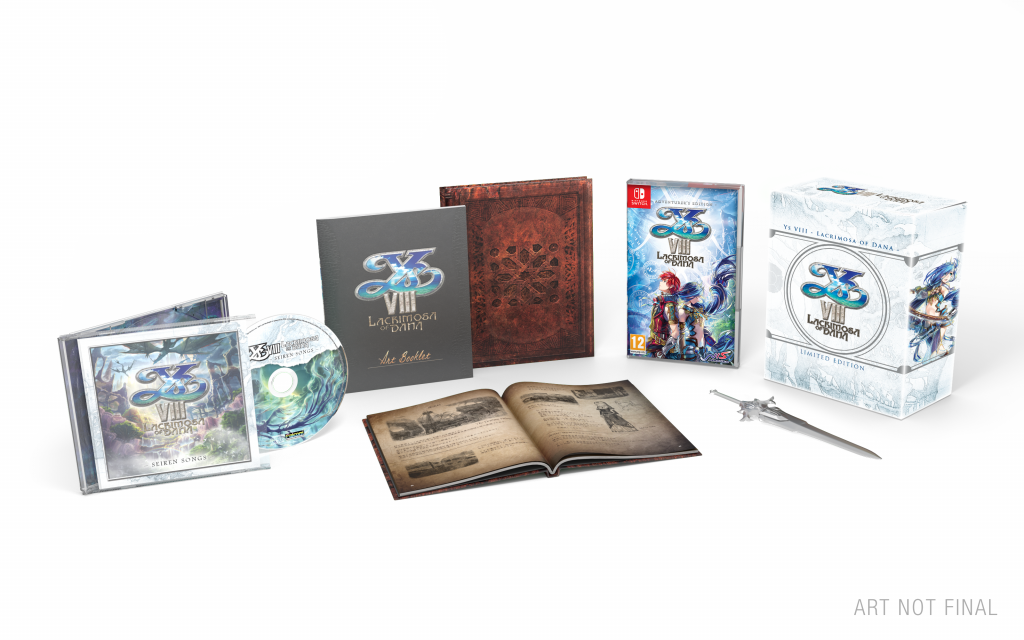 Is the soundtrack as good as you say it is?
Yes, it really is. Listen to a few tracks from it here and here.
What's the difference between the Switch version and both PlayStation releases in terms of content?
NIS America redid a lot of the localisation and voice acting in Ys VIII post release and the newest localisation is included in the Switch version from the get go. Compared to the Vita version, the Switch has all the PS4 edition content which includes extra dungeons, accessories, party member count, some gameplay changes to Dana, and a bit more story content. Until the Switch port, the Vita release had exclusive costumes like Pirate Adol, Pirate Laxia, and more. All the cosmetics that are PS Vita exclusive, will be included in the Switch version's main release. There is no need to buy any DLC and they can just be activated from within the game like how Disgaea 5 Complete handled the Season Pass content from the PS4 release.
Is there touchscreen support and does it support Switch Video Recording?
Sadly, the Switch version lacks the PS Vita version's touch support for the UI and more. I hope this gets patched in. It does support the video capture feature which is nice since many games still don't support it out of the box or at all.
How is the port?
So this is a preview for Ys VIII: Lacrimosa of DANA for Nintendo Switch based on the first 3 hours with the game. Having played the game nearly three times so far across PS4 and PS Vita with second playthroughs considered, the opening three hours on Switch have been mostly great. In handheld mode, it plays and runs a lot better than the Vita version which is what I'd hoped for. Auto save is a great QOL enhancement that the Vita version was lacking but the PS4 version had.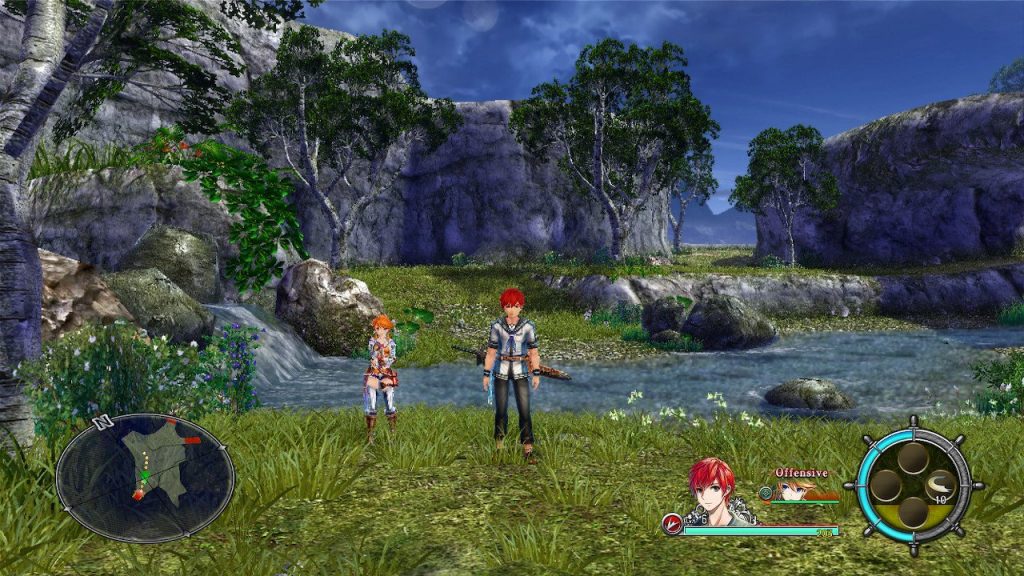 Ys VIII is one of my favourite action RPGs of all time and it is great getting a much more competent portable version with the Switch release. It was already great on Vita outside of the few performance and visual issues. I was hoping this would have the touch screen support from the Vita version but it isn't there right now. The only major visual problem right now is in the adaptive resolution in both handheld and docked mode where in some situations it drops or fluctuates too much. One other problem is shadow flickering that is nowhere as bad on Vita and PS4. Shadows of objects in the environment have a noticeable flicker and they are low resolution so the jagged edges look pretty bad. I hope these get addressed in patches either post launch or closer to launch. I'll have more on the port quality in the full review for it closer to release when embargo lifts.
As of now, I can't wait to play more and I've been replaying the same moments on PS4 alongside the Switch version for the full review for this port that will go live closer to release.