Maximum Games has today announced and released the physical edition of Five Nights at Freddy's: Security Breach on Nintendo Switch. Along with the standard edition, players will also be able to purchase a Collector's Edition, featuring a plushy, pin set, and more.
Security Breach is the latest chapter in the Five Nights at Freddy's universe and joins Freddy and his crew of animatronic friends at the world's most extreme family fun center! Play as Gregory, a young boy trapped overnight in Freddy Fazbear's Mega Pizzaplex, with murderous machines roaming the halls! With the help of Freddy Fazbear, Gregory must survive the near-unstoppable hunt of reimagined Five Nights at Freddy's characters — as well as new, horrific threats. Players will not only meet new characters but will interact with the stars themselves utilising the latest in animatronic technology. At three stories tall, the all-new Mega Pizza Plex is the flashiest, most terrifying pizzeria yet!
The Five Nights at Freddy's: Security Breach Collector's Edition (pictured below) contains some pretty cool swag, which includes:
Maximum Games Exclusive 12in Sun and Moon Daycare Attendant Duo Plush by Youtooz
Maximum Games Exclusive Vanny Vinyl Figure by Youtooz
Mr. Hippo Magnet
Five Nights at Freddy's: Security Breach Collectible Plush Pin Set
Five Nights at Freddy's: Security Breach SteelBook®
Physical Copy of Five Nights at Freddy's: Security Breach
Mega Pizzaplex Box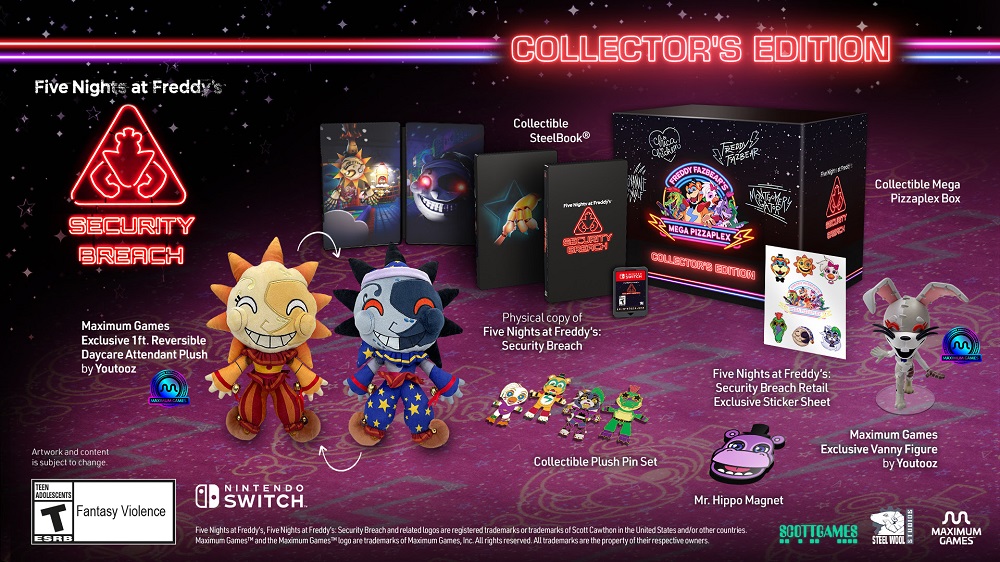 Five Nights at Freddy's has come along way since its original release, and 13 days ago a trailer for the upcoming movie (set to release on October 27) was released.
The terrifying horror game phenomenon becomes a blood-chilling cinematic event, as Blumhouse— the producer of M3GAN, The Black Phone and The Invisible Man— brings Five Nights at Freddy's to the big screen. The film follows a troubled security guard as he begins working at Freddy Fazbear's Pizza. While spending his first night on the job, he realizes the night shift at Freddy's won't be so easy to make it through.
You can watch the trailer below: