All long car journeys should start with a checklist. Tyre pressures? Check. Window washers filled? Check. Fresh oil? Check. Fruit Pastilles? Check. Taking much the same approach to the modern open-world racer, The Crew Motorfest ticks a whole lot of boxes in Ubisoft's upcoming racer.
A day/night cycle, point to point cross-country races, custom avatars, genre-based music playlists, bumper to bumper street racing, online leaderboards, dynamic weather, shops full of clothes and parts and paints. Oh and not to forget a vast array of endlessly upgradable & customisable cars, bikes, planes, and boats for you to recklessly chuck around. This is a celebration of things that go fast, with all tastes being catered for.
Opening up jumping between various car types including F1 style open wheelers and sharp edged Lamborghinis to the sounds of Royal Blood and Nancy Sinatra, the cinematic sequence aims to give you a stylish, tantalizing taste of what's to come. Following those first few moments, it's impossible to ignore just how closely The Crew Motorfest follows the Forza Horizon formula, and that's no bad thing in my books.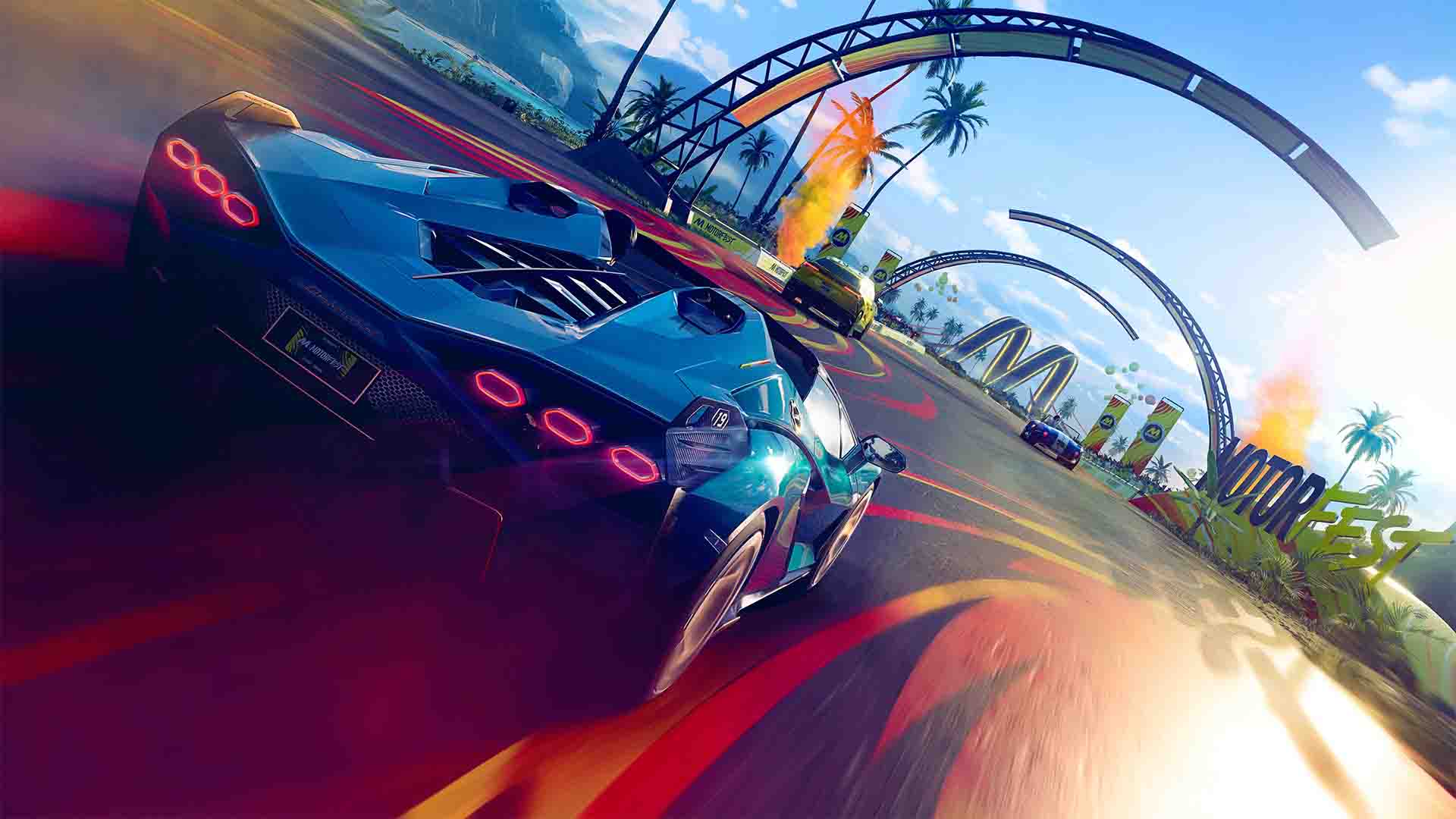 For those who have experience of Playground Games series, there's a strong sense of the familiar, tinged with early 2000s nostalgia. With bright neon signage reflected in streets full of small puddles and the inclusion of nitrous oxide for an extra burst of speed, at times it feels a lot like older, classic Need for Speed titles. Throwing the backend of an Impreza sideways through tight 90 degree turns, you almost instantly feel at home. For those who have yet to experience this style of racer, get strapped in, because it's going to be one hell of a ride.
Whether you prefer blasting down the open highway on a classic Harley Davidson, drifting tight mountain passes in a Honda NSX, or just soaking up the sights and sounds of modern Hawaii in a classic Aston Martin, there's sure to be an option here to take your fancy. From tight city blocks to steep mountain climbs, vast muddy hillsides to open sandy beaches, this is an island imploring you to explore the vistas, even if it's often at over 150mph.
Lush forests and volcanic rock formations fly by your windshield, offering a brief glimpse of paradise. With options for both graphical performance or fidelity, I chose to go with performance. Whilst easily steady at 60fps, there was no obvious drop in graphical quality throughout, with only one instance of texture pop-in during my time with the closed beta.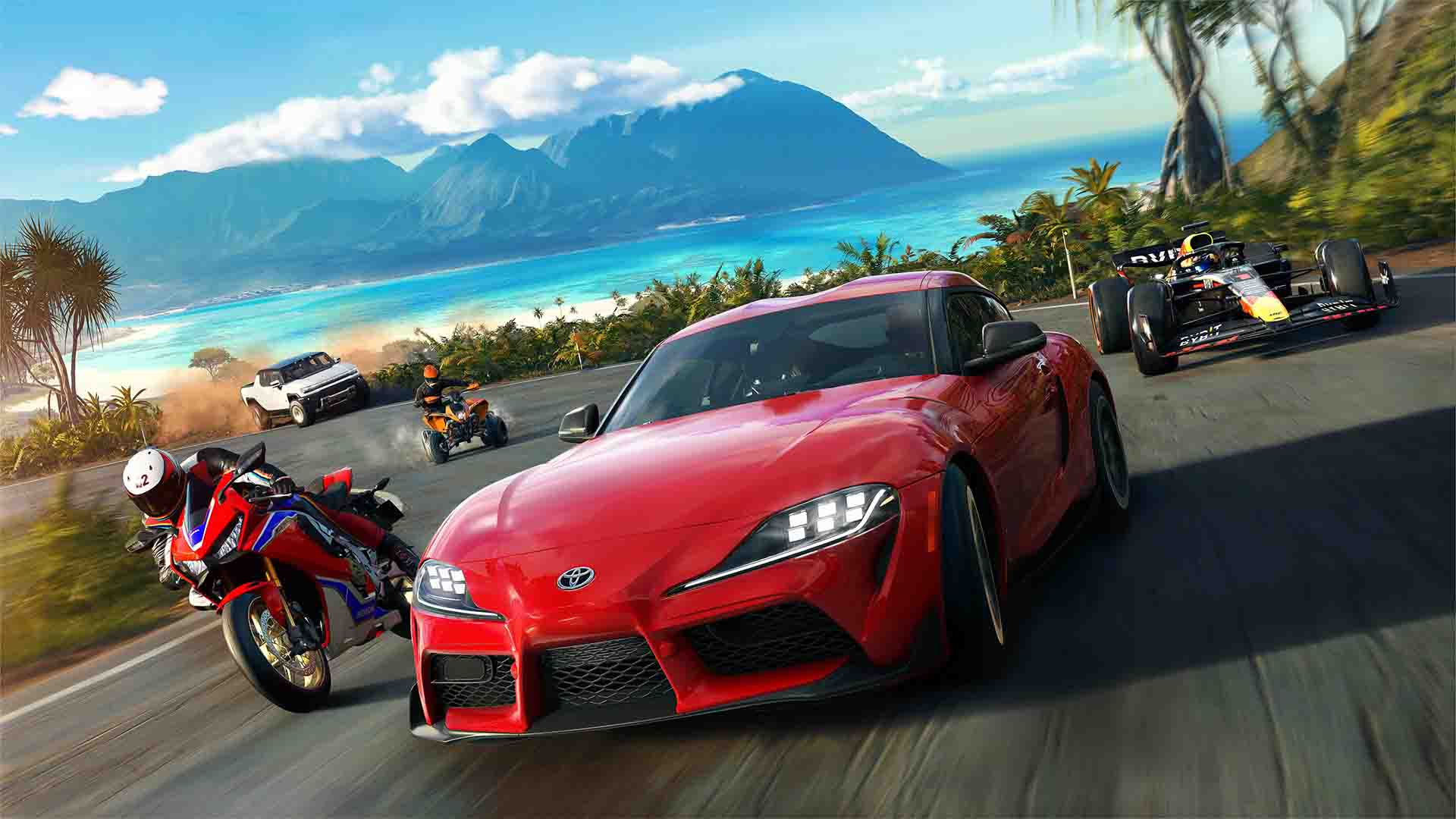 Including the now obligatory rewind feature, allowing you to rewind up to fifteen seconds before you smashed into that billboard and try the corner again, this game welcomes both seasoned racers and newcomers alike. With myriad assist and accessibility options, as is standard with Ubisoft games nowadays, you can quickly and easily adapt the difficulty to your own personal preference. There's a full suite of options allowing more experienced racers to tweak brake bias, gearing, and much more to their liking, showing further nuance to the car feel than I would have previously expected.
The AI racing itself feels very human, with mistakes being made by the CPU opponents, often providing you with an opportunity to dive up the inside. This isn't just cars stuck to the racing line, Scalextric style. This is a more dynamic system and will keep you glancing to the rear, fending off the GTR bearing down on your tailpipe, right up to the finish line.
Much like Riders Republic before it, there's a lot of character injected into the Hawaii's locales & NPCs, but with seemingly much less cringe than that game. Racers take verbal pot shots at each other, praise your driving skills and admonish you for those slightly less than gentlemanly racing lines. Between your vehicle's AI/GPS hybrid and radio chatter from your competitors, there's never a quiet moment. Depending on your tolerance to a continuous stream of chit-chat, your mileage may vary as to whether this is a deal breaker or not.
Alongside the voice acting, the sounds here offer all of the guttural growl, high pitched whine and squealing rubber that you could ask for. With music and engine notes being filtered out as you launch off a cliffside to drop 50m to the dirt below, bass kicking in hard as wheels regain traction, I'm reminded of SSX. Here too is an eclectic mix of artists and genres, meaning that the perfect track to tear past your opponents is never more than a button press away.
Speaking of which, The Crew Motorfest offers excellent haptic feedback support on PlayStation 5, with every slip and slide of your chosen vehicle being fed back with subtle nuance. It's easy to underestimate how much this cements you into the world, allowing every opportunity to correct your overzealous acceleration out of a corner.
After my few hours with The Crew Motorfest, I've gone from mild intrigue to eagerly awaiting release day. The Crew Motorfest promises hours of frantic fun, preferably with friends, that I can't wait to get to grips with. Watch your back Forza. I hear trouble coming.
The Crew Motorfest is coming to PC, PS4, PS5, Xbox One, and Xbox Series S|X on September 11th, 2023.