Release Date
June 29, 2023
All Elite Wrestling changed the professional wrestling landscape four years ago, and ever since it has continued to grow in talent and popularity. Thanks to Tony Khan, an alternative to WWE has offered fans some of the best matches of all time, continuing to surprise us with an ever-expanding roster and engrossing storylines. Personally, it revived my faith in professional wrestling in the US, and gave me a chance to watch favourites of mine like Kenny Omega on a weekly basis. AEW: Fight Forever is the first official video game from the promotion, and despite it having some issues, it's a hell of a lot of fun to play.
When it gets down to brass tacks, action inside the ring is relatively simple and addictive. Despite it being clunky at times, that feel of No Mercy and WrestleMania 2000 from the N64 days has been faithfully recreated, and more often than not, the gameplay is straightforward. The fundamentals are easy to master. You can punch and kick to deliver short combos, and lock in a grapple to perform a handful of moves. You can Irish whip an opponent into the corner or the ropes, and perform a few simple aerial moves off the top rope.
The move sets aren't too varied, but it's the ease of performing that makes it engaging. Some of the basic moves like picking up an opponent off the mat or turning them round for a grapple from behind aren't detailed anywhere, so I had to work them out for myself. It's a little frustrating, especially as some of the best signature moves are performed from behind. However, once you work it out, matches can flow reasonably well, and when you incorporate diving moves like the Tope Con Hilo et al, action is frantic. One of the coolest aspects of AEW: Fight Forever is how you can keep performing signature moves without losing the ability to do so.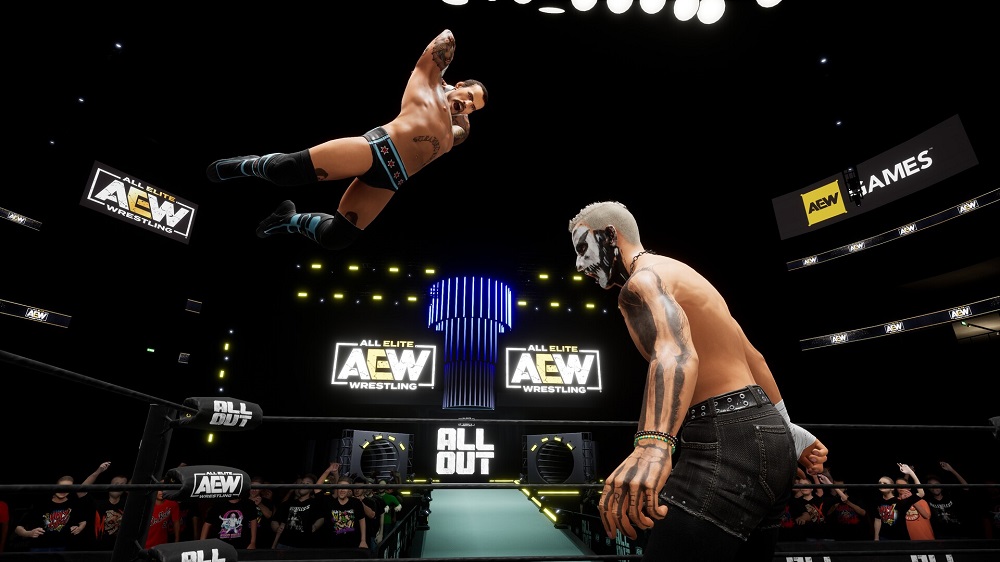 For example, in one of my first matches, I played as Kenny Omega and hit a Dragon Screw Suplex, followed by a V-Trigger, then another couple of Dragon Screws. In a game that doesn't take the realism too seriously, it adds one of the most realistic aspects of professional wrestling to it. Many matches will see a signature move performed a couple of times in succession, and it's good they've incorporated it here. To perform a Special, or finishing move, you simply have to taunt the opponent with the right stick, then get in the correct position and flick the right stick again.
With most of the signatures and specials, you'll get a quick replay that adds to the arcade feel, and it's wonderful to watch. My biggest gripe, though, is that matches can be won in under a minute. Now I know this does happen, but AEW is known for its epic matches, and these quick finishes diminish the grandeur of getting Bryan Danielson to step up against the likes of CM Punk or Jon Moxley. It's not the worst thing imaginable, but I often refused to pin an opponent because I wanted the matches to keep on going. The way you get to the point of pulling off a fancy move is by building momentum, and this can be done by executing different moves or gaining buffs for specific actions during a match.
It has a nice flow to it, and in 1v1, AEW: Fight Forever is excellent. Tag matches are also a lot of fun, as are the triple threat and 4-way matches, however, the real stars of the show are the Lights Out and Exploding Barbed Wire Matches. These are the moments where it doesn't take itself seriously. Lights Out offers players a ton of different weapons to use against an enemy, such as a mop wrapped in barbed wire, a football helmet that can be thrown on an opponent, a baseball bat with nails attaches to it, golf clubs, and the more traditional weapons like steel chairs and tables. You can reach over the barriers and pick up a weapon quickly, making these matches even more enjoyable.
As for the Exploding Barbed Wire Match, after a certain time, the barbed wire that's replaced the ring ropes will explode, greatly damaging anyone close enough. The Casino Battle Royale is also in AEW: Fight Forever, as are ladder matches, giving fans plenty of match types. It would have been cool to see trios matches included, along with the Iron Man match, Blood and Guts, and a few others, but in many ways, it feels like the game isn't the complete package.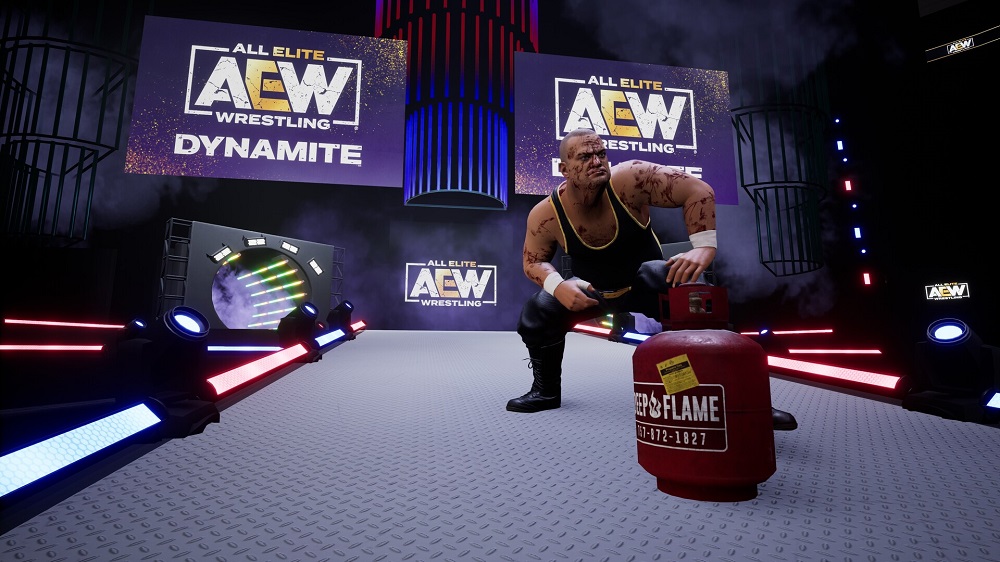 AEW: Fight Forever has a limited roster. Some professional wrestlers are being added, but there're some notable omissions like The Acclaimed and Swerve Strickland, and future DLC additions like FTR, Keith Lee, and Hook should simply be a part of the original roster. I'm hoping that other professional wrestlers will be added later down the line because it does feel like it's missing some key members of the roster. In other ways, AEW: Fight Forever feels massively out-of-date, and that they got to a point where they had to stop updating or else it would never be released, however, Ortiz and Santana are nowhere to be seen.
The Road to the Elite mode acts as a career of sorts, and Omega's influence is felt right through it. He's a massive fan of the Yakuza series and developers Ryu Ga Gotoku, and a lot of interactions have a similar humour and presentation. It's silly at times, but I loved it, probably because I adore Yakuza as well. The mini games are also a ton of fun and again, feel like they're a respectful nod to RGG as well. It only lasts for a year, but each block is made up of four weeks where you can go for a meal at a local restaurant or sightsee at specific places depending where Dynamite is being held; do some training at the gym; appear on a talk show; and even compete on Dark and Rampage, followed by competing at one of the four major PPVs.
Each week, completing these tasks help to improve your motivation, energy, skill points, and cash. The higher your energy and motivation, the better shape you're in for your weekly match on Dynamite. The more skill points you have helps to upgrade your created wrestler's (although you can play though the career as an AEW wrestler), and cash can be spent on unlocking weekly perks, however, I never felt like I needed them as the time I had across the week gave me enough opportunity to maximise things like how motivated or recovered I was. When it comes to the weekly match, stories from AEW's early years feature, such as Inner Circle and MJF's rivalry.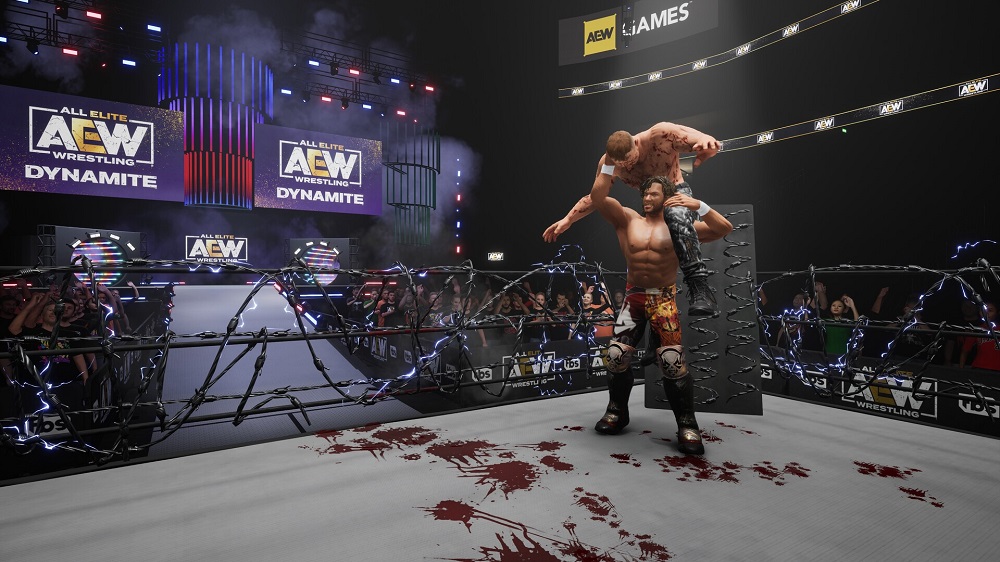 It is in these moments that it feels out of date the most. I get it's celebrating its beginnings, but showing video packages of Taz introduce the FTW belt feels like a lifetime ago. Maybe I'm being too picky, as the actual flow of Road to the Elite is nice and quick, arcadey, and funny. Watching Hangman and me pose in front of the Lincoln Memorial, or getting a boop from Kris Statlander while eating my New York Hot dog shows how it doesn't take itself seriously, as well as paying homage to RGG Studio. There're also a ton of Easter eggs and in-jokes, including a few references to WWE thrown in for good measure.
The custom suite isn't packed full of options, but there're some decent enough options in the custom arenas. The custom wrestlers are limited, though. I couldn't find a decent beard at all, and I hope these get added to the in-game store. By the end of my year in the career mode, I had so much cash I didn't know what to do with it, so fingers crossed more stuff gets added. While it doesn't feel unfinished, it does feel outdated at times, but thankfully it's so much fun to play.
The gameplay in AEW: Fight Forever isn't going to blow fans away, but it does remind me of the times spent on my N64 pulling off quick and simple moves that look awesome. Some of the wrestlers don't look like who they're supposed to be, but the characters are more cartoony than lifelike, and I'm fine with that. This isn't a polished 2K WWE-style game. Fans might not like that, but I honestly enjoyed getting involved in matches. It's quick and easy to jump in, and I hope more gets added to it over the coming months. It would be a shame if, after a few DLC drops, that's all we get.
While AEW: Fight Forever does feel a little empty and outdated, jumping into a match as Chris Jericho, Orange Cassidy, and Britt Baker is so damn cool. I love this company with all my heart, and while I might have been down on it at certain points, I'm in no way disappointed. I just pray to TK and Yuke's that there's more to come from it down the line. Still, the developers have reminded us why they were so good at making wrestling games fun, just like what All Elite Wrestling has done for the sport as a whole.
Positives
Matches are fun to play
Small yet important gameplay features
Yakuza-inspired career mode is cool
Negatives
Feels outdated
Needs a bigger roster
Combat can be clunky
Matches in AEW: Fight Forever are a ton of fun to play, with a career mode that takes inspiration from Yakuza in the best kind of way.