Release Date
February 17, 2022
You don't need me to tell you what Assassin's Creed is. Furthermore, anyone with any idea about video games knows how integral this franchise is to the open world genre. When Assassin's Creed 2 released was back in 2009, it changed how traversal in vast environments felt. You could go anywhere, or do anything. As great as that felt back then, the series has greatly improved in every possible way. With games evolving all the time, the entire genre has undergone huge changes. Jumping back into a trilogy of games that may have defined a genre back then certainly feels dated now.
Assassin's Creed: The Ezio Collection: An impressive collection
Regardless of Assassin's Creed: The Ezio Collection feeling a bit old, all three games are still impressive. They follow the ongoing war between the Templars and the Assassins, and in this case, during the Renaissance Period. Ezio Auditore da Firenze is a nobleman from Florence who seeks revenge on the Templars. One thing every Assassin's Creed game does is bring some of the gameplay into the present. These sections are never particularly good, but thankfully you'll spend more time in Italy than the present day.
I'm not going to spend too much time diving into what you can do or the story because they've been out for so long. That said, having three open world titans in the palm of your hand feels great. Along with the main campaigns, there're tons of side quests and collectables to find, and a world ripe for exploration. With some of these familiar tropes seen in countless other titles since, the three titles do feel old. Still, it's nice knowing you can head out to Rome while sitting on the loo.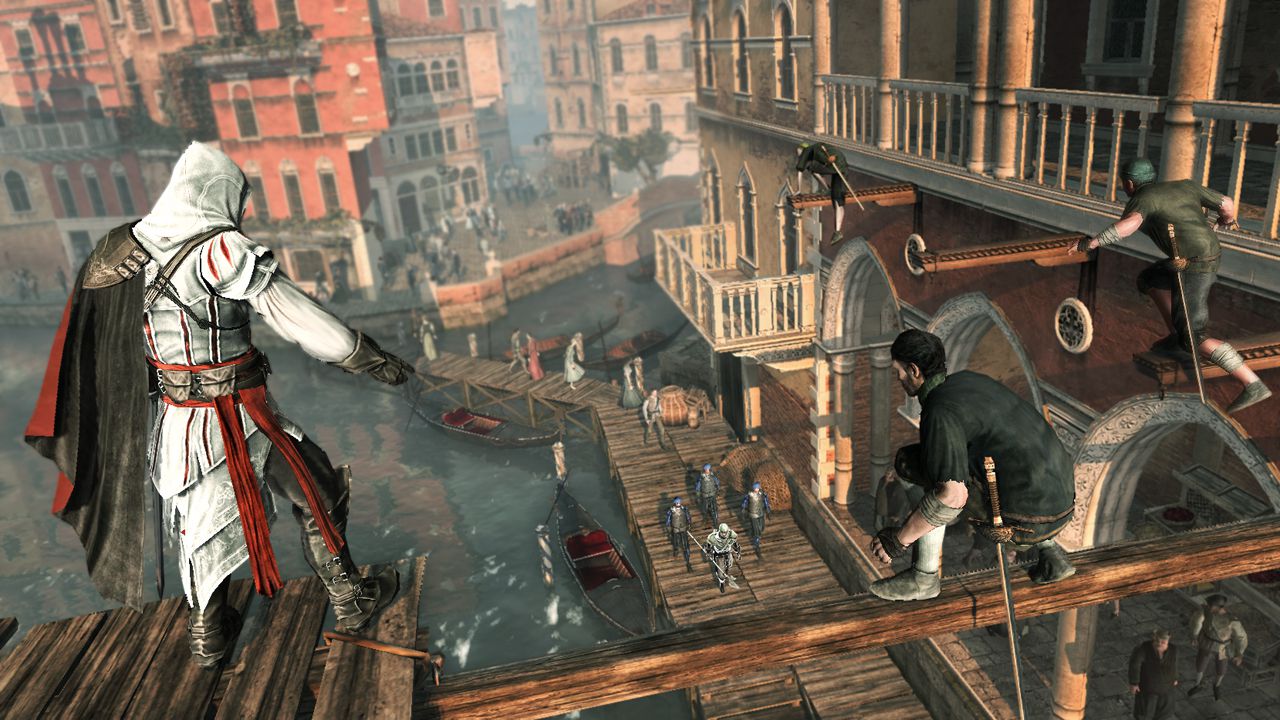 Some technical issues
I encountered a fair few bugs while playing, and some texture issues throughout. Character animations look weird and don't feel like they've been enhanced at all. These problems are more prominent in handheld. When docked, the game does a surprising job of holding up pretty well, but as mentioned a few times already, the games definitely look their age. One plus is the audio. The soundtrack and dialogue is strong throughout, and holds up really well.
When it comes to how it plays, they manage to hold up for the most part. Free-running is surprisingly fun, although the same issues persist as they did back then. Accidentally falling from a great height or jumping when you wanted to climb down is as frustrating as it always was. Combat is also pretty dated, especially when Valhalla, Origins, and Odyssey felt so good. Nevertheless, Assassin's Creed: The Ezio Collection is still fun to play. Fighting may be a little awkward, but I enjoyed travelling across the world that Ubisoft's created.
Assassin's Creed: The Ezio Collection: Switch-exclusive features
The Switch version does add HD Rumble, but it's far from revolutionary. There're also touchscreen options, but these are exclusive to the menus only. I guess the decision to purchase depends on how much you want to replay them. The collection already exists on other consoles, and does a somewhat better job in the performance department. Having that option to play in handheld is great, though. Taking Ezio on the go means you're never too far away from an adventure.
Assassin's Creed: The Ezio Collection on Switch isn't the best when it comes to performance. In terms of content, there's plenty on offer. As well as the three games, you get all the DLC as well as two short animated movies, Lineage and Embers. You can't go wrong with it to be honest. It may not hold up particularly well, but it's far from bad, and with three fantastic games at your fingertips, reliving them will be an enjoyable experience for many.
Positives
Three great games
Loads of content
Fun traversal
Negatives
Some performance issues
Feels dated
Character models look bad
Assassin's Creed: The Ezio Collection on Switch features three great games to play on the go, but there're some performance issues that hold it back.