Release Date
November 16, 2023
It's been a long year full of incredible video games, and it's easy to forget some of the bangers that came in those earlier months. Well right on cue there has been a glut of DLC releasing for those games you once loved, from Resident Evil 4 to Cassette Beasts. It's nice to be reminded of the games that could have been forgotten, especially in the run up to our Game of the Year awards. DREDGE in particular has done a great job of reminding me why I loved that genius combination of fishing and horror, with the new The Pale Reach DLC.
If you missed out on Dredge when it released back in March, here's the elevator pitch: your boat crashes at a strange island in the middle of the ocean, and you soon discover a whole host of Lovecraftian nightmares lurking in the water. To upgrade your ship to explore further you'll need to make money by fishing, which involves fun timing based minigames and a whole lot of sweet sweet inventory management. It's one of the most unique and interesting games of 2023, and if you haven't played it yet then now is your chance.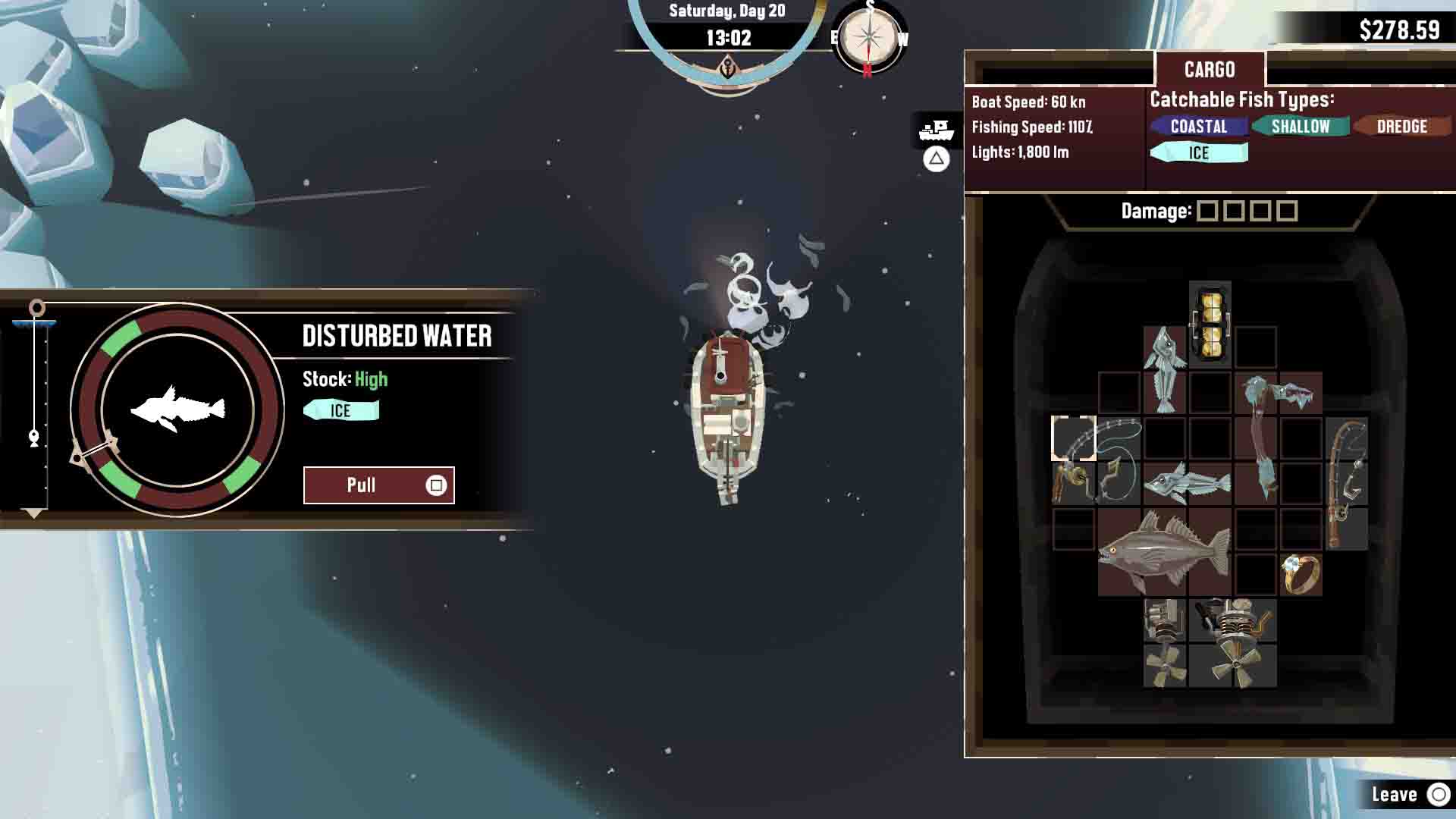 The Pale Reach adds a whole new icy area to explore to the south of the map, which you can go to at any time in your playthrough of the game. The distance you'll have to travel to get there is pretty sizable though, so it's certainly intended to be a late game area to access once you've upgraded your little vessel with some better engines. The frozen environment of The Pale Reach is a breath of fresh air from the other biomes of Dredge, and is packed full of plenty of secrets to uncover.
Upon arrival at this new icy locale you'll find the sea merchant scoping out the new unidentified islands. If you can find the parts needed to craft an ice plow he tells you he'd be happy to make one for your boat, so you begin a quest to find some spare parts from the boats that crashed here before you. The new upgrade will let you explore areas you couldn't previously, and help you save the souls of those who came before.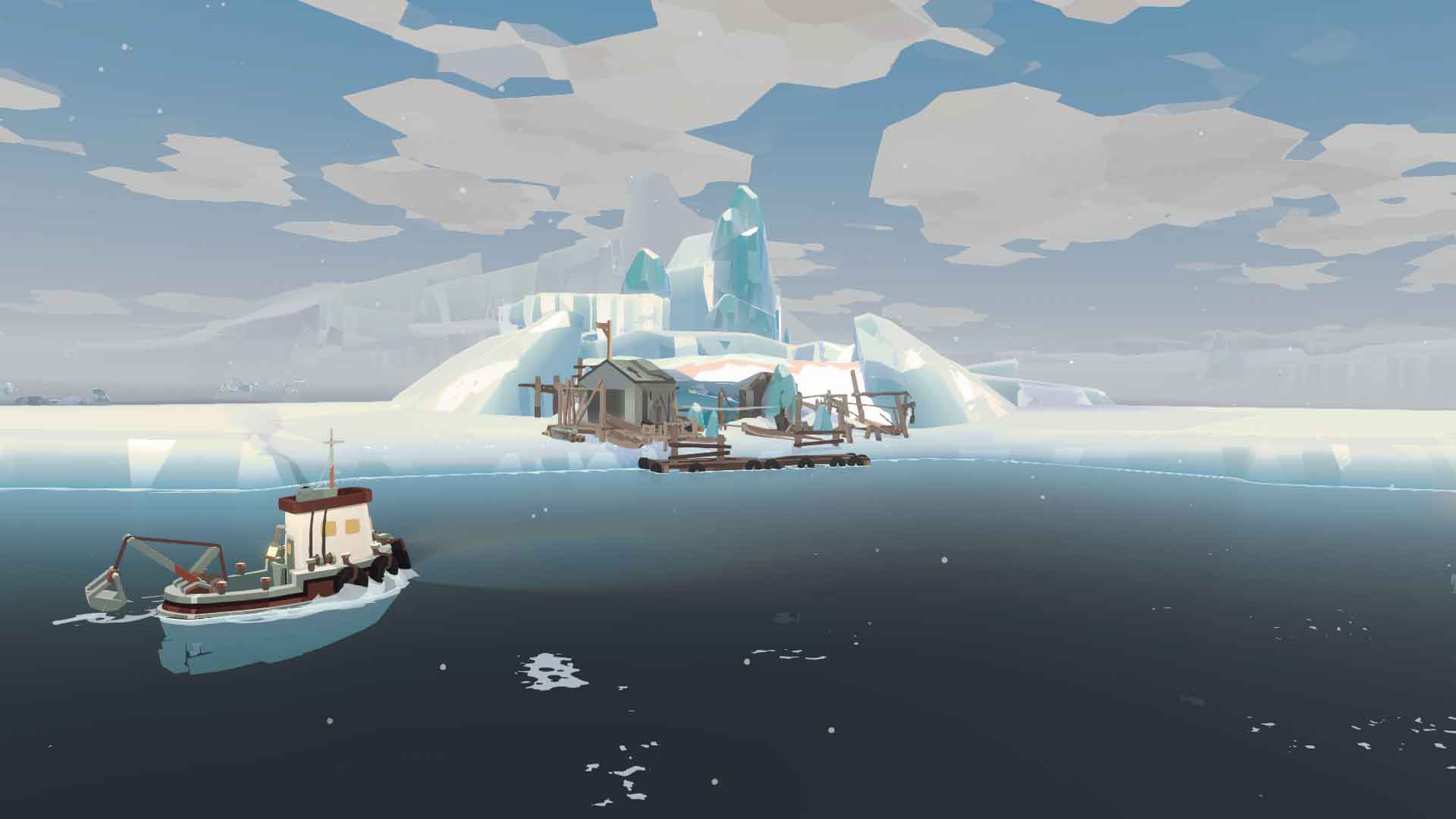 Now being DLC, there's a good chance that you'll be playing this new content after beating the game. I was concerned that with my fully upgraded boat and a pile of cash that there'd be no real need to fish or dredge as I explored The Pale Reach, but thankfully that isn't the case. The threat of this new area doesn't just attack at night like other enemies in Dredge, and instead attacks anything that moves when it's feeling peckish. There are platforms scattered around the islands that you need to regularly fill with fish if you want to stay afloat as you explore, which means even us salty old sea dogs have to whip our rods out every so often.
The fishing is just as compelling as ever, with all sorts of little timing based minigames to play that will help you reel in the big one quicker. Although these minigames are all the same ones you saw in the main game they're still a lot of fun, and will enable you to capture a new selection of icy fish (and their Lovecraftian counterparts) for your journal. You'll even need a new rod to get through the ice, so save up some wonga before you set off to these cold new lands.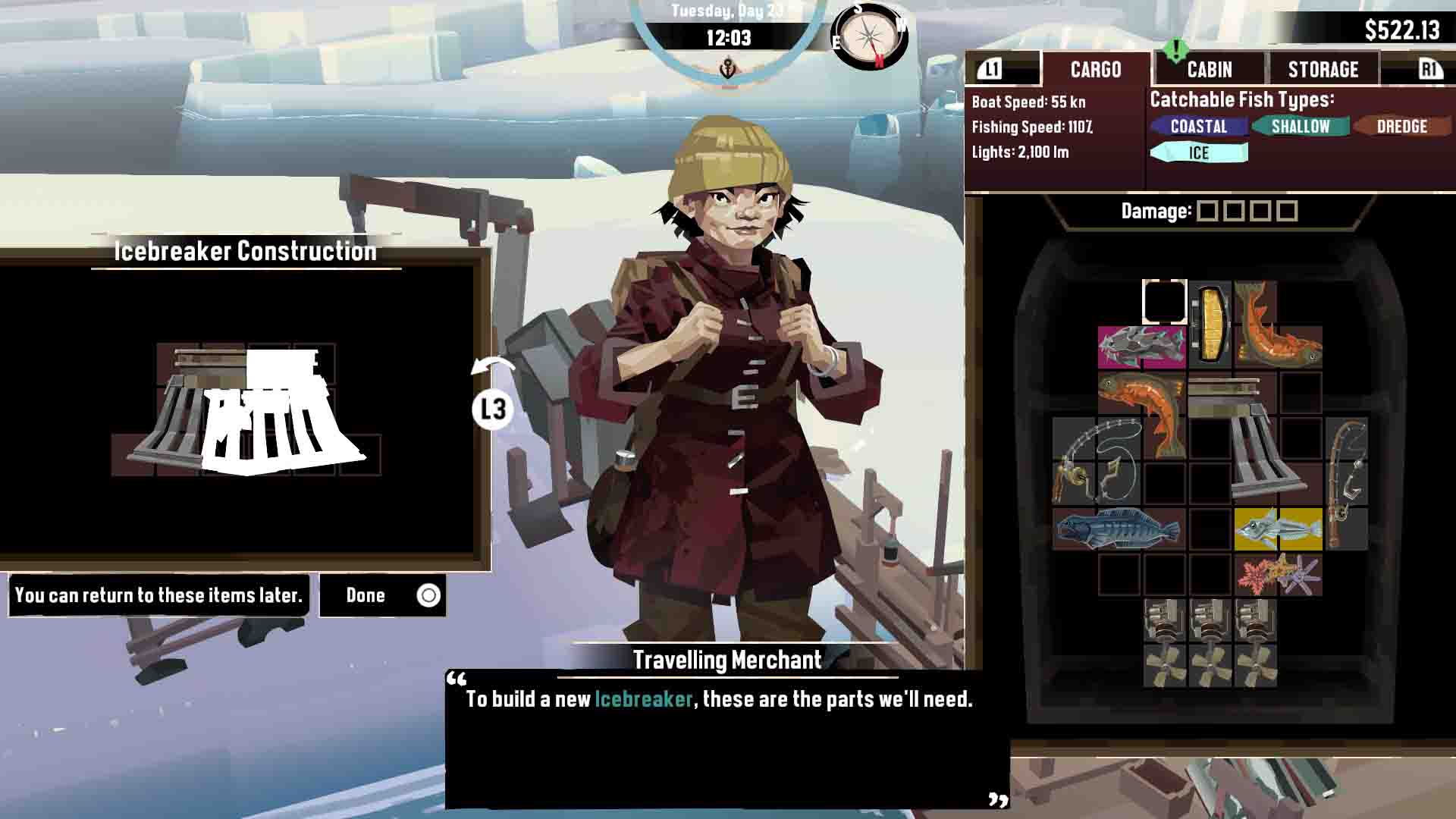 If you haven't finished the main game and have come over check out The Pale Reach beforehand, you'll be rewarded with a whole host of handy upgrades for the rest of your adventure. I got two pieces as fishing equipment which were an improvement on my old gear, and there are also two really powerful upgrades that I won't spoil that you're rewarded with on completing this chunk of side content. It's a shame I didn't have anything to do with them once I was done, but if I wanted to travel all across the ocean to finish my fish encyclopedia now it'd be much easier for me.
I really enjoyed my time with The Pale Reach, but I can't pretend it's a huge piece of content. Exploring every nook and cranny of this new area took me an hour total, which is about how long each area in Dredge takes to complete. It was a fun hour that did a great job of reminding me how much I love this wonderful game, but don't go in expecting a whole new campaign to be waiting for you in this new content.
The Pale Reach is a great new addition to Dredge, featuring an interesting new area to explore and a whole lot of upgrades to take back to the main game. It won't take you long to check out everything it has to offer, but every minute you spend in those icy waters will be a minute of lovely dread.
Positives
A great new area to explore
Has a clever way to keep you fishing
Rewards you with some great upgrades
Is a great excuse to play more DREDGE
Negatives
Is over quickly
The upgrades don't really matter if you've already beaten the game
DREDGE's new The Pale Reach DLC is a great excuse to play more DREDGE, thanks to an interesting new area full of water based horrors.