Release Date
July 6, 2017.
Over the last few months, I've been picking up almost every release that is multi-platform on the Switch because most games play a lot better on it for me. I love portable gaming and the Switch has been an amazing device so far. The library while slow to grow initially, is getting a lot of support now and we are finally going to see some big games come out at the same time as other platforms in the next few months. Aside from the bigger games, there's a plethora of smaller and lesser known games flourishing on the eShop right now. Having a hot new console and a content-starved audience will allow some smaller titles to find a huge untapped audience. Disgaea 5 seems to have done way better on Switch than it did on PS4 where it originally launched a few years ago. Flip Wars from Over Fence is not only the opposite of what I want to see on the Switch, but is also plainly incomplete right now.
If you've played a Bomberman game, you will feel right at home here. Well you may get angry because while the core mechanic in Flip Wars feels familiar, it has a super annoying addition. You play as a character in a spacesuit in a field of tiles and your aim is to flip a particular tile by jumping on it causing a few tiles in all 4 directions to flip to your colour. The twist is that walking over another colour tiles will be at a snail's pace. There are three main modes right now. One of them has the winner decided by the most panels of the player's colour. The other two rely on lives and knock outs. One has the winner decided by the most times other players have been knocked out or flipped out by jumping while they are in your area and the other has a fixed amount of lives, and the last player standing wins.
Aside from the main modes that allow you to play against CPU or other people locally, there's an online mode. I've tried finding games for the last few weeks and haven't been able to get a single one in. The online has been this dead for me since launch. The main menu has two more options that are both "coming soon". Rankings and Local Area Battle are both not available right now. As you can tell, this is a barebones release with not much available right now and the online mode dead. Even the stage gimmicks don't do much for me after the first few times I played them.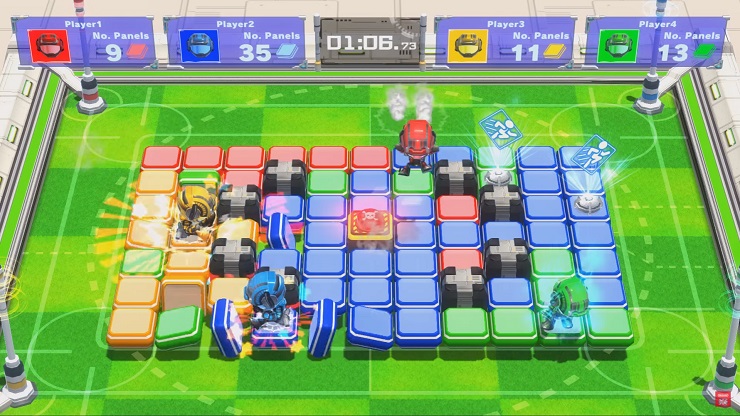 While the gameplay is simple and there's not much happening, the visuals are inconsistent. The UI is pretty bad and it almost looks like someone's first test game with lots of poor choices of text and colours overlapping. There's an attempt to try and make it look futuristic with transparency and shapes that are familiar to fans of Sci-fi movies in the interface, but it needs a lot of work. Music is decent in levels, but the sound effects are pretty bad. I had to play with the sound turned almost all the way down after first few hours here.
If you are absolutely desperate to get something new to play locally with Joy-Cons to spare and own everything else on the Switch, get Flip Wars. Everyone else should definitely wait for more content or get something better which is everything else on the system. There are way better local multiplayer experiences as well.
Positives
Good local multiplayer
Negatives
Barely any content
Sounds are terrible
Online is already dead
Flip Wars is not worth buying at all right now and it needs a lot of work to come close to being decent let alone good.