Release Date
November 2, 2018
It's often said that you don't play Football Manager, you live it, and to be honest that's as true now as it has ever been. The life of a Football Manager player is like that of any other: there'll be times that they do family things, go to work or even play other games (there's a reason why Football Manager has been cited in thirty-five divorce cases). But there'll always be something at the back of their minds, a player to scout, a team to research, tactics to adjust; it's a thing always gnawing at you, and as a Football Manager player myself… I like it.
Now, it has been a while since my last dalliance with a Football Manager game, and upon booting up 2019 I was shocked at how much had changed. Yes, I had played 2018 Touch on the Switch, but here the layout is slightly different and compared to my last full-fat experience the sheer volume of information on-screen at any one time can almost seem insurmountable. Here's the thing though: take your time to move your mouse cursor around and you'll soon realise just how easy it is to get the information you need, and that's the first real lesson the game teaches you: to take your time.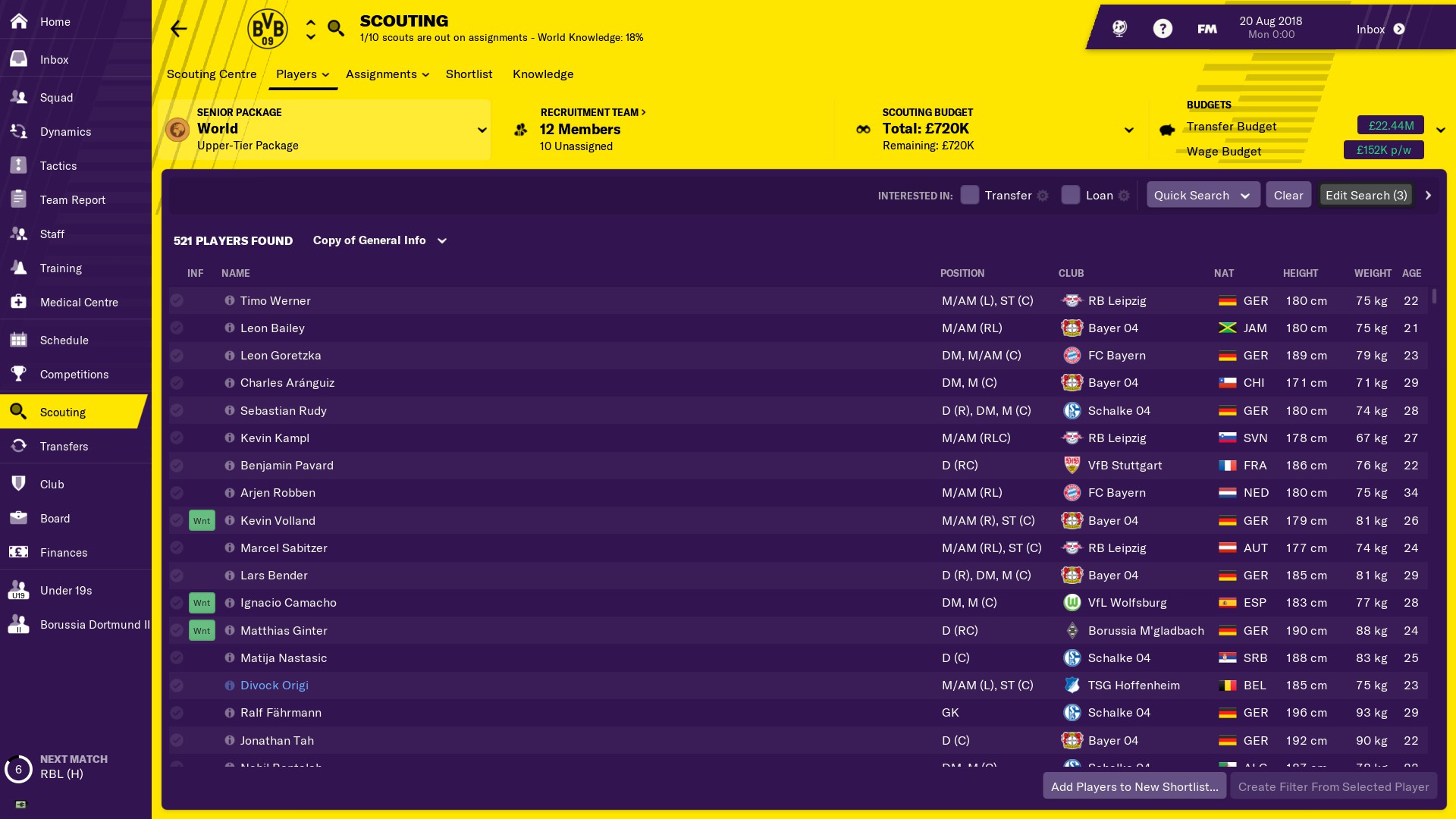 Here in the land of Football, decisions shouldn't be rushed, there should always be a second guess, a thing to tweak, a player to talk to. As a match looms you should be asking yourself if your tactics are right, and the game gives you 101 ways to ensure you are properly prepared and that your players are too. Formations now allow you to select roles for positions, left backs can be marauding wingers and goalkeepers can be sweeper keepers; the sheer wealth of options for positioning and the roles contained therein allow you to fine tune your team's mentality with how to focus their attacking intent.
What's new this time round is that you can tell your players how you want them to play by choosing from predetermined styles, so you can get your team playing the Guardiola way with a spot of Tiki-taka, or constantly pressure your opponents with the Gegenpress system. You can also create your own style should you wish to do so by advising your team what you want them to do with the ball, without it, or in transition from defence to attack. All these options are backed up by an induction system so that people new to the game can be taught how these things work before attempting to get their team to play, or, if you need a refresher it's there to help you.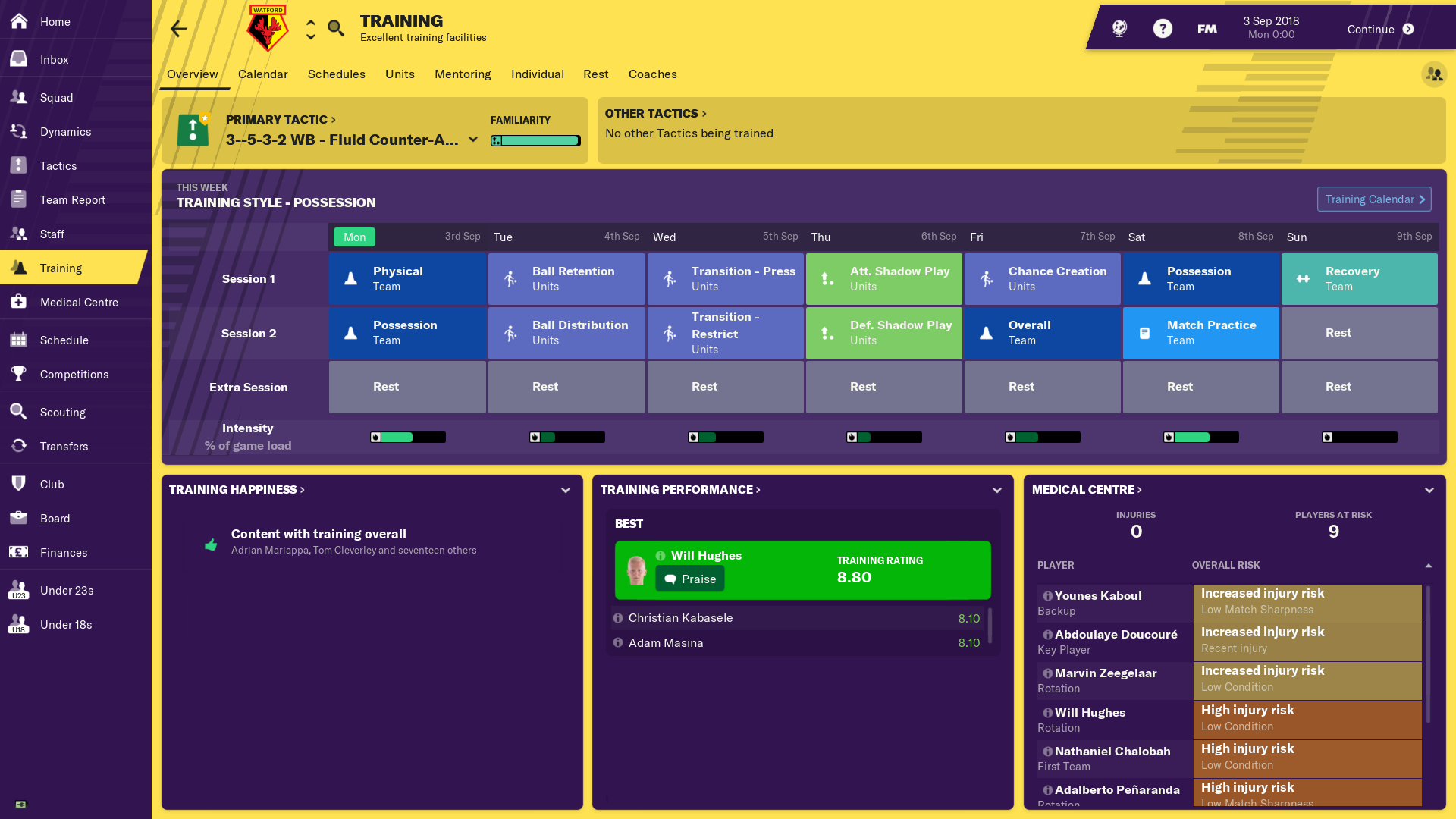 The thing is, it's not solely down to your tactics now. Each player can be pulled aside and spoken to, giving them confidence boosts before a match. You should choose your words carefully though because just one wrong utterance can result in them losing respect for you and demanding a transfer. Pre-match prep is also a focus too, as team talks can now be broken down from the full team, to attack, midfield and defensive areas and also to individual players. You'll need to make sure that you combine the thing you want to say with the feeling you want to put into it or else you'll send players out onto the pitch confused. For instance, telling a player to go out with no pressure in an aggressive tone is going to wind up with a few baffled looks.
This part isn't perfect. In fact, while the range of communication options is extensive, often you won't find the right words to say to the right player. There'll be a lot of times when you'll find something close and have to make do, but when dealing with AI that can have its attitude change on a die you really don't want to leave things up to chance. That said, it's not the worst thing in the world and considering it's the only real issue that Football Manager 2019 has it should be applauded that so much effort has been put into giving you so many ways to talk to the players. I could go on about the lack of player photos or the appalling character models that come from the create a manager mode, but you'll barely see them past loading the game.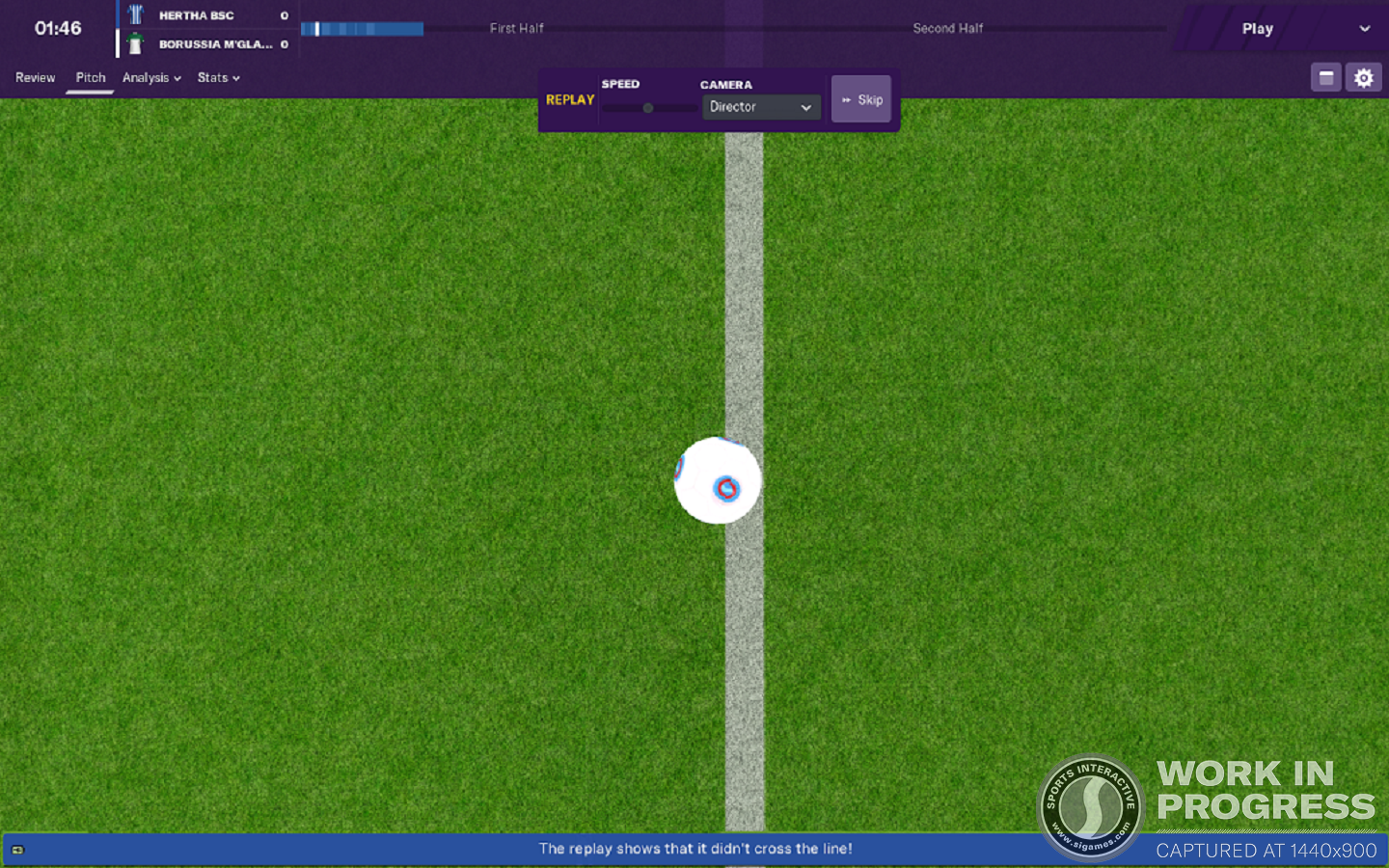 Viewing games is highly customisable too; you'll be able to view the entire game, key parts or only highlights, and the view you have is entirely up to you as well. Personally I like the old 2D aerial view with the blobs, but the 3D match engine is so much improved now that I used that for watching replays of the goals my team scored. The players don't moonwalk like they used to and the way they make runs and interact with the ball at different heights makes things much more realistic. No, you don't get FIFA's incredibly detailed stadia or player likenesses but honestly, who really cares when you're successfully managing your team to glory?
During key match incidents you can view your player ratings as well as their fitness and motivation levels but a nice addition is the attacking heatmap at the bottom of the screen showing where your attacks are being focused. If you see that you're getting a lot of success from attacking down a particular flank you can adjust your tactics accordingly. Even players subbed into a game can be given an individual team talk before they enter play, so you can ensure they're mentally as well as physically ready to go. I'm being serious here, you have all the information you could ever want at all times, and you're only ever limited by the rules of football itself.
Football Manager has never shied away from the idea that individuals make mistakes and as a result the inclusion of VAR evolves this to the next level. VAR adds more ways for officials to make mistakes; for instance, a game should always be able to tell if the ball crosses the line and should always award a goal, but it is now possible to have perfectly legitimate goals be ruled out only to have a replay show that you should have scored. We all screamed and shouted when officials refused to consult VAR during the World Cup so while this could potentially be really annoying, it's just like the real thing, so it's not something you can really complain about.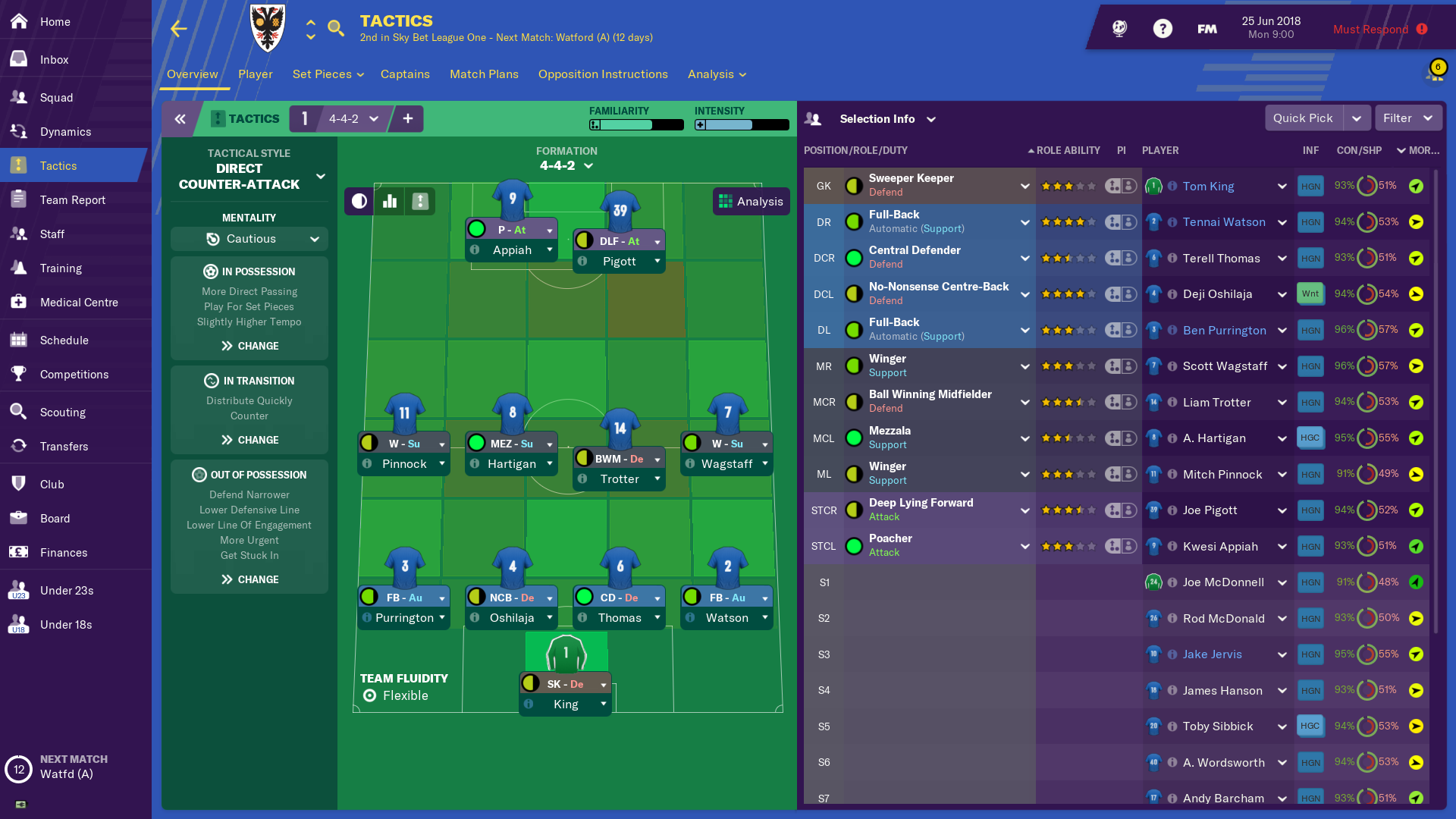 Last year there wasn't really much wrong with Football Manager and these improvements not only make it a much better game for fans but they also make it more accessible for newcomers. There's a raft of tutorials and inductions, not to mention a whole host of responsibilities for players to delegate to their assistant manager, freeing up time to tweak formations, training schedules, and those all important transfers.
With Football Manager 2019 Sports Interactive have really pushed the boat out and at this point it's hard to see where they could go from here. As far as management games go this is the absolute finest example you could hope to find, offering incredible tactical depth while also offering a streamlined experience for those who could find the myriad menus and systems daunting. Granted, there's no way anyone who dislikes Football Management sims will be tempted by this, but for those who are already in deep and for those who have started to fancy their chances, this is the finest work there has ever been. Here's hoping it's not cited in your divorce case.
Positives
Such a wealth of options
Extremely welcoming to new players
Incredible depth
Tactically sublime
Negatives
Initial information overload
Dialogue options are limited
The Football Manager series just goes from strength to strength. This is superb, sublime, and irresistible. It's not a game you play, it's a game you live.