Release Date
November 24, 2020
My pre-season with Manchester United was going pretty well. I'd just taken over from Ole Gunnar Solskjær, and the squad was far from motivated, but they welcomed me with open arms and we began to build on the foundations left in the former manager's wake. Along with Mike Phelan, we looked at where the squad was at its strongest, how to adapt our training regime to take advantage of the talent in our squad, and where we could possibly make improvements by diving into the transfer market. After only a few hours playing Football Manager 2021, I was hooked.
The detail involved in the backroom business is staggering. Every player has a detailed breakdown of their abilities, performance on the pitch, relationship with colleagues, pros and cons, and more. You can keep track of how player injuries are going and how training is impacting player fitness, receive scouting reports for players who could fit into the future of the club, and plenty of other information football fans will spend hours analysing with a fine-tooth comb. If I were to detail everything this game has to offer, we'd be here for days, and you'd be reading this rather than playing, so to give you an idea of how Football Manager 2021 has improved since last year, let's take a look at the new features.
Making big decisions about who to bring in, whether to sit out your winger in favour of a young upstart from the youth team, or how your squad might benefit from a fresh formation and approach have always been huge parts of the Football Manager series. This year, conversation and communication on a personal level have taken centre stage. The inclusion of a Whatsapp-style chat function which allows you to let certain players know what you think of their performance, or getting the lowdown from a player's agent before entering into negotiations will get you closer to the action, literally.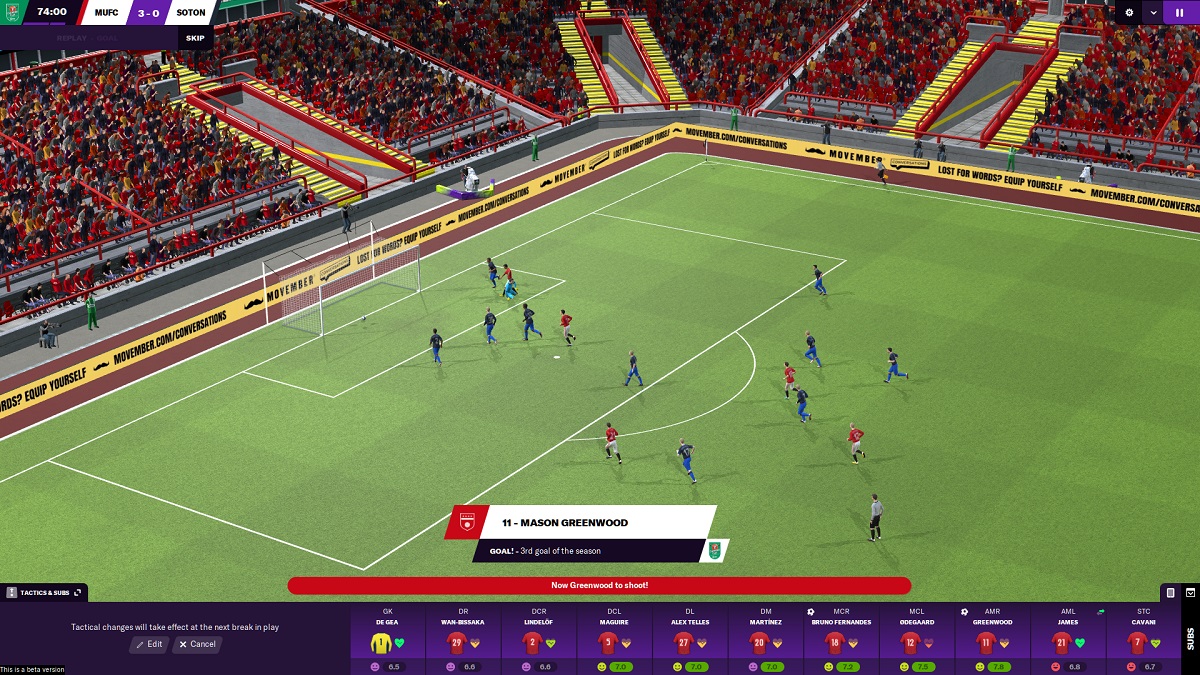 The way you interact with your team and the media has been opened wide up thanks to the introduction of gestures. This isn't just a throwaway feature. I often embraced my theatrical side when entering half time as a way to fire up my players and get the most out of them for the second half. For example, say your pass percentage and shots on target were far from ideal, you can pick a gesture to go alongside with what you want to say. If you want to motivate your team to do better, you can punch your fist whilst giving your team talk to encourage your players to do better. You can also throw your hands in the air in praise, or smash a water bottle across the dressing room in disgust. You can talk directly to an individual during team talks, too.
It's important to build a rapport with the press, but in doing so you need to make sure you appease the board of directors. You can use these gestures during press conferences, so if you're discussing your next opponent, or celebrating the arrival of a new signing, it's important to give the right answers. If a journo says something you don't like, point the finger and give a negative response. I did this when one of them said I had spent far too much money on a new signing without knowing whether he's good enough to fit into the team. Of course, I didn't make the signing lightly. I told him I knew what I was doing and the board were behind me, so don't make stupid comments like that. This didn't go down too well, but I was proud of my team, and my new signing (Martin Ødegaard for £97 million, FYI).
Building a relationship with your squad is the most important aspect of all, and you notice a difference if you approach them with respect. I was hard on them when I needed to be, but I always gave them praise if they performed well. My captain Harry Maguire, was always supportive, and we managed to turn the squad around within the first 10 games of the season. After bringing in Javi Martínez and Ødegaard, training became more comfortable for everyone, players were speaking positively of me to the papers, and the general relationship with my players was better than I could've ever hoped.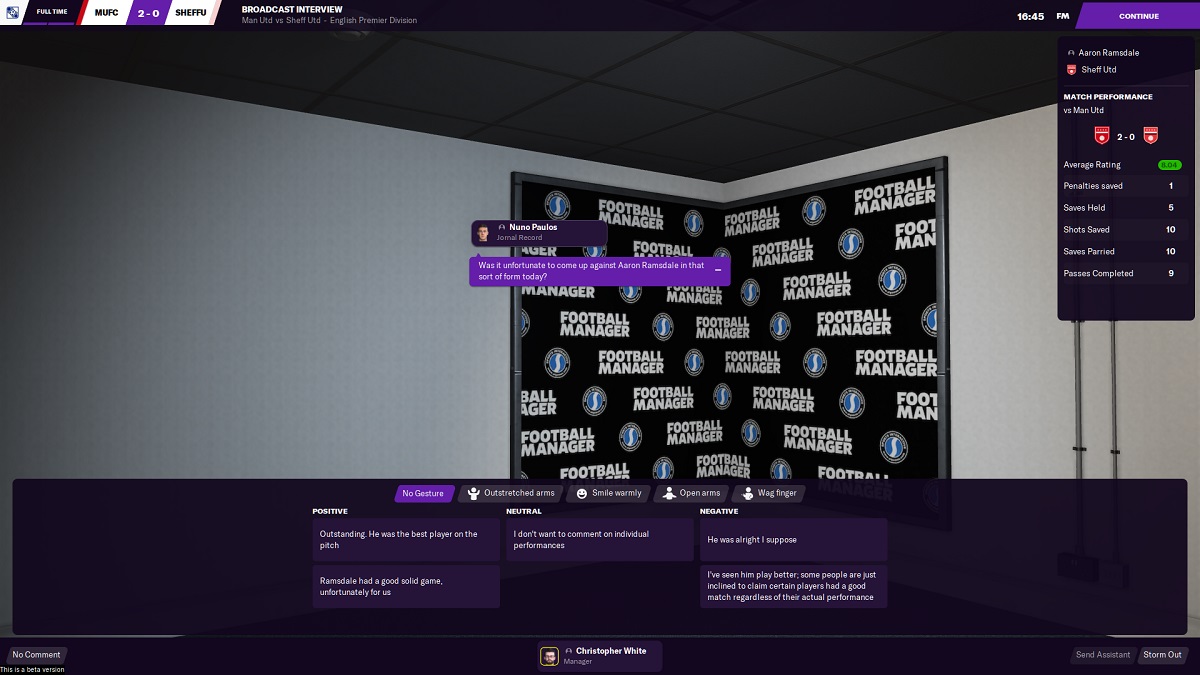 It can be daunting approaching the transfer windows without any guidance. There's so much to learn, so many statistics to memorise, and plenty of decisions to make. Recruitment Meetings have refined how you approach building your squad. In the boardroom, you'll discuss how to approach new players, who to scout, and how to cover for players who will soon be on their way out. Every decision is scrutinised to make sure you're on the right track, but after these meetings, the whole process becomes far less stressful. Scouting reports will be fed back to you weekly, allowing you to see who might fit in. You can choose to scout them further at a cost, make an offer, or talk to their agent to see if they have any useful information about them.
If the board believe in you, they'll provide additional funds to acquire a top player. My budget was reduced to £55 million after acquiring Martinez for just over 10 mil. I placed a £45 million bid on Ødegaard, but Real Madrid refused, saying he was worth over double the amount. I was pretty gutted because I felt he'd fit into our team well. Without requesting any financial support from the board, they took over the bidding process and managed to get him in. I was over the moon that we finally signed him, but also that the directors believed in me. The entire recruitment process has been built upon to provide more help to you as a manager, and these meetings were integral to rebuilding the reputation of the Red Devils.
Thanks to the improvements on matchday, you feel so much more involved than ever before. Before every match, you hold a tactical meeting with your backroom team who offer possible changes to the style of football you play, how certain individual roles would benefit the rest of the team, and who should be taking free kicks etc. You can ignore all this, but listening to your colleagues often opens up your eyes to tactical changes you might have missed. Martial had been playing pretty poorly early on in the season, but nobody thought it necessary to move him out. I wanted to give Cavani a start up front, and by doing so we were able to beat Chelsea 4-1. Not all decisions work, but having this in the game is a welcomed addition.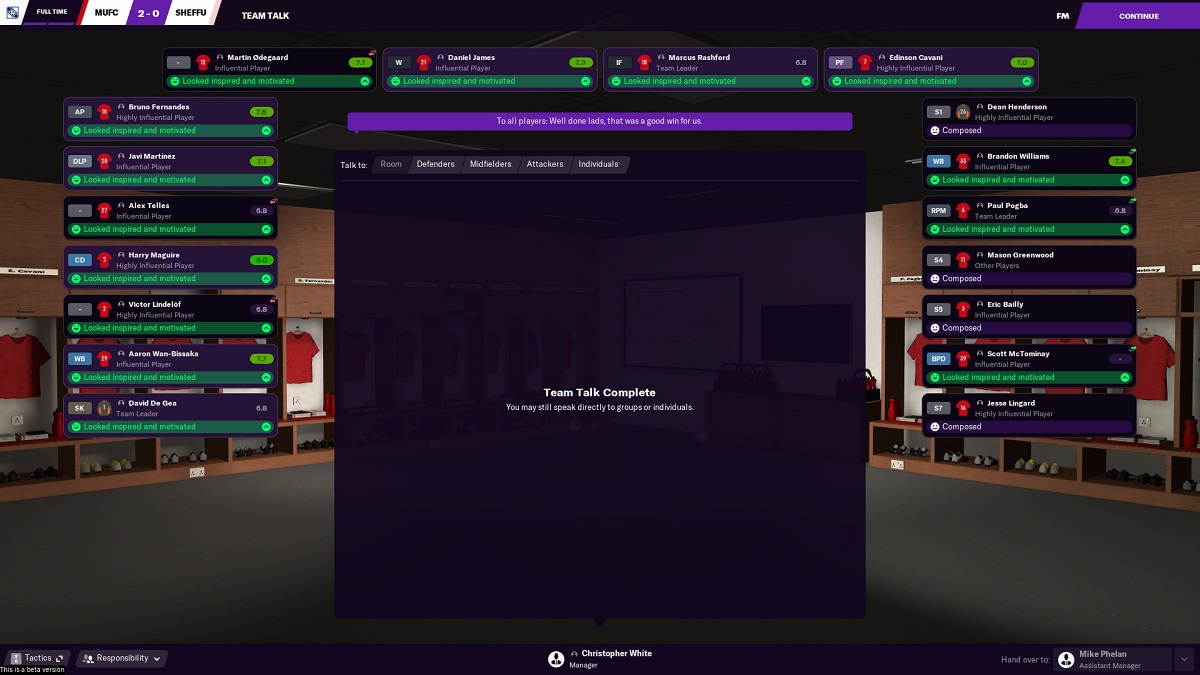 During the match, you can give individual players instructions. If your full-backs aren't fulfilling their roles, you can fire them up or offer them words of encouragement. Your assistant manager is always on hand to give you advice or suggested changes, but every decision is in your hands. By having the starting eleven at the bottom of the screen, these quick-fire choices begin as soon as there's a break once you've made them. You can change their role within the squad, or sub them off if you aren't happy. You'll also be able to make quick tactical changes in the dugout, allowing you to go more attacking if you're on the cusp of a goal, or bark instructions to the team as a whole.
The matches look a lot better than last year, although occasionally players move but don't run, or make some awful crossing attempts that constantly result in a corner. These issues are only minor as it's a lot more fun to watch the action unfold as well as seeing how your decisions affect the flow of a game. During a league match, you'll get to see how the rest of the league is doing, as well as current table positions. Whilst this is only a small detail, it helps to keep you immersed, especially if you're approaching the end of the season and every win is vital. You'll also have to partake in pre and post-match interviews with the media, much like in real life. With much of Football Manager 2021, you can hand off these kinds of responsibilities to other members of your team, giving you more or less work to do depending on how involved you want to be.
Football Manager 2021 is a deep, detailed football management sim that rewards you for paying attention to your team. From the board of directors to your under-18 team, if you are willing to put in the time to achieve success, every win reaps tons of satisfaction. The new Gesture system helps to connect you with your team in ways I haven't felt before, and transfers become a lot better with the addition of Recruitment meetings. Matchdays are filled with more excitement, and the overall experience of being a football manager is like nothing you've played before.
Positives
Matchdays are more immersive
Recruitment meetings are a great addition
Plenty to do
Negatives
Some issues with player movement during matches
Press conferences go on for ages
Football Manager 2021 is a deep, detailed football management sim that rewards you for paying attention to your team. From the board of directors to your under-18 team, if you are willing to put in the time to achieve success, every win reaps tons of satisfaction.