Release Date
27th August 2019
Knights and Bikes was a slow burn for me. Initially I resisted the charms of the beautiful hand-painted visuals and the cutesy childhood nostalgia trip. I wasn't interested in an adventure game about coming of age, set around a dreary run-down holiday town in the off-season. That was a mistake on my part because Knights and Bikes is a lovely warm blanket of childhood adventure and imagination, and a perfect game to play with a young family.
You follow the adventures of the young Nessa and Demelza. Nessa has recently arrived on the remote Cornish island of Penfurzy. She is alone and has nowhere to stay, and eventually manages to sneak into what she thinks is an empty caravan on a run down holiday site. The caravan isn't empty though: it belongs to Demlza, the site owner's daughter who tells her she won't report Nessa – as long as she becomes her friend.
Demelza is terribly lonely having recently lost her mother. To compound her misery, the campsite her father runs is being repossessed so she is at a particularly low point in her life. She is gifted with a very over-active imagination though, and both she and Nessa put that to good use trying to track down the legendary treasure of the Penfurzy Knights that she believes will help restore the fortunes of her family.
Knights and Bikes takes place over the course of six in-game days and sees you traversing across the small island in search of the treasure. There're lots of puzzles and activities to do along the way with the game very much geared for co-operative play. The activities you find don't do anything to progress the story forward, however they do serve as little fun side activities. My father hails from the South-West and I was particularly amused to find a puzzle that has you working out the "correct" way to prepare a scone (it's jam then cream thank you very much!) and an ode to a good traditional Cornish pasty. Then there are the puzzles that you are required to solve to move things forward. These will require you to work with your co-op partner to solve them, utilising the individual skills that each girl has.
There's a twee nature to everything. Your tools, specific to each girl, range from wellie boots to water bombs and a sink plunger, to a Boombox complete with a mix-tape of scratch records. If you don't have a co-op partner you can switch between each girl with a press of the RB button. There is a light touch to the puzzles, with nothing particularly taxing and completely in tone with the idea that this is to be played with young children. As such, if you play on your own (which I did) the AI is a little overly aggressive in solving the puzzles for you. It's a minor criticism though in what is a lovely adventure game.
Visually Knights and Bikes is gorgeous. Foam Sword is made up of ex-Media Molecule alumni, and it shows in the beautiful hand-crafted animations reminiscent of the paper-craft in Tearaway Unfolded. The dreary wind-swept locales of the fictional Penfurzy are dripping with detail and are as much a joy to explore as the girls themselves find. Both Nessa and Demelza are also wonderfully drawn and brimming with their own individual personalities – from the wide-eyed naivety of Demelza to the more world-wise coolness of Nessa.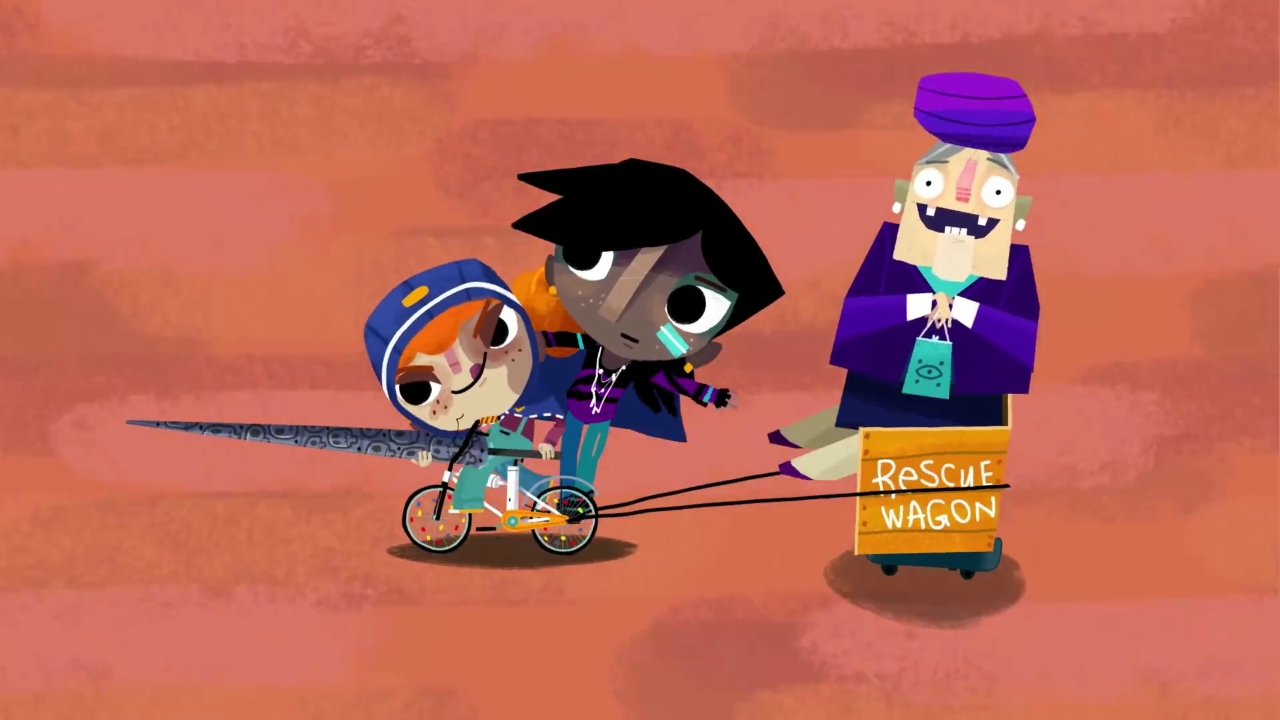 Each day of Knights and Bikes takes place in a different location with a small hub-like area that connects them all. There isn't much to draw you into extra exploration though, other than a few environmental puzzles that lead to lock boxes of loot that can be spent on cosmetic upgrades to the girls bikes (Yes, I will have purple streamers and some spokey-dokeys!). It is mildly disappointing as I wanted to have a reason to spend more time with Nessa and Demelza and their Penfurzy Rebel Bicycle Club.
Knights and Bikes is a lovely trip down memory lane. It manages to capture the spirit of childhood joy in the simple things, but also manages to tell a heartfelt and honest story about grief and loss that took me by surprise. I do feel that there is, perhaps, something lost a little if you play on your own with a slightly over efficient AI that solves the puzzles for you, but it is a minor criticism in a game that is brimming with nostalgia and that, crucially, knows how to make a scone!
Positives
Beautiful hand-crafted visuals
Captures the joy and imagination of childhood
Great to play with young family
Negatives
AI is a little aggressive in solving puzzles for you
Knights and Bikes is a lovely warm blanket of childhood adventure and imagination, and a perfect game to play with a young family.