Release Date
September 10, 2019
Pro Evolution Soccer has always strived to bring the best version of football to games consoles it can. Although many will always play FIFA, PES has built more of a following over the last few years, and up until PES 2019, Konami's football series was my favourite of the two. With a (let's face it, bad) name change to accommodate the growing esports scene, eFootball PES 2020 has undergone some major changes to the gameplay, and while there are moments that highlight the realism of the beautiful game in spectacular fashion, there are also moments that are simply baffling.
Visually, eFootball PES 2020 is phenomenal. The stadiums are breathtaking, and the detail in not just the grounds themselves; but the spectators, lighting effects, and pitches make it the best looking football game I've ever seen. The selection of managers look superb, and the players look lifelike. They have looked realistic for a while, but the first time I saw Suarez and Messi walk out onto the pitch it took my breath away. The build up to the match and the various camera angles – including the new Stadium angle – gives you an immersive experience that has far outdone the PES titles of the past.
The amount of officially licensed products this year is impressive, with each team appearing as realistic as possible, as well as their stadiums laid out in all their glory. After the loss of Champions League to EA's FIFA, it was interesting to see how it would affect things in the long run. But after getting an official partnership with Juventus, meaning they couldn't appear in FIFA, it seems that their goal is focusing on teams as opposed to competitions, such as Konami's new partnerships with Manchester United and Bayern Munich.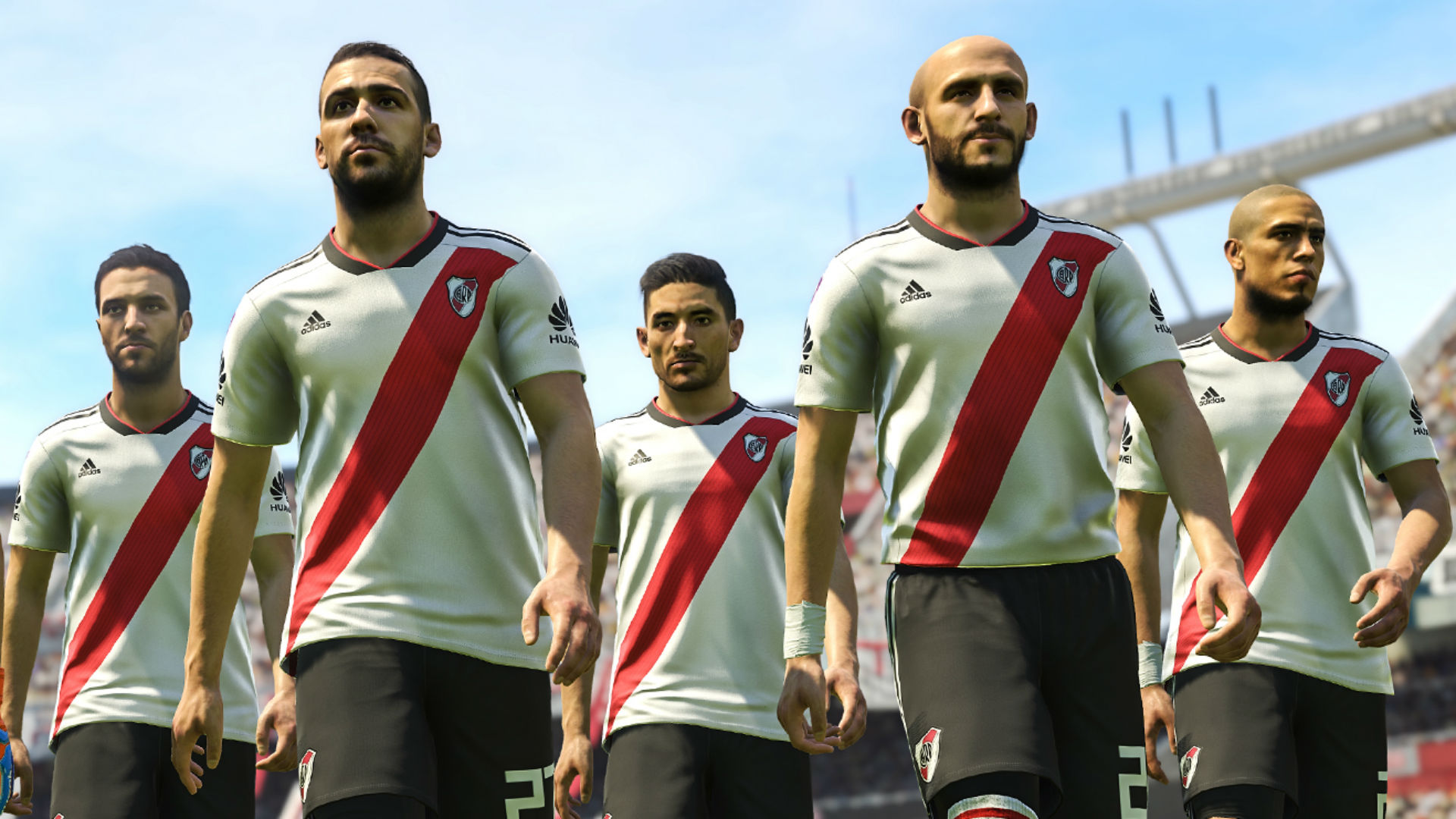 There are huge improvements to crossing, allowing you to play some precise passes into the box, where those waiting will connect with pragmatic precision depending on where it lands. AI can sometimes decide not to jump and head away the cross, leaving you to head in an easy goal. The right analogue stick is your path to ultimate control on the ball, and experimenting with how you use it can stump defenders with a simple flick. It took a while to get used to how it works, but after a while I was able to break past most of the opposition.
Konami have put in a lot of effort in slowing down the game with how you pass. Long gone are the days where you can use the pinball-pass and string together an attack by passing wherever you want without any repercussions. You now have to take into account how logical the pass is. For example, if you're facing the opposite way to the player you're passing to, it's more likely that you'll miss-kick it and give the ball away. Making sure you think before you act, PES20 wants you to use intelligence. It stops you from making unrealistic plays, or pinging the ball around too simply.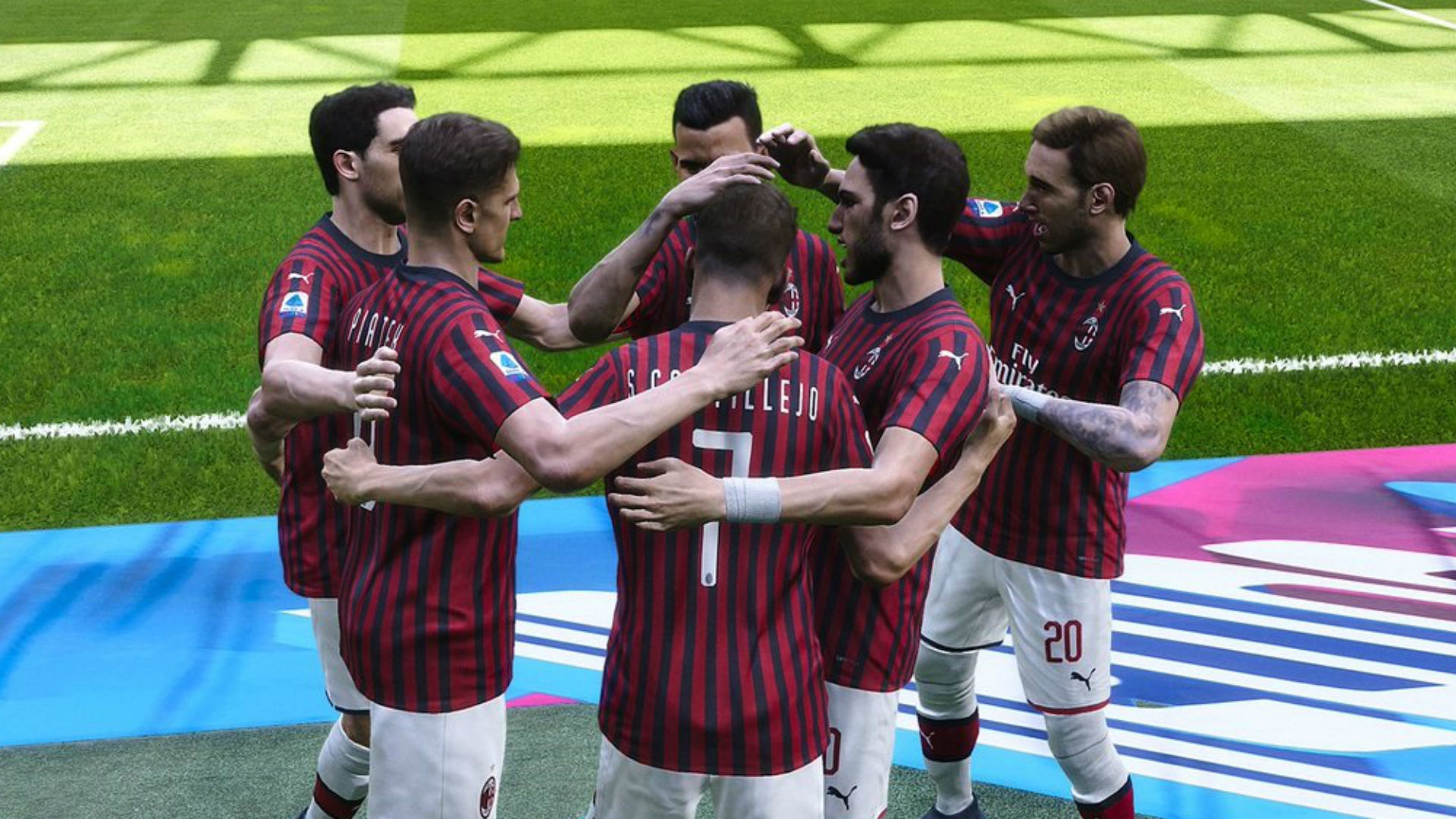 This is most notable when you take the game online. During my time playing myClub (which remains relatively unchanged from last year) matches feel much more realistic. I played games that weren't filled with plenty of goals, rather a tactical build-up and smart methodical passes that, when successful around the box, would lead to a scoring opportunity. The new miss-kick system stops you from making passes that just wouldn't happen in real life, and it makes a huge difference. It seems as though other players in the world are getting used to the new style of gameplay, stopping opponents from making plenty of counter attacks and forcing them to think before they kick. Matchmaking was never an issue for me, and I often found someone to play against. If you lose online, you can more often than not learn from your defeat. I've not been thrashed, and every win feels hard fought for.
Although there have been huge improvements for eFootball PES 2020, I've encountered some awful problems that have seriously hindered my enjoyment. Fouls are over-the-top and often silly. The amount of times I've seen a player go flying after a mild challenge is ridiculous. I've been on a run and gone flying when the ball has been taken away from me, and even when I've played a wrong ball I've tumbled unnecessarily far. It's a real shame to see these things occur, especially when I've been making some good plays, only to be ruined by these unrealistic moments of gameplay. The AI is also a worry: when you're faced with defenders coming at you, they'll either come on strong or completely ignore your advances. If you're making an attack, your teammates will occasionally fail to find open space or hang around too close to the goal, leading to an offside decision. For a game that plays so seamlessly at times, these failings in the game's AI are a huge disappointment.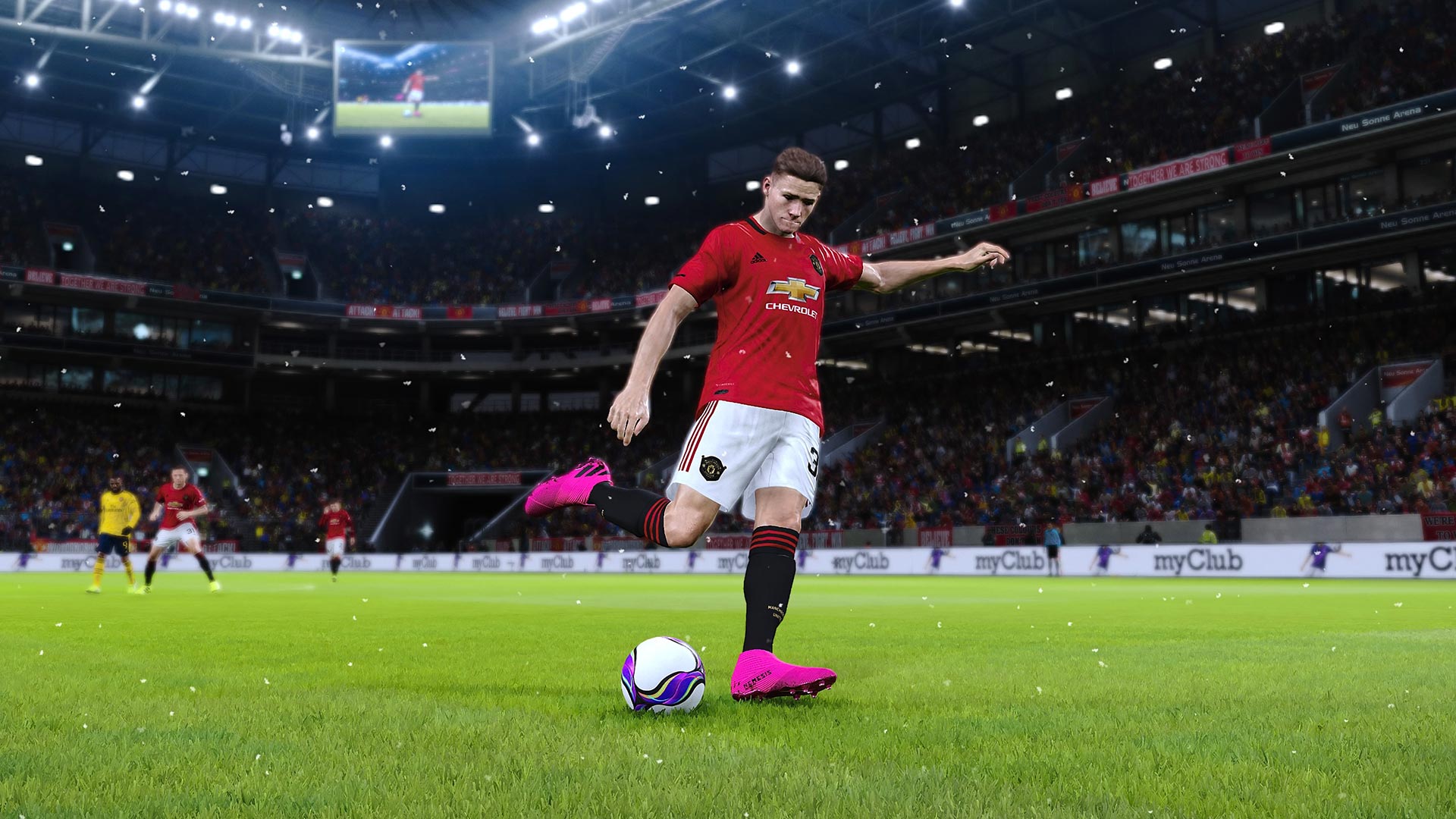 Master League has seen the inclusion of you picking a manager template from one of a selection of famous managers such as Lothar Matthäus and Diego Maradona, and facing various decisions throughout the mode. It seems a shame that you can only pick from a handful of manager avatars, as a simple creation suite would have been more appealing. These decisions haven't really affected me in any major way, with player form dipping only a little if I've not opted for something my team aren't keen on. The revamped menu for Master League is still frustrating to navigate, and is a constant battle when flicking through the menus to alter your line-up or look at your finances. You'll get used to it, but it could have been more user-friendly.
Become A Legend is also back, but doesn't really have any new changes that make it stand out from previous years. It's still a fun mode to dabble in, but with the AI in certain matches not being as realistic as it should, waiting for a good ball or trying to find a player in space often damages certain attempts to score. The miss-kick feature also effects you're shooting, so if you're not facing the goal or are a little off-kilter, you're not going to be scoring that all important goal.
The core gameplay of eFootball PES 2020 feels a lot different than before. It took a while to get used to the way Konami have slowed the game down, but when you're forced to think more and make full use of the tactics you're using, it makes it a much better game. It's the sexiest football game I've ever seen, but the AI lets the game down quite a bit. The fouling system needs to be improved as well, because I lost count of the amount of time my players or the opposition went flying. Still, PES 2020 is another solid entry into the series, and the majority of it is still top class.
Positives
Visually stunning
Fluid gameplay adds great realism
New licensing is great
Negatives
Fouls are over the top
AI can be bad
Menus in Master League are a pain
eFootball PES 2020 has gameplay that feels much more realistic, and each game is more about careful approaches than counter attacks. Most of the modes remain relatively unchanged, but the actual game is lots of fun to play as long as you're not having issues with the AI.