Release Date
August 25, 2017.
I always look forward to the latest Madden game. It's always intriguing to me just how they try and top the previous year's release. Whether the gameplay is being fine tuned, modes are being changed, or new ideas are being implemented, EA Sports is listening to their fans and trying to make the latest iteration better, even if sometimes it fails to bring anything significant to the table. Madden NFL 18 has a host of new stuff, and gameplay mechanics have been added to try and change the precision the offence has over its plays, but the year's crowning glory, and biggest addition comes in the form of Longshot: Madden's first ever single player story.
Longshot tells the story of Devin Wade (JR Lemon), a former college quarterback who lost his dad in a car accident (played by Moonlight's Mahershala Ali), causing him to suffer panic attacks and a loss of his love for the game. After serving in the military, Devin and his best friend Colton Cruise (Friday Night Light's Scott Porter) make a last-ditch attempt to be a part of the NFL draft and become players in the National Football League. This story has a lot of heart, and the journey you'll go on is filled with some genuinely emotional moments. I was surprised with the level of drama, and acting ability from Lemon and Porter. As the story reaches its conclusion you'll be cheering for both Devin and Colt as they sit on the brink of greatness.
You'll get to play some American Football in Longshot, but there aren't any full games as such. There are some first to 21 games which feature 7-on-7, QTEs that have you throwing the perfect pass or dodging a tackle, and other parts that have you using memory as much as your ability to throw a 29-yard pass to a wide receiver. When you're competing on the reality show the mode is named after, you must repeat back a list of four plays being shouted at you by the show's coach Jack Ford. There are also a lot of dialogue options in the story, and choosing certain ones can change your scorecard.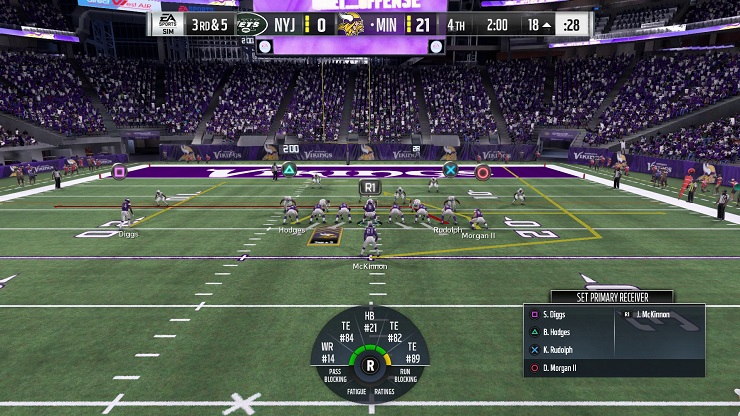 If you show arrogance or aggression with your answers, your scorecard will change and it'll affect people's opinion of you. I don't know quite how much it affects the story, but I managed to be rather respectful of my peers and my coaches, but I also liked to have a laugh, especially with Colt. The moment I fell in love with Longshot was when I was given the option to sing along to Miley Cyrus' "The Climb" at full blast in his pickup truck, and you know I sang my heart out to that shit. I adore Longshot, and I hope many other of EA Sports' games outside of Madden and FIFA follow suit because they sure can write a great story.
Madden NFL 18 has harnessed the power of Frostbite this year, and boy can you tell. The stadiums and the players are so realistic you sometimes forget this is just a game. Coaches stand at the edge of the field shouting orders and looking over plays as your teams on the Grid Iron high five and motivate each other. These between play interactions happen seamlessly and help to make the game feel real. Something Madden has always struggled with is player animations when the offence is tackled or sacked: players can writhe over each other on the floor, making it look more like an orgy than a football game. Unfortunately, this is still happening, with players falling awkwardly on their heads or on top of each other, and at times not even contacting the ground – more hovering over it instead. It isn't as frequent as it has been, but it still happens.
Frostbite has made the gameplay feel much tighter, though. The defence reacts a lot quicker, with the AI heading for sacks and interceptions more realistically than they have before. AI on the offence also acts smarter, with Wide Receivers diving to catch passes and generally being more aggressive and reactive. It's refreshing to see, as sometimes Madden games suffered from weak and unrealistic AI. Since it was introduced, I've always played through seasons as the player a la Be a Pro mode, and that relies on great AI. As a WR for Oakland Raiders, I was finding Derek Carr passing to me the moment I found an open space, or was the one calling for the ball when I thought I was free. Speaking of passing, the new Target Passing gives you the opportunity to throw exactly where you want on the field, or to exactly whom you want, meaning you've got even more control over where the ball will go, and this helps to make better yardage when climbing the field.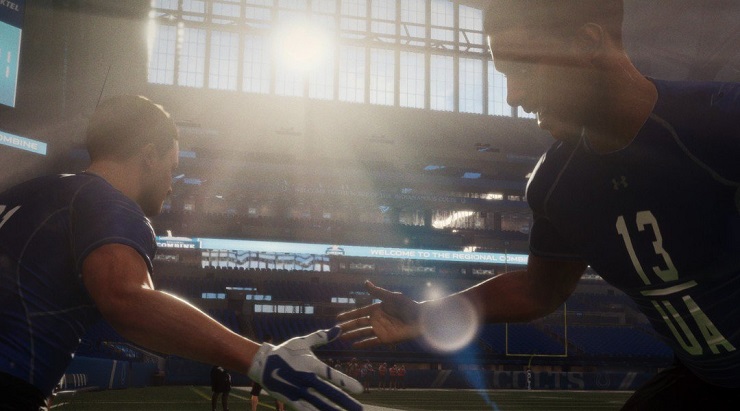 There are now three unique game styles to choose from, and picking one can drastically affect the way the opposition plays. Arcade opts for the more 'big plays', such as majestic touchdowns and long catches in the end zone. Simulation offers you the most realistic experience, featuring a balanced game and where knowledge of the game, the plays, and making the most out of your players is key. Finally, Competitive will have each game being much more intricate, focusing deeply on the stats of the players and the skill of the gamer. Online ranked matches are automatically set to this style, so you know just how tough this mode can be. I always went with Simulation, mainly because I like to earn my points through skillful plays, but Arcade does offer a healthy range of wow moments. As for competitive, I tried but couldn't get on with it.
Ultimate Team will allow you to unlock, trade, and auction off players for the best possible squad, and by completing Solo challenges you'll earn coin and upgrade points to improve every aspect of your squad. MUT Squads gives you the chance to team up with friends to earn points, packs and upgrades as well and taking the fight online, which is a great if you're a bit of a wimp going online alone like me.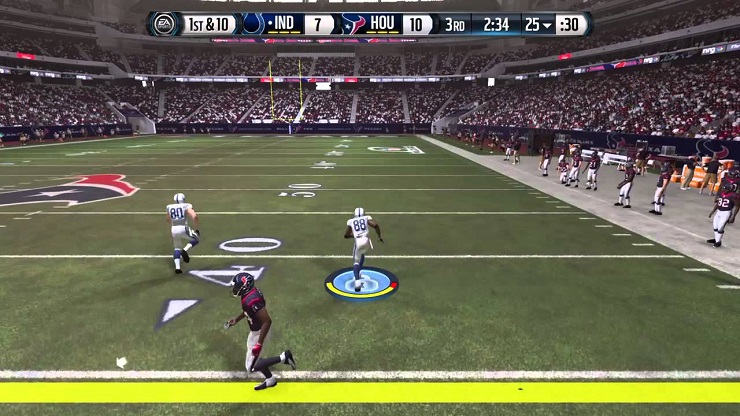 To incorporate the goings on of the NFL in real life, EA Tiburon has added the Play Now Live mode, allowing you to upload the latest rosters and stats of the players (as featured on NFL.com), not to mention customized commentary to fit any real-life happenings, and play the latest NFL matches in game. Whether you're a Patriots fan or a Giants fan, you'll be able to play their latest game with the most up to date statistics of the real-world NFL instantaneously. Obviously, I couldn't get the most out of this mode as the NFL season has yet to start, but pre-season is in full swing so you can still see it to a point.
Madden NFL 18 features lots of tweaks to the gameplay providing the most realistic game yet. Longshot is by far the highlight of this year's entry, but the MUT Squads and Play Now Live are welcome additions too. Franchise mode is back, and if you're a fan of the long haul, go right ahead and immerse yourself in being a coach or a GM for a full season, or live the dream of being a first-year rookie at your favourite NFL team. I adore this entry, and I'll be playing it until next year's Madden comes out.
Positives
Frostbite has improved visuals greatly
Longshot is excellent
Noticeable changes to gameplay i.e. passing
AI is much smarter
Negatives
Players fall awkwardly
Movement on the ground is odd
EA Tiburon has improved on last year, and Longshot is one of the finest additions to the series in a long time.