Release Date
October 10, 2014
This NBA off-season has been one of the busiest ever. There have been big money moves and vast team restructurings. A lot has changed. But NBA 2K15 hasn't seen quite as dramatic a change, as this year's entry feels very much like NBA 2K14.5 rather than an entirely new entity, though that isn't necessarily a bad thing.
As I'll always point out: the most important thing in any sports game is the action on the court. And here, NBA 2K15 doesn't falter. Upon first inspection not much has changed from 2K14, but dig a little deeper and the subtle changes start to appear. Perhaps the most significant change revolves around space, both on offence and defence. Space is vital when attacking, and working a defender to get that yard of separation for the jumper is more important than ever, because poorly selected shots are punished like never before. On defence, managing the distance between you and your target is the key to any great play. Stay too tight to them and chances are they will breeze past and score a uncontested lay up; but give them too much space and that mid range jumper will be all to easy.
The AI seems slightly smarter, too, making more realistic movements and trying to make an impact on the offensive side of the court. Defensively, no AI controlled team-mate is going to steal the ball away from an opponent, or pull out a great block, but good players will be quick enough to switch in a do this themselves. Speaking of defensive play, it can get incredibly annoying when defending against the better players such as LeBron James or Kevin Durant (especially in MyCareer), as they just seem overpowered, which isn't much fun, despite being rather realistic.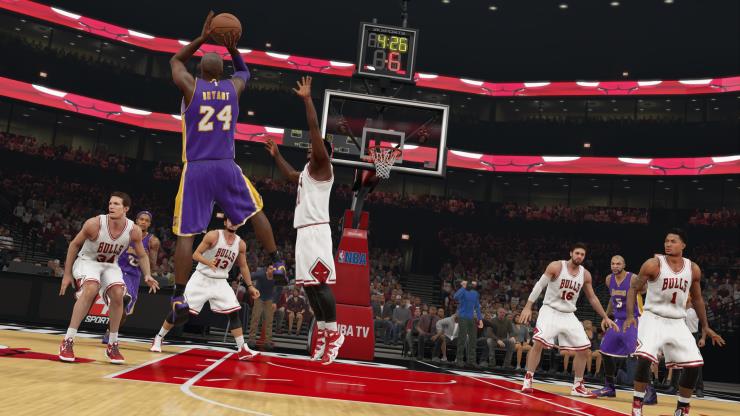 The subtle changes make the gameplay a joy and incredibly similar to the way the pros play. If there were ever a year where you could legitimately confuse a NBA 2K game with a real televised match, this would be it, not only because of the visuals, but also the players movement. More importantly, playing is great fun. Everything feels smooth on the court, there's just very little wrong.
"NBA 2K15 is
the premier basketball
experience"
One of the biggest improvements is just how realistic the crowd and atmosphere feel. They still use the trick of only showing small portions of the arena, but that means repetition of crowd members or animations are very uncommon. The atmosphere is just as impressive, and scoring a game winning three-pointer at the buzzer in front of a home crowd results in the loudest eruption I have ever seen in a sports game. On the other end of the spectrum, if you are dominating the home team the arena will be deadly silent and may start to empty as the game draws to a close.
The commentary is solid as ever, although I did find myself using the 2K beats audio option after a while, purely because the music selection contains some absolute gems. Knocking down three-pointers while Personal Jesus from Depeche Mode (or Spiderwebs from No Doubt) is playing only increases the fun. Pharrell Williams has done a great job on the soundtrack selection. The TV style presentation is as good as ever and the long loading screens now feature pre-match analysis from Ernie Johnson and Shaquille O'Neal, which makes them less tedious, even with Shaq's awful jokes.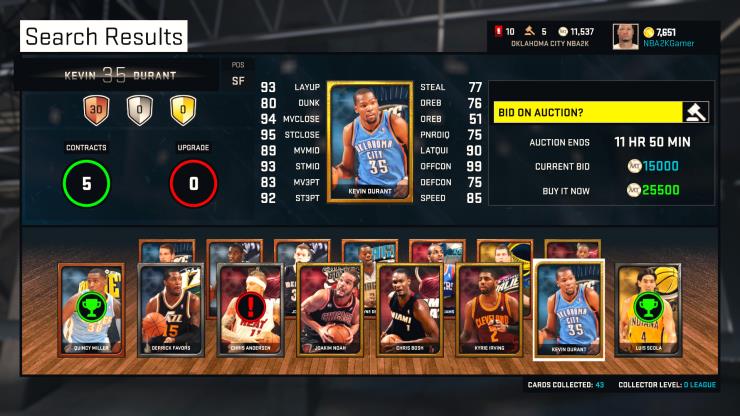 The area that has slightly held back previous NBA 2K iterations has been the actual modes. Although 2K15 sees some improvement, they are still good and not quite great, and there is some glaring issues in a few areas. Just to get it out of the way, it is worth noting that MyPark is once again (currently) broken due to server issues. Unfortunately this happened at launch last year and appears to have happened again this year.
MyTeam is 2K's answer to EA's popular Ultimate Team mode and 2K15 finally sees the addition of a real time Auction House to buy and sell individual players. This makes building an elite team so much easier and more enjoyable as you no longer have to rely on luck. For the first time, MyTeam is a mode that could legitimately be classed as one of NBA 2K's best.
My GM has undergone some minor changes, mainly reducing the need to spend virtual currency. New interactions with the franchise owner add an extra level of realism, they will often demand you beat a local rival and ask you to change the game plan, but interacting via text conversation seems a little archaic. For anyone wanting to manage every aspect of a team through multiple seasons, this is the way to go. If you don't want to deal with trades or contract negotiations, MyLeague is the better option as it allows you just to play a season with no bells and whistles.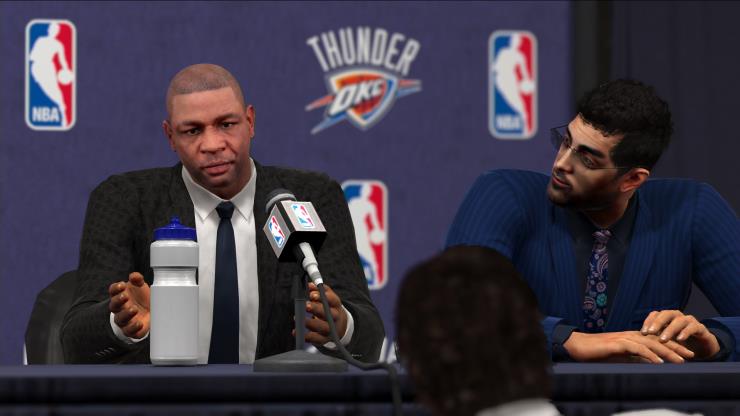 MyCareer has quickly become the premier mode, allowing you to play a single player on a team and take him from rookie to hall of famer. This year sees a slight change in the formula, as you become an non-drafted rookie on a ten-day contract, but almost everything else remains the same. Thankfully the off court cut scenes featuring real players are now voiced, making them less inadvertently hilarious. Elsewhere the Blacktop remains, as do standard online games (which worked to an acceptable level), and there may be a few others hidden away in the endless submenus that plague every corner.
Despite a lack of massive changes, NBA 2K15 is still the premier basketball experience that I don't see being unseated any time soon. The gameplay is as satisfying and fun as ever, and when combined with the TV style presentation it is amazingly realistic. The majority of the game modes have seen some small improvements, although online play can still be a complete mess – which will make 2K15 incredibly disappointing for some. If, like me, online isn't necessarily your thing then you should definitely pick up 2K15, even if you are a casual basketball fan. However, if you plan to only play online you might want to give it a miss, or wait until it gets fixed.
Review code provided by publisher.
Positives
Gameplay is the best yet.
More game modes are worth playing than not.
The atmosphere is incredibly life like.
Negatives
Online play is broken.
Seeming endless sub-menus .
Shaquille O'Neal really isn't funny. At all.
The best Basketball sim to date, despite a lack of significant changes.