Release Date
September 29, 2015.
There is no doubt in my mind that NBA 2K16 is the best basketball game ever. From the very first moment on the court, you are overwhelmed by its ostentatious visuals and realistic gameplay, constantly blown away by the attention to detail. The vast amount of options, game modes and creative tools at your disposal cements NBA 2K16 at the top of its division, making sure you are never left with nothing to do.
Visually, NBA 2K16 is gorgeous: the light reflecting off the court, the player animations after a dunk or a 3-point swish, the way the crowd lights up after an important basket and the sweat falling from your point guard's forehead completely sets it apart from everything that has come before. The meticulous nature of Visual Concept's programmers makes the game a real joy to look at, providing an almost lifelike rendition of the entire NBA experience; players, stadiums and all. The only time that I found the look of the players a little off-putting was on the teams from NBA's history. I was playing as the Chicago Bulls from the mid-nineties and certain faces look like they'd been stuck on with some kind of digital glue. When the players moved on the court, the faces didn't move in unison, which provided a rather jarring experience at times.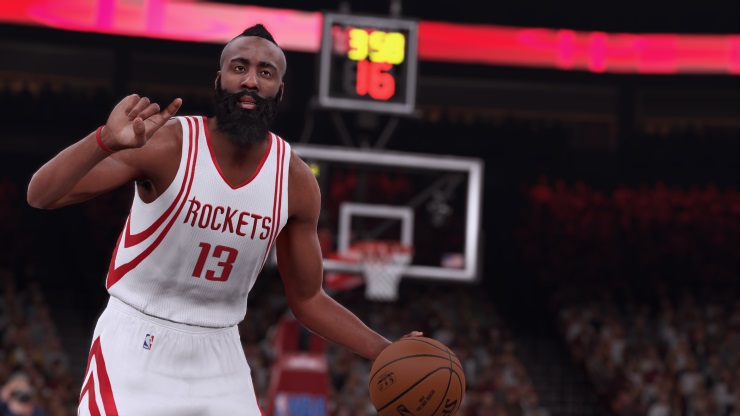 When not on court, NBA 2K16 excels in different ways. The pre-match analysis is so realistic that it's as if you're watching ESPN on the TV. Shaquille O' Neal, Ernie Johnson and Kenny "The Jet" Smith provide detailed information on player stats and opinions on the impending match-up, meaning every game is treated differently and each approach by the trio is often dissimilar from the last. Also, between quarters, you'll have bite-sized interviews with some of the actual basketball stars themselves and cheerleader performances, adding to the overall atmosphere of the game.
You can have hundreds of options and modes to fiddle with, but if the game doesn't control well, you may as well not bother; thankfully NBA 2K16 plays beautifully in every way. The AI has vastly improved since last year and your opponent seems to play a lot smarter. They wait for a chance to drive to the basket without rushing, yet they aren't too advanced that it makes you feel like you're playing against the Monstars from Space Jam. Your own team's AI has also improved, meaning that they won't pass to you unless they feel you have a good chance to shoot or break through the defence. With a swipe of the PlayStation 4's touchpad, I was able to select a play and my team would adapt almost instantly. This gave a great sense of control and made me feel like I was completely in charge of proceedings.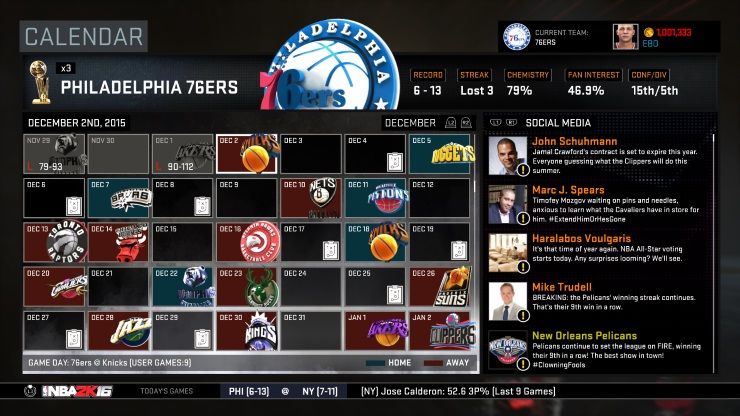 Gameplay is the most realistic it has ever been; you can't simply drive to the basket without a fight. The defence is tighter, which means you really have to think about your options when on the offence. Make sure you work the defence well by getting a teammate to screen your marker; as mentioned, the AI will be on your tail from the off so always be ready to make the perfect move.
The fluidity in play is second to none, meaning every single move links seamlessly with the next and results in not a single stutter or crash. You'll feel like a million dollars when you dribble with a bit of style that takes you behind the defence and en route to the basket with a holier-than-thou dunk. Likewise, blocking a player's shot gives you great satisfaction; it is so easy to get caught up in the action due to the realism in Visual Concepts dedication to precise, enjoyable gameplay.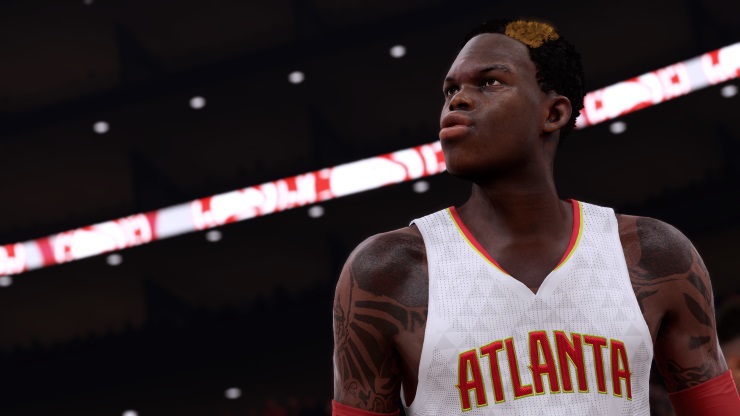 There has been a lot of hype surrounding the new MyCareer mode, directed by New York Knicks mega fan, Spike Lee. Before release, we were told how the story would feature 12 hours of "in-game drama" and that it would feel more like a real story akin to the Hollywood films that Spike has helmed in his career. Unfortunately, I found the story to be a little tedious, making you feel more of a spectator than the actual focus of it. There are no dialogue choices or different paths to proceed down and you kind of feel a little redundant in your own career. As for the acting, the ham-fisted performances and stereotypes took a lot away from the smart and engaging plot. On the whole though, the Spike Lee joint is a valiant effort to push into the fold of sports storytelling in video games, with lots to enjoy as you reach your goal of being the new Steph Curry or Lebron James.
Many of the modes from last year are back, meaning whether you are playing for the single player experience (outside of the MyCareer mode, of course) or the multiplayer, NBA 2K16 will keep you busy for hours. MyGM mode is back, giving you full control of an NBA team and transforming them into a successful franchise both on and off the court, controlling everything from player morale to improving the backroom staff. With every win comes virtual currency, allowing you to buy a whole host of jerseys, trainers, upgrades to your team and more. If you just want to play through a season of basketball minus all the business waffle, give MyLeague a go and play through an entire season with the team of your choice. You can customise the rules and regulations of the season, but you don't have to worry about pleasing the fans or living up to your club owner's expectations.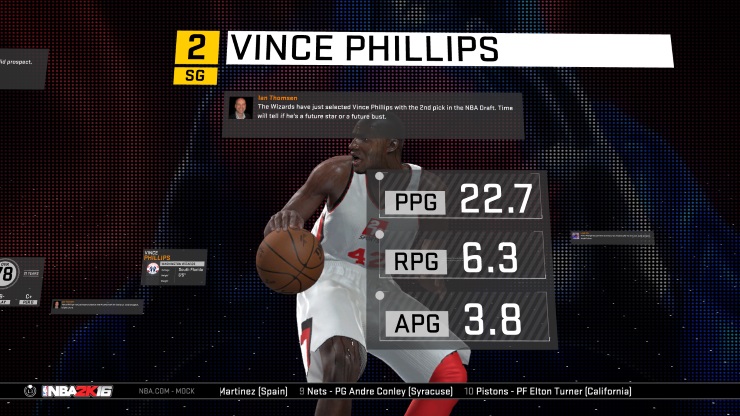 For those of you who thrive on online competition, MyPark returns with a slicker look than last year, and plenty of opportunities to get stuck in to some street basketball with other gamers worldwide. 2K Pro-Am returns, although I rarely got a chance to play the 5 vs 5 mode due to a lack of opponents available; however, this was more than likely down to the servers and not the actual amount of other players online.
For the last two years, the 2K servers have been a hot mess, constantly crashing unexpectedly and affecting the way in which most online modes operate. Outside of the 2K Pro-Am issues, my experiences online were rarely affected. I could usually find an opponent to play against and the MyPark mode was almost always populated by players with matches being set up promptly. Hopefully as the months progress, 2K will learn from past mistakes and manage to appease the majority of angry gamers who just want to play basketball.
Review code provided by publisher.
Positives
The best looking basketball game ever.
Fluid and realistic gameplay.
So many modes and options.
Negatives
Facial animations of older teams don't look as good as current roster.
MyCareer isn't as involving as it could be.
Server issues - still!
The best basketball game around, giving you an enjoyable and realistic experience with tons of modes and options that will keep you busy for hours.