Release Date
December 7, 2017
Phantom Breaker: Battle Grounds originally released on the Xbox 360 a few years ago. It is a 2D beat em up that's a spinoff to the fighting game Phantom Breaker. After being released on the 360 as a part of Live Arcade, Phantom Breaker: Battle Grounds was ported to Vita, PC, and PS4. Outside of one issue that has been announced to be fixed in early 2018, this is a damn fine version of a game well worth playing.
Phantom Breaker: Battle Grounds Overdrive is a 2D beat em up with pixel art visuals that has combat akin to a fighting game more than a standard beat em up experience. It has different characters including Kurisu from Steins;Gate with unique fighting styles. It has some RPG elements with skill trees. In addition to the Story Mode there is an Arcade Mode, a co-op mode, and a PVP mode. The story mode can be beaten within a few hours on the lower difficulties but it is well worth playing it again with the others just to experience a different combat style and to maybe try out the other difficulties.
I'm a big fan of playing games on the Vita and Switch as you probably know already. In many cases a co-op experience being playable with single joy-con per player makes the Switch version an instant recommendation for me even when performance isn't up to speed. Thankfully, visuals and performance here are ace. The character models are lovely and the animation is slick. There is some reuse of for enemy art and some environment areas though.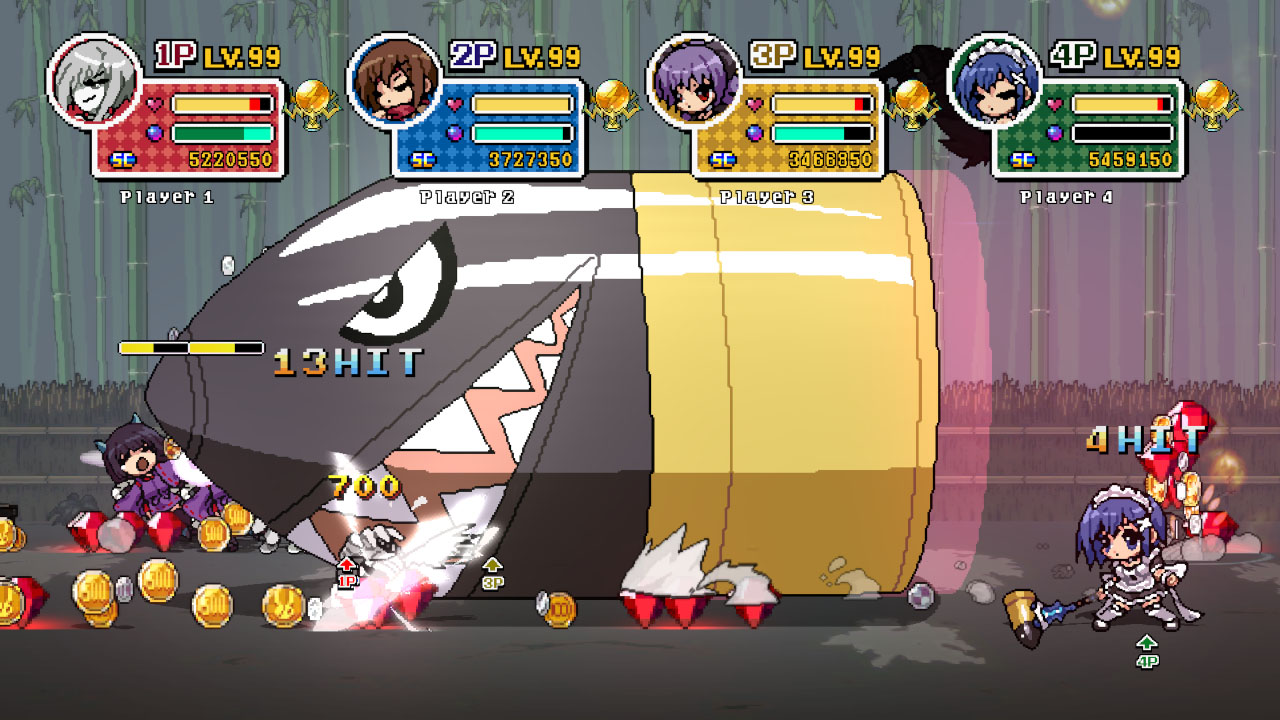 Since this is a beat em up, combat plays a big part. Instead of being a boring button masher, each fighter has a distinct style and things feel more like a proper fighting game here. This involves multiple colours for each of the playable characters as well. If you play as Makise Kurisu and are a Steins; Gate fan, there is a lot to love with small references and the arranged music playing. The only gameplay problem I have right now is the lack of online support. The developers confirmed this will be added when the Nintendo Switch Online Service launches in 2018 but not having this for a port that released a while after other platforms that did have online is a baffling decision. Many other games have launched with online already and aren't waiting for Nintendo to launch the paid service next year.
Phantom Breaker: Battle Grounds Overdrive is well worth your time and money. The Switch release is great because it has all the DLC included and lets you play anywhere including single Joy-Con co-op support on a single Switch. Unlike many ports that arrived well after the Switch debuted in March, there is no extra charge here. The price is bonkers for the amount of content you get if you enjoy beat em ups because there's a ton of replayability through characters and co-op. If you already own this on another platform, this is worth picking up for the portable co-op support and single Joy-Con play.
Positives
Varied and fun gameplay
Lovely animation
Nice blend of fighting game and beat em up
Negatives
No online right now
A fantastic beat em up with varied gameplay that plays great in both handheld and docked modes.