Release Date
August 29, 2017.
A couple of years ago we were all lamenting the lack of decent old-school RPGs on current consoles, and it was all shooters and open-world action games. Well, it kind of still is, actually, but now at least there's some variety out there for the role-play fan. Titles like Diablo 3, Wasteland 2, Divinity 2, and Sword Coast Legends have given us something to get our teeth into but, for many, Pillars of Eternity is the main event. This is the one so many people have been waiting for.
 
Crowdfunded via a hugely successful Kickstarter campaign (with over 77,000 backers), this homage to all things Baldur's Gate wowed PC gamers in 2015 by being, well, incredible. And now it's come hacking and tactically-pausing its way to PlayStation 4 and Xbox One and we're all thrilled anew. Mostly.
 
Not including the anomaly that is Diablo 3, something weird usually happens when these massively successful PC RPGs hit home consoles. Whether it's the dumbing down of the controls to fit a fully functional QWERTY onto a tiny little controller, or the fact that they very rarely look or move as smoothly after conversion, I don't know, but they don't often feel as amazing when ported.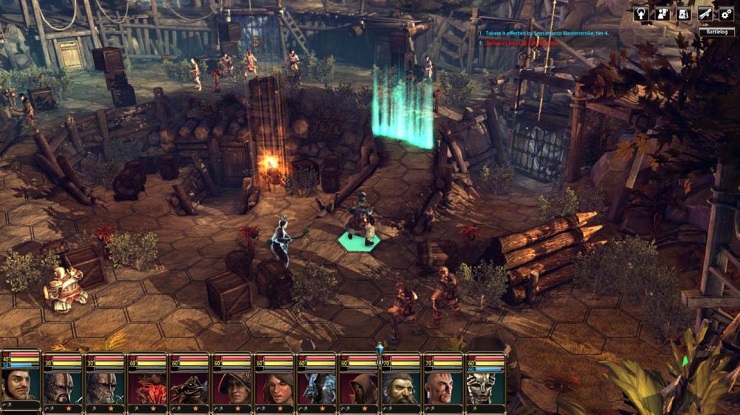 Pillars of Eternity is a prime example. Before I complain about anything, you should know that it's a fantastic game. The writing is great, the story is huge, complex and branching, and the challenging tactical combat is immense fun. But the wow-factor that had everyone wetting their beds on PC is conspicuously absent on console. It's by no means a "poor man's" anything, but it's not all that mind-blowing either.
 
The issues begin with the UI. Obsidian has taken great pains to make everything fit onto the controller, using action and combat wheels to put all the necessary actions right there in front of you, but it still feels a little clunky. There are lots of menus, and lots of screens to cycle through, and even four or five hours in I was fumbling to find the right one. In combat, switching between your six characters and stacking their various attacks can be taxing even when the game is paused, leading to frustration and confusion.
 
Happily, once it clicks, it's all good. Combat is nothing ground-breaking, but it can be fun, and when you know what you're doing, flicking from tank to healer to DPS characters depending on the situation feels immediate, while unleashing the pretty-pretty spells and special attacks looks glorious.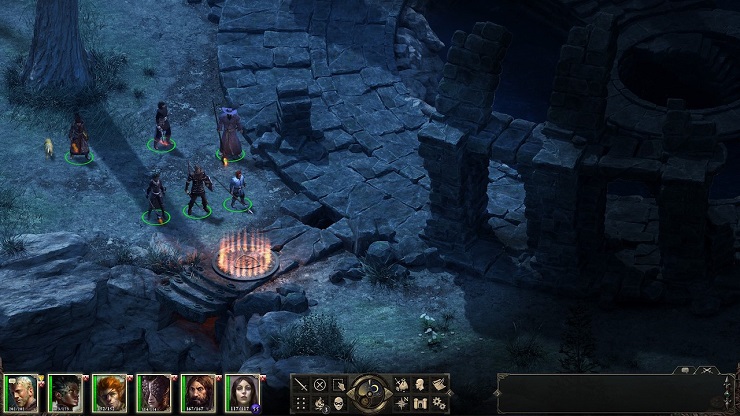 In between fights, it's all about exploration and conversation. The story unravels slowly as you guide your stoic hero or heroine and their lethal companions through the world of Eora. Children in the land of Dyrwood are being born without souls – a condition that renders them "Hollowborn". No one knows exactly why, but your character is a "Watcher", a feared individual able to see into the past, and read the souls of those around them. The source of the Hollowborn problem is actually a decent mystery, one that you're free to uncover at your own pace while also investigating the back-stories of your companions. Choice is massively important, as things you say and do will influence the story all the way up to the multi-branching ending.
 
So many similar games are linear affairs, and it's refreshing to play something with so much choice in the main campaign. Even the character creator is very flexible, allowing you to choose everything from gender, race and sub-race, to class, religion, back-story and region of birth.
 
As you venture out into the world, you'll travel from mini-map to mini-map, traversing a huge world map that informs you of how many hours and days each journey will take. Most areas have hidden secrets, NPCs and an abundance of enemies, though it's up to you to explore and discover whether you're ready to handle them or not. It's quite easy to blunder into a fight you're not prepared for , and only by becoming fully familiar with all the intricate mechanics of Pillars of Eternity will you survive each encounter. Of course, if you can't be arsed with all that, you can just play Story Mode.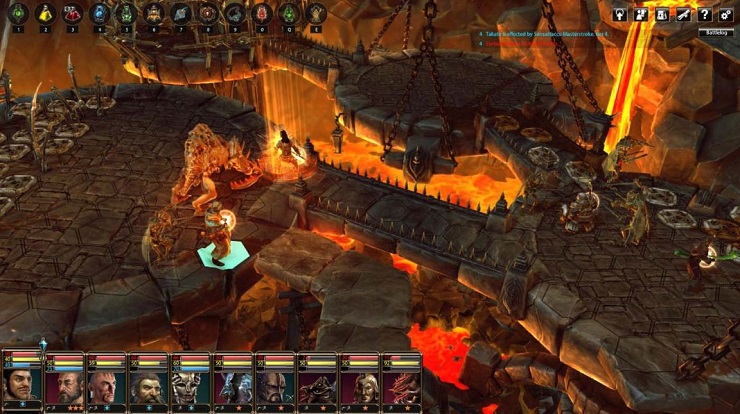 Early on, you'll come to own your own Keep, a huge estate complete with high walls and deep catacombs that you can upgrade and rebuild as money and time allow. Various building will provide helpful sleep buffs when you rest there, while others will offer bounties to tackle, or merchants to trade with. Characters not in your party will also return there to chill out until you call on them again. It's a nice touch that offers another angle of progression, and watching it slowly take shape feels satisfying and rewarding. It's also good to have a place to retreat to when your characters' endurance meters are low, as tired adventurers equal dead adventurers more often than not.
 
Pillars of Eternity is a steep challenge, even on lower difficulties, and offers so much to sink your teeth into that genre-fans will likely forgive its issues. That said, massive dips in frame-rate during fights can frustrate, and over-long load times between areas – and especially upon Game Over – soon become tiresome. Environments look pretty enough, but there's a noticeable downgrade from the PC version, but how much this matters will depend on the individual.
 
You can't really fault Obsidian, though. PoE was a massive undertaking in the first place, and the console port is still a great tactical RPG despite its niggles. Tons of depth and replay value more than make up for a smattering of shortcomings, and those craving more old school RPG goodness will find loads to keep them happy.
Positives
Decent story
Combat, when it clicks, is great
Deep and rewarding
Negatives
Suffers from frame rate dips
Clunky UI
Obsidian's modern masterpiece is less shiny on console, but still a sprawling RPG worth exploring