Release Date
September 13, 2016.
Many people love an almost unachievable goal or an insanely difficult level because it pushes them to their limits and gives them ultimate bragging rights when they finally manage to overcome whatever it is they're trying to overcome. There are certain games that equip you with the necessary tools to do this, and there are those that don't: RIVE is tough and you're constantly coming up against overwhelming boss battles and frantic set pieces with little more than your guns and your reflexes in your arsenal.
There is no respite and you're constantly in the thick of it, whether you have to shoot your way out of a sticky situation, or the environment around you is conspiring to take you out, every second is a constant struggle and it isn't pleasant. I'm happy to be challenged, but I feel the game is too hard. Games should be accessible for everyone, but RIVE isn't aimed at everyone. It's aimed at those who love demanding games and like nothing more than near impossible encounters. I've played many games over the years and many have presented some gruelling tasks, but most of the time you feel a great satisfaction when you manage to beat them or get past an area.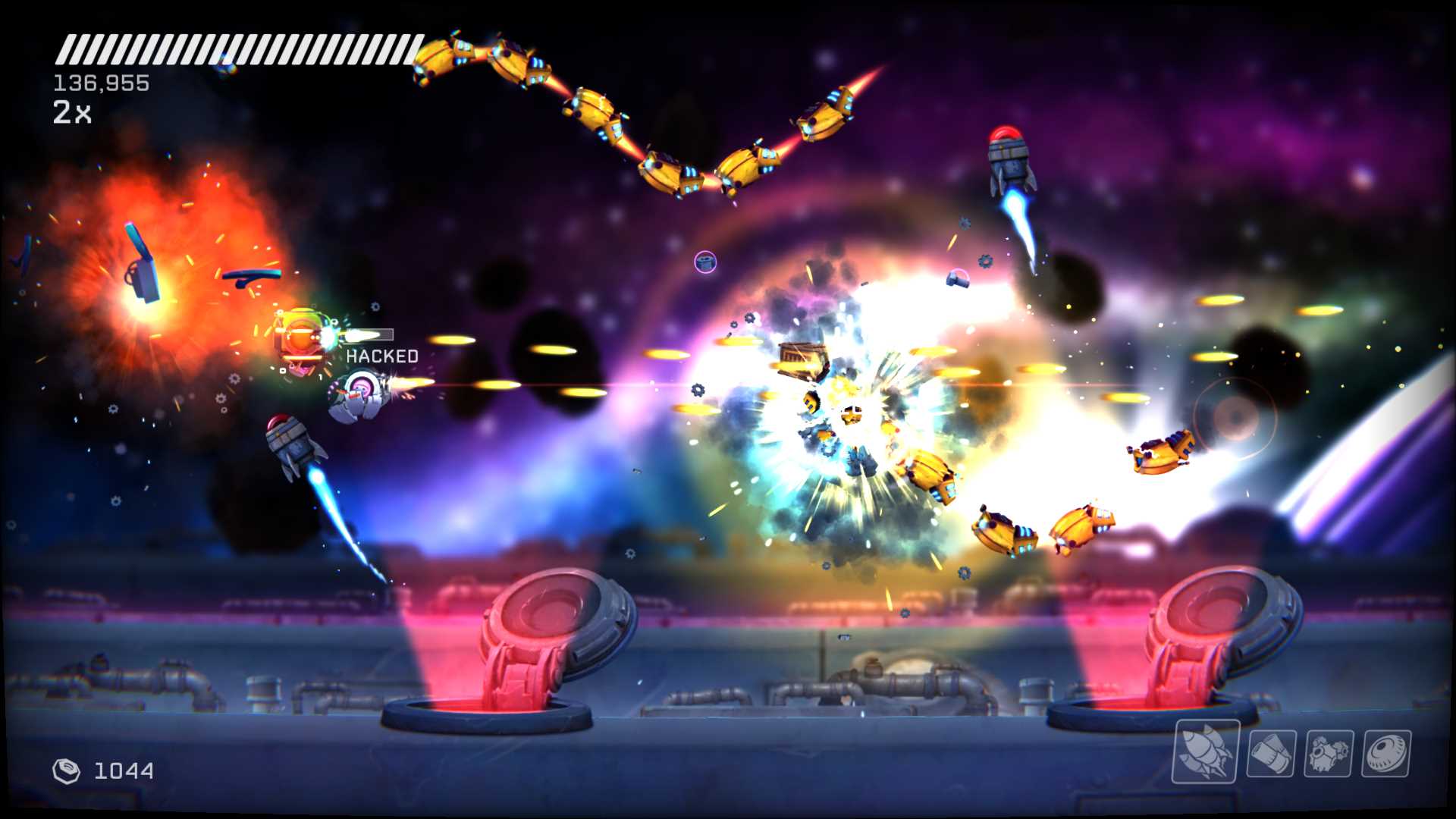 Take Bloodborne for example. At first you may struggle to get past a boss, but at least you're given the chance to grind, level up and equip the necessary weapons to give yourself a chance. Beating every boss in that game was euphoric, and you truly felt you'd accomplished something with a burning inside to keep going and keep fighting. RIVE doesn't do this correctly, and even though you can upgrade your ship and purchase new weapons and abilities, they never feel like they help you, especially when you're constantly bombarded with wave after wave of enemies. I never felt satisfied or happy that I'd progressed, just frustrated and irritated.
Controlling your ship in RIVE and firing your cannons is reactive and straightforward. It's a twin-stick shooter, so those familiar with this style of game should have no problems. The weapons you've upgraded are available at the push of a button and can be restocked when you find a crate that's fallen out of one of your enemies. You can hack certain things
such as enemy turrets and medic spheres to use for your own gain, and it's not complicated to do so, even when you're in the middle of a heated fight.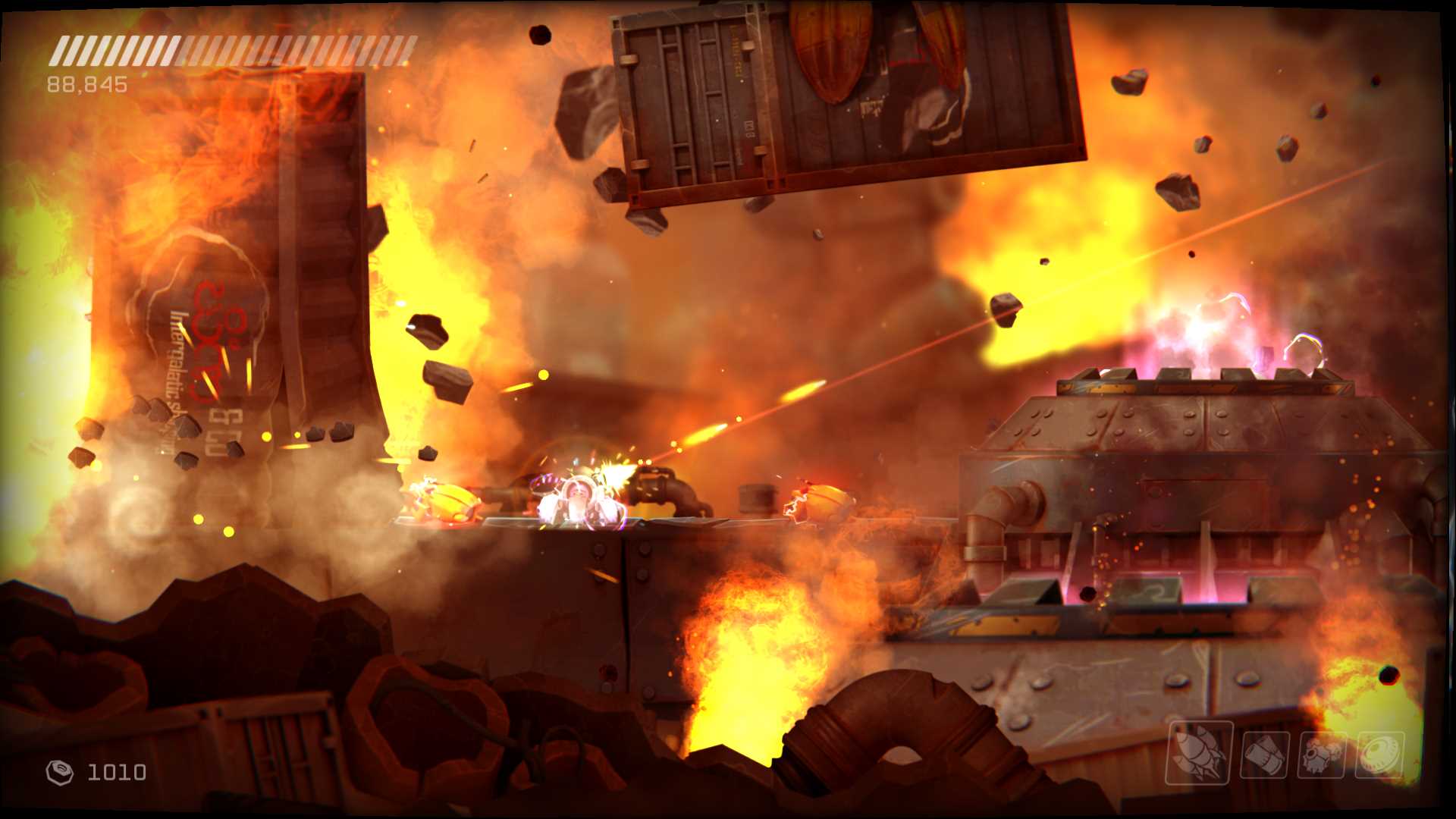 The environments are wonderfully designed, though, and you'll always encounter new challenges. Laser beams, gravity globes, lava and rocket launching cubes are only the beginning; there's lots to weave between and destroy, but you're always pushed to succeed through a plethora of different ways. When it's really kicking off, the colours and the light fill your TV screen, making the chaos and the panic look glorious. Being as difficult as it is, the visuals are the last thing you're focusing on and it can be hard to see anything other than where the next shot is coming from.
That's what's so frustrating about it: the visuals are gorgeous and the variety of set pieces are sublime. It's just painfully tough and I didn't feel like I was getting any support whatsoever. I guess this all boils down to what type of gamer you are and what you want from a game. I adore a challenge and I love the satisfaction you get from beating those moments that are a constant thorn in your side, but RIVE takes it to the next level. The beginning difficulty is hard, and it only gets more extreme the further you progress. There will be plenty of people that seek out this kind of game for the strain it puts on your psyche, but I'm sure the majority will give up after a little while.
Review code provided by publisher.
Positives
The challenges are always changing
Gorgeous visuals
Negatives
Too difficult
Upgrades and new abilities never feel as helpful as they should
While the difficulty won't appeal to everyone, there're plenty of obstacles to overcome especially if you thrive on one hell of a challenge.