Release Date
14th October 2014
You wait years for a decent South Park game to come along, and then as if by magic three appear within 12 months. Of course, you would expect nothing less when Zen get their very clever hands on another license, but it's still great to see the brilliance of the television show finally getting its due in gaming terms. This wouldn't be the first time that the foul mouthed denizens of Colorado have been captured in pinball form, though – there was a dreadful SEGA manufactured physical table back in the late 90s which rode the popularity of the series whilst ignoring what needs to happen to make a table playable. Zen's offering couldn't possibly be further removed.
The two tables Zen have unleashed in this dual pack are stunners, and like the recent Stick Of Truth are utterly crammed full of fan service and historic references from the programme's long and chequered past. Super-Sweet Pinball focuses on the original quartet of Stan, Kyle, Kenny and Cartman, on a busy playing field that also features all of the stuff you would expect (Stan's vomit-inducing encounters with Wendy, Cartman's greed and avarice, and Kenny buying the farm) plus an almost overwhelming clutch of side missions based around such hilarious source material as the always-brilliant Randy Marsh and his quest to become the Sarcastaball coach.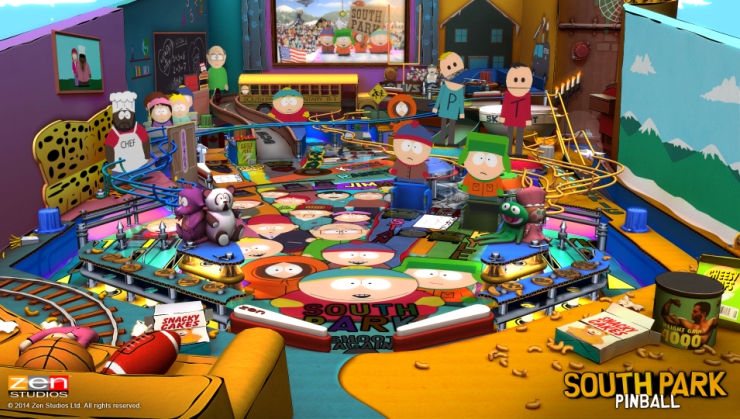 Aurally the table is a riot, with tons of speech from the show, some recognisable tunes, and of course the flatulent sounds of Terence and Philip. It is another cracker from Zen which instantly grabs your attention and eats away at your precious hours.
If a straight-up South Park table wasn't great enough, imagine our shock and delight at finding out that there's also a second table based around everyone's favourite little guy – the one and only Leopold "Butters" Stoch. From the first time you hear him say "Oh, hamburgers!", or hit the target that triggers off his "Loo loo loo" song, you know you are going to fall in love with this virtual pinball banger. Featuring Professor Chaos and his struggles with the Coon, a whole part of the table dedicated to the astonishingly funny "Fun Times With Weapons" episode, and the mysterious clairvoyant device used at the girls' sleepover, this table captures beautifully the essence of a much-loved character and puts him centre stage just as Parker and Stone have done so many times on the telly. Do you know what I am saying?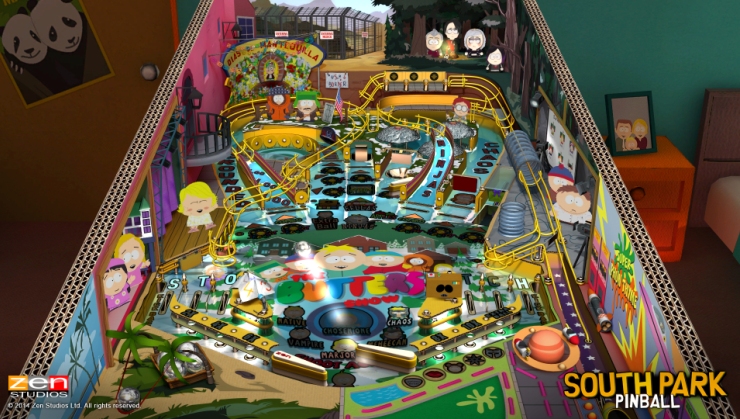 I am getting a bit fed up with writing the same thing over and over again, but I have no choice really because Zen Studios keep giving me reason to lavish praise upon their succession of incredibly well-designed pinball creations, and ace use of the licenses at their disposal. Every time a new pack or table is released, my own personal ranking of fave Zen table gets completely re-jigged. And as someone who has been playing pinball since I could first see over the top of a real table, that is high praise indeed.
Review code provided by publisher.
Positives
It's South Park by Zen.
Great sound direction.
A ton of fan service.
Another excellent pack from the undisputed kings of video game pinball.