Release Date
February 28, 2017.
This year has been superb for gaming already and we are still barely into March. Over the last few weeks games like Yakuza 0, Nioh, Halo Wars 2, Ys Origin, and more have been releasing one after the other and I've been aching for a break from all the action. Earlier in the month I began playing Story of Seasons and Story of Seasons: Trio of Towns soon after. Trio of Towns is a farming simulation game and it has proven to be exactly the relaxing experience I was looking for in a time when Japanese publishers have been firing on all cylinders.
Things start out slow with a few throwbacks to when you were much younger. You've always enjoyed trips to the countryside as a kid and your family keeps moving wherever required. Your father is quite stern for some reason and once you're old enough, it is finally time to break from the shackles and finally take matters into your own hands. One thing leads to another and you find yourself on a very small plot of land proving your worth to Frank who has taken you on as a protégé. The opening is really slow and it takes about an hour before you get to actually start the basics of farming.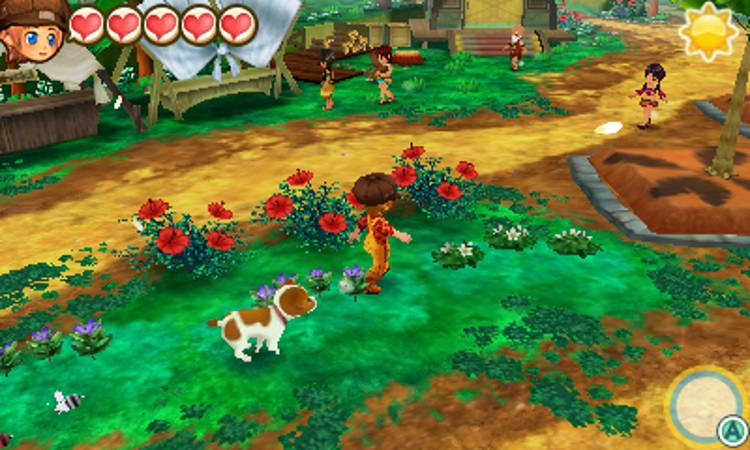 Story of Seasons: Trio of Towns is the second game with the Story of Seasons name but it is definitely a Harvest Moon experience for fans of the old Harvest Moon games. While the Harvest Moon games or even Story of Seasons usually has a farm outside a town, Trio of Towns expands that to three towns as the name suggests. This is a welcome change as it keeps things fresh. Your aim of course is to build up your own farm, make friends, maybe even marry eventually. Each town has its own set of quirks that extend to the folk living there. This reminds me of Fantasy Life in a lot of ways. I loved the non combat classes or lives in that game and having different towns here reminded me of my time there. I did spend too much time fishing in both games for sure.
There's tons of stuff to do while you grow your farm and everything consumes stamina. Stamina is represented in the heart symbols on the top left where health would normally be. You can take a break by eating any edible item you collect or even a cooked meal if you have the option, but the aim is to relax and do as much as you can without pushing yourself. Talking to and interacting with the folk across the towns is fun with greetings. Part-time jobs are also available that don't take much time, but pay near instantly. Eventually you have the option to do certain special tasks that will reward you in costumes. These costumes are based on Super Mario Bros characters and the costumes all have unique traits. The Luigi one lets you fish better while the Mario one lets you run faster. Frank has a few tasks for you to complete initially that serve as a tutorial of sorts before you have the true green light to becoming a farmer. The tasks given to you in challenge form will require some strategy for managing your own funds. I love a good fishing mini-game and had a blast fishing here. There's also the Town Link Rating between your farm and one of the three towns. Raising this will unlock more in the respective towns.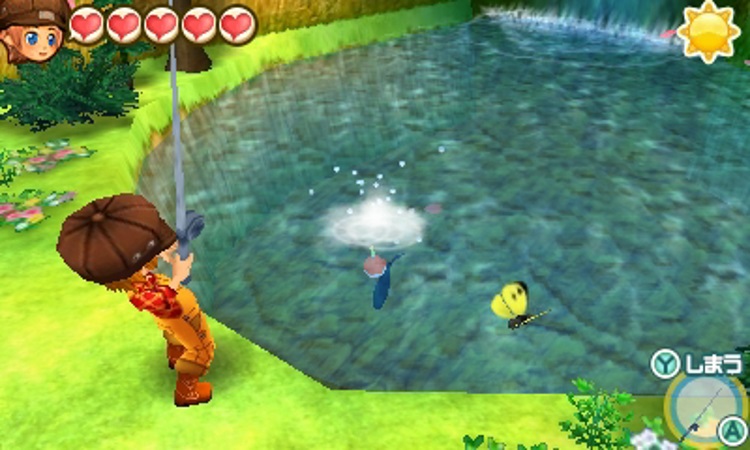 I really like what Marvelous has done with the interface and visuals here. I played it on my New 3DS XL and had the 3D almost constantly on. It adds a subtle but nice effect with leaves floating around and menus in addition to character models. Portraits look really nice and I prefer them to the in-game models. I encountered no performance issues either in my time playing which is a nice change from some previous entries. The colourful world created here was fun to spend time with for sure.
My biggest complaint with Trio of Towns is the music. I guess the lovely music in Stardew Valley spoiled me because everything I heard here is forgettable. I also wish there was better use of the second screen. Even the map isn't as detailed as it should be if it uses the complete second screen on the 3DS system.
If you're aching for a break from the usual games or just want to kick back and relax on the farm, Trio of Towns is the perfect game for you. It is a great starting point for newcomers to the Harvest Moon or Story of Seasons games and one that will make it hard to go back to other farming simulation games.
Positives
A fun relaxing simulation game
Chock full of content
The three towns are varied
Looks really nice in 3D
Negatives
Starts off too slow
Music is forgettable
Story of Seasons: Trio of Towns is a relaxing and charming experience full of heart that improves upon its predecessors in a lot of ways while still remaining accessible.