Release Date
September 23, 2021
The majority of my teenage years were spent playing Sensible Soccer. In particular its astonishingly brilliant player/manager sequel World of Soccer, for the Commodore Amiga. It remains one of my favourite games of all time. And even though it was ported and rebooted many times over the years, the home micro original has never been equalled or topped. Super Arcade Football is undoubtedly influenced by the Sensible milestones, from the super deformed, pixel players, to the amusing player surnames and crowd chants. Can it hold a candle to one of the all-time classics? Be prepared for lots of unavoidable comparisons.
You are thrown into the action almost immediately, after the basic plot that underpins the action is introduced in a series of vignettes. You play the role of an everyman named Martin, who discovers during a chance encounter with legendary manager Old Joe (designed as an amalgam of a few real-life football management bods, in particular Ronnie Moran) that his beloved football team Balarm FC are on the bones of their arse and under threat from hated, monied local rivals Snakesfield. In a nutshell, Martin agrees to purchase the club from the elderly custodian for the princely sum of a pound, and takes the reigns of the struggling team. These exchanges set the scene, but are poorly written with Joe making several jarringly unpleasant fat-shaming digs at Martin, which are neither funny or appropriate in this day and age.
Super Arcade Football: meat and drink
Thankfully things transition from here straight into the meat and drink of the game, which is a series of quickfire footy matches. Each has a three-minute time limit, and three stars to unlock based upon certain conditions. It's essentially a watered-down version of Sensible Soccer. Controls are simplified to moving your player and kicking the ball with one button. This also doubles up as a scything slide tackle when you are off the ball. Unlike its forebear, the ball will quite easily glue itself to the feet of the player in possession. This means it is very easy – particularly early on – to just slalom your way down the pitch and blast the ball into the onion bag.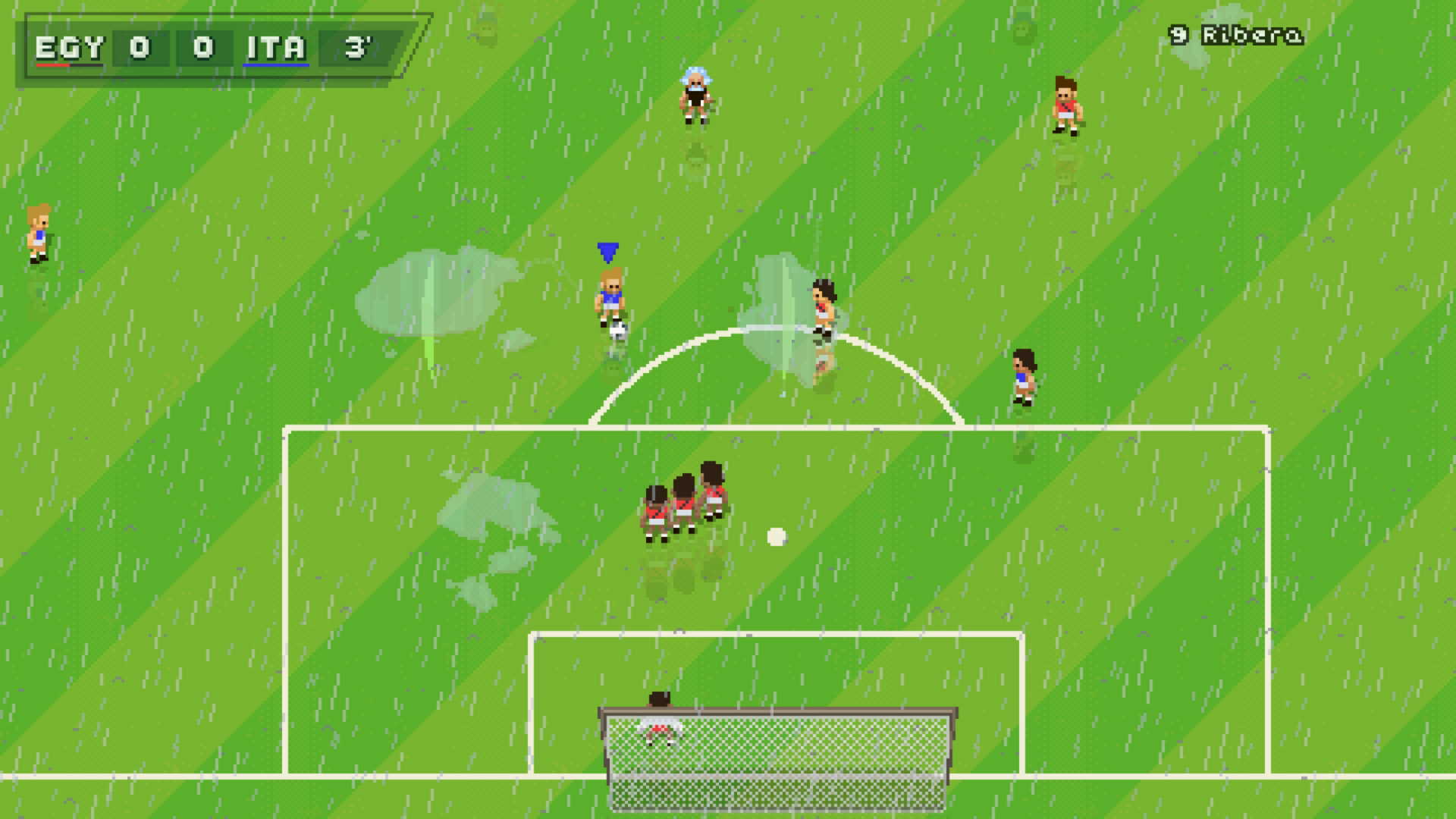 There is nothing sophisticated about the ball physics. You cannot hit those legendary arcing, looping efforts from the half way line. But you can put a bit of curve on the ball, and I was able to hit a few lovely screamers from distance. The conditions to earn stars on each stage are usually quite doable. You may need to retain a certain percentage of possession, score a set number of goals, or not concede. It spices things up nicely. There are plenty of levels to work through, as well as online and local multiplayer options. The quick match mode also allows a bunch of crazed modifiers, so you could find yourself negotiating meteors raining onto the turf, sliding across ice, or even oil slicks. You can also literally move the goalposts! It makes playing with mates genuinely fun.
Simple and amusing
Graphically things are dead simple, with cute player designs and amusing pitchside advertising hoardings, and everything moves smoothly. The sound has some genuinely brilliant snippets of crowd noise. One of the things people most fondly remember from Sensi universe are the madcap player names in teams based around a number of ridiculous themes. Who could forget Kebab Shop FC, with the legendary Adana Kebab holding things together at the back, and Fresh Chillies and Small Doner as the charcoal grilled answer to Heskey & Owen? Thankfully OutOfTheBit had an eye on these shenanigans and as such your own team has a number of recognisable action movie monikers, and you face many chuckle-inducing approximations of real-life football legends and other bonkers stuff.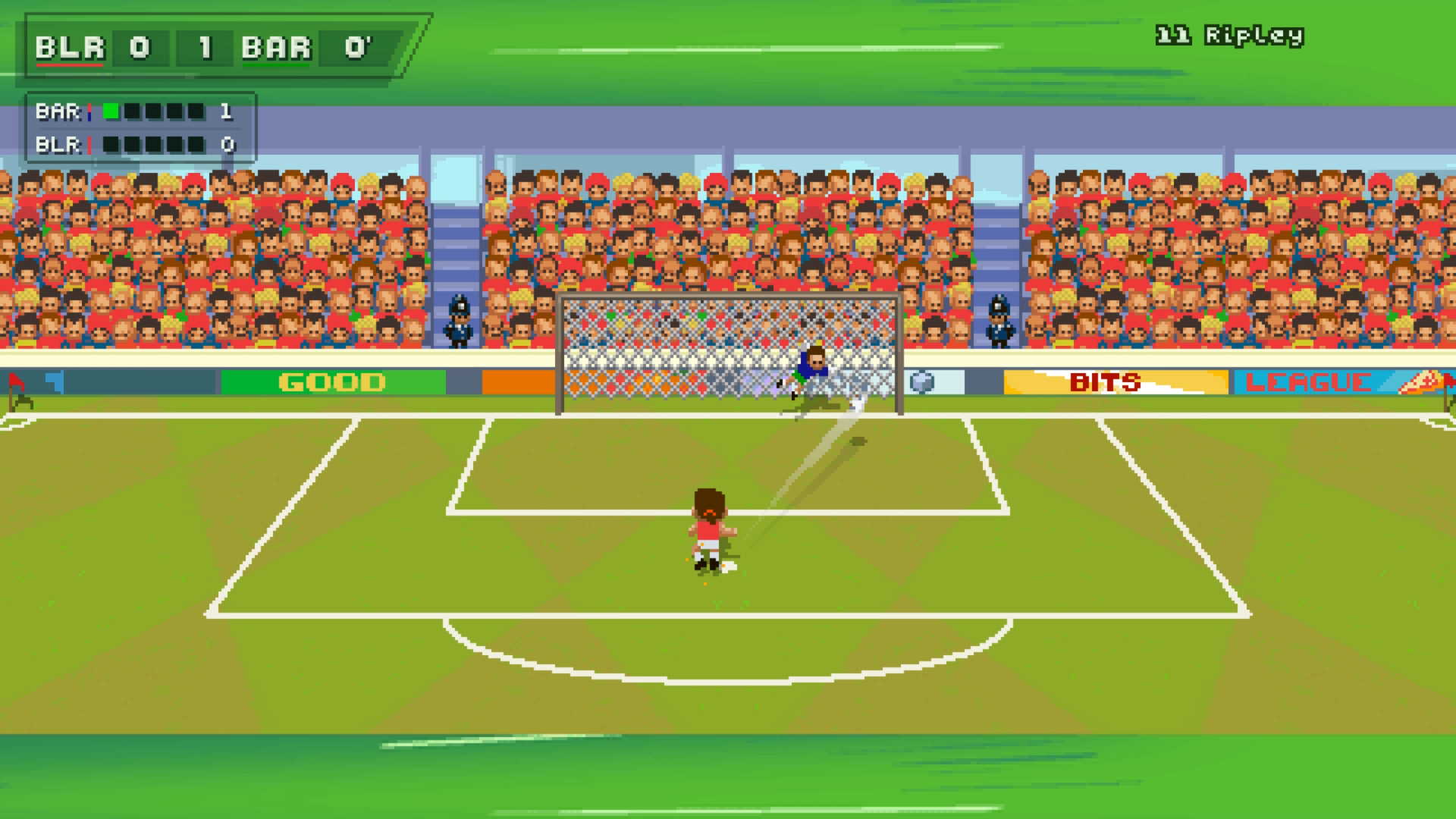 Given its simplicity and natural charm, it is really hard to dislike this little blighter. Initially I dismissed it as too easy and superficial but the longer you play, the more compulsive it becomes. Get another player on board and it gets even better. If it had slightly more nuance and oomph to the ball physics, I would probably be talking about this as a contender to the pixel soccer throne. Even without that, it is still just a short, sharp, saccharine burst of fun that has legs on the couch flex.
Positives
Simple footy fun
Great retro looks
Shot through with genuine humour
Negatives
Bit easy
Insensitive language
Given its simplicity and natural charm, it is really hard to dislike Super Arcade Football, and the longer you play, the more compulsive it becomes.