It's time for round 6 not 666 of the Re:Port series that looks at Nintendo Switch ports of games that originally were on other platforms or just how the Switch version of a specific game is. This week there's a nice eclectic selection of games across genres. We have Old Man's Journey, DEEMO, Mercenary Kings: Reloaded Edition, The Men of Yoshiwara: Kikuya (all Mikhail Madnani), and Layers of Fear: Legacy (Gary) so grab a nice coffee (but not tea because coffee is better) and have a seat for this week's Re:Port.
Old Man's Journey
Originally released on PC and iOS on May 18.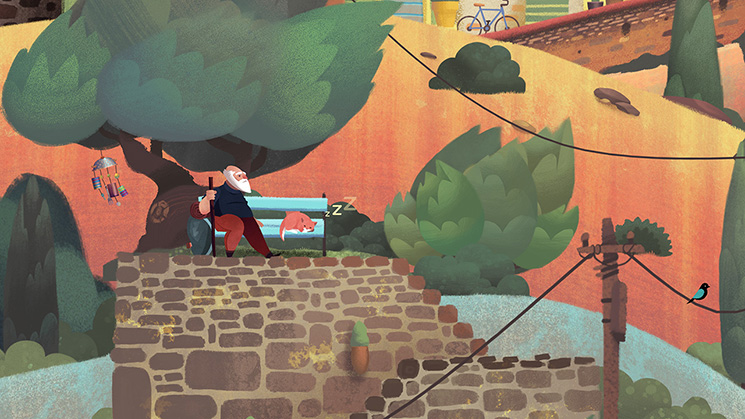 The Switch is no stranger to iOS game ports and in a lot of cases, I'm glad to see some of my favourite iOS games get a Switch version. Broken Rules' Old Man's Journey is a memorable adventure game with a few puzzles that has you take control of an old man and experience an emotional story. The big draw for me initially was the gorgeous water colour like art and the excellent music. The puzzles are pretty basic with you just adjusting the land around to be able to move around. The way the visuals change depending on what kind of moment from the past you're reliving, is very nice. I played Old Man's Journey on iPad when it released and the experience was short but superb.
At first, I thought this would be one of those 1:1 ports to Switch with just touch screen functionality, but Broken Rules did a great job. You can play docked or handheld and with touch or button controls. The touch controls are same as the iOS version, but there's HD rumble feedback here. Button controls have you using the analog to move a cursor around and touch various things on the screen. I love how there's visual feedback to even just hovering over things in Old Man's Journey. It runs and looks great in both modes on the Switch. All things considered this is easily the best version of Old Man's Journey when it comes to offering control options and portability. If you had to decide between this and the other two versions, the Switch release mirrors the PC version price, but offers a much better experience given the nature of the console. When compared to the iOS version, if you plan on only using touch controls, get that. Old Man's Journey is a wonderful experience that I'm glad Nintendo Switch only owners can finally experience.
9/10
DEEMO
Originally released on iOS and Android in 2013, and PS Vita in 2017 and scored 8/10 on July 2, 2017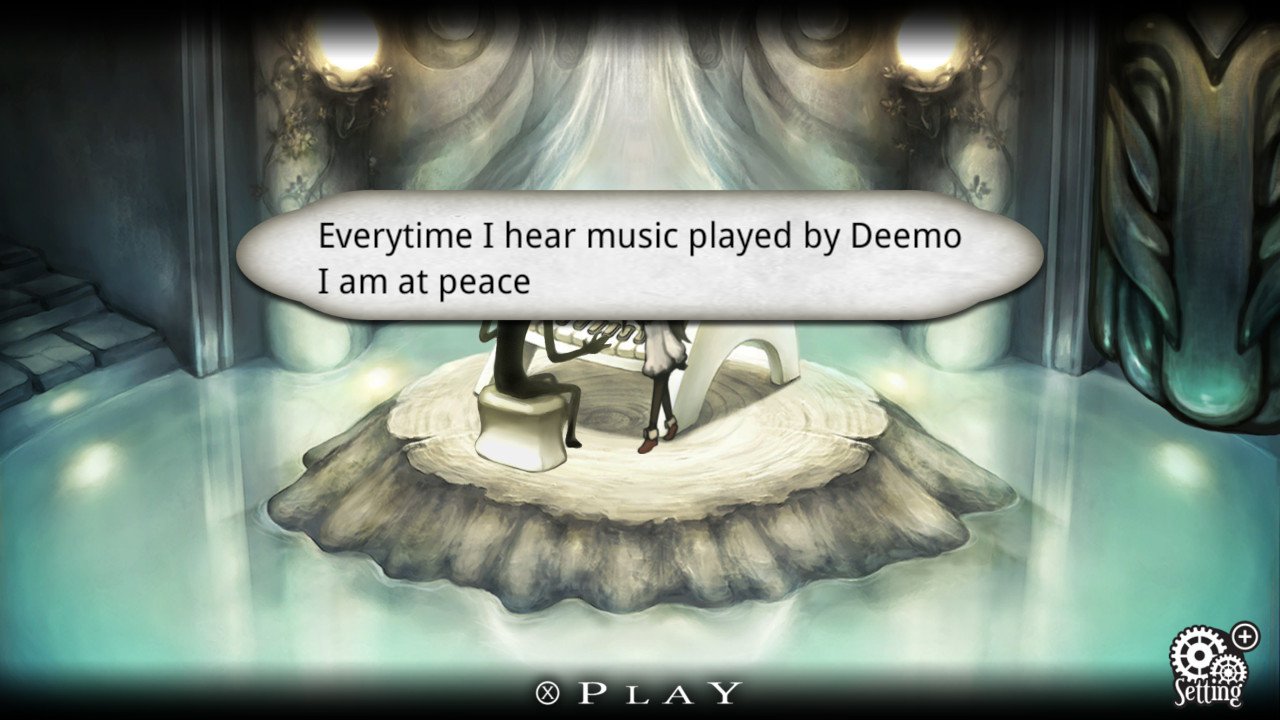 Deemo from Rayark is one of the most well known music games out there thanks to its fantastic piano score and its presence on both iOS and Android for a while before Sony showcased it for the Vita in Asia soon after. I've played Deemo a lot on iOS before getting it on Vita when the Asia release happened. Deemo is a tale about a girl who falls from the sky and you play the piano to make a tree grow so she can return back home.
So after releasing on two platforms, Deemo was released on the Switch last year and it got a big update this week that added more songs and button controls. Deemo is a touch only game on iOS, Android, and Vita. When it launched on Switch, it was a premium game, but it had more than 200 songs at launch already which is way more than the other platforms even when you compare the cost of in app purchases or DLC versus the 1 time Switch purchase cost. Flyhigh Works has been great with post launch support for VOEZ and Deemo getting new songs and button controls in the last update has made it an essential purchase on the Switch. While I have no problem with mobile games getting ported to Switch, I love it when they go the extra mile to make previously touch only games playable with a controller. Deemo now works docked with a pro controller and the implementation is a lot better than VOEZ. Over here there are different colours for each side of the face buttons or d pad and the slide note requires pressing the shoulder button. It is great seeing the Deemo art on the big screen as well.
The only question I have right now is when is Deemo getting a physical release on Switch. This is easily the best version of the game and a fantastic rhythm game that I'd put alongside Superbeat Xonic which is my favourite one on the platform.
9/10
Layers of Fear: Legacy
Originally released in February 2016 and scored 5.5/10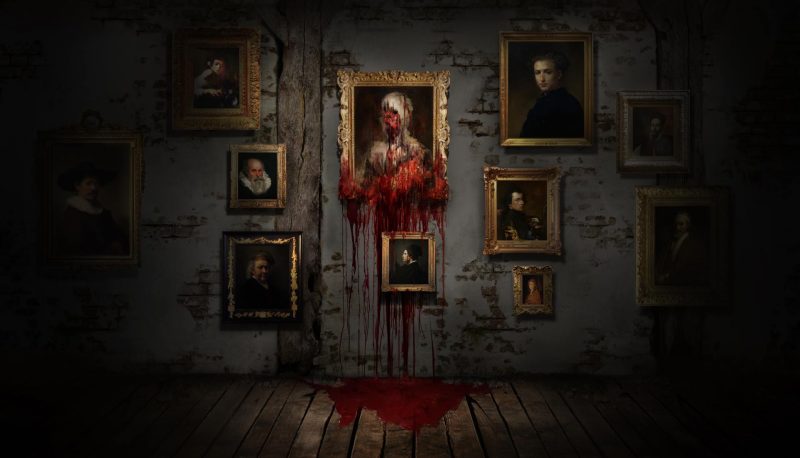 Horror games are starting to arrive on Nintendo's smash hit console, which still feels a bit weird despite things like the Resident Evil remake originally being a Gamecube exclusive, alongside Eternal Darkness. Bloober Team's impressive and downright terrifying tale of madness has found its way to the Switch and you know what? It works surprisingly well.
Layers of Fear was a good looking game on PC and the more powerful consoles, but you wouldn't really notice much downgrading to get it running on the Switch because it's so well ported. When docked it runs relatively smoothly and although there are a few jagged edges, the textures look sharp and the lighting is incredibly atmospheric. It really shines in handheld mode, much to my surprise, looking even better than it does on the TV and losing none of the performance. Those seamless shifts in reality don't even slow it down.
Layers of Fear, if you haven't heard of it, is a first-person horror game that sees you play as a painter trying to create his masterpiece. The only problem being that this painter isn't exactly Bob Ross; there are no "happy little clouds" in this guy's paintings, only grisly nightmares and twisted visions of his past. Primarily, Layers of Fear is a puzzle game; you try to locate the materials needed to paint, through discovering hidden objects within your mansion. These puzzles often lead you through some twisted memories and even a few encounters that will most certainly stick with you. Beware: this game is damn frightening and I'd heartily recommend playing with headphones, because the sound design is phenomenal.
This Legacy version also includes the Inheritance DLC that released separately on the other formats. This plays much the same way, but this time you play as the artist's daughter, returning to face her past. Again, this is a petrifying mixture of puzzles and exploration, adding considerable value to Layers of Fear: Legacy.
Although it is a great port, it does sometimes suffer from loading delays when opening doors, particularly noticeable in the Inheritance chapter. The controls aren't exactly smooth either, thanks to the awkwardness of the Joy-Cons' sticks and the pixel-perfect accuracy sometimes required to interact with an object or door. Thankfully, the aiming acceleration option does at least help to counteract this problem, but not eliminate it entirely.
With multiple endings for both the base game and its DLC episode, Layers of Fear: Legacy is certainly one of the most affecting horror games of the last few years and it's surprisingly at home on the Nintendo Switch. Just don't play it in bed, or if you like to paint…
8/10
The Men of Yoshiwara: Kikuya
Originally released on iOS, Android, and PC in 2015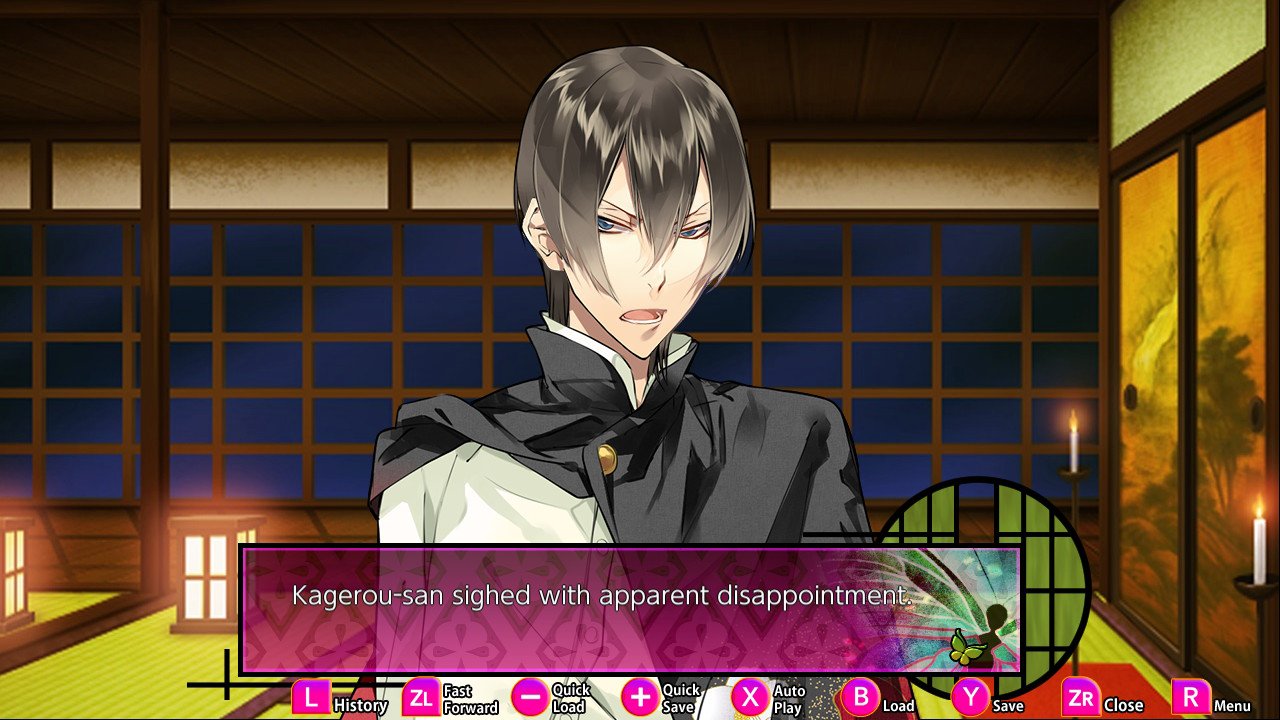 The Men of Yoshiwara: Kikuya is an otome game from D3 Publisher that released on iOS and PC platforms a few years ago. When it comes to otome games, I'm no stranger to the releases from Idea Factory and Otomate, but I hadn't heard of this game until it was announced for the Switch. The Men of Yoshiwara: Kikuya is the Nintendo Switch's first otome game. If you aren't familiar with the genre, otome games or otome visual novels are interactive adventures that involve a ton of reading and are designed for a female audience. They have quite the niche following in the West with publishers like Aksys Games going all out on not just localizing otome games but localizing otome games on the Vita and doing collector's edition releases.
One trend this game follows (same with Deemo) is the Switch release is a fixed price premium title that includes all content from the get go. The mobile version was sold piecemeal and in the end the Switch release is more economical in the long run. Instead of having a few decisions change your path, the structure has you selecting a bachelor and moving forward into their story. As an otome, this is more mature than some of the others I've played, but it lacks good character development. I also am not a fan of the button configuration being listed at all times on the bottom under the dialogue box. The interface is a tad messy. If you own a Switch and have never played an otome, but want to get into the genre, this is a pretty good first game. I'd still recommend sourcing a Vita for the genre because that's the true home of otome games as of now.
I look forward to playing the other Men of Yoshiwara title on Switch when it releases in the near future. The art and music is good enough with a decent story backing it all for me to keep checking these games out.
7/10
Mercenary Kings: Reloaded Edition
Originally released for PC and PS4 in 2014
Mercenary Kings originally released a few years ago on PS4 and PC platforms. Tribute Games then went on to enhance it and add a lot of things to make it Mercenary Kings Reloaded Edition. A lot of studios end up porting a new version of a game that was initially on a few platforms to new platforms. That's exactly what happened here and Tribute brought Mercenary Kings Reloaded Edition to Xbox One, Switch, and Vita in addition to the previous platforms. On the surface it looks like Metal Slug, but it has the sublime animations of the Scott Pilgrim game and has some Monster Hunter (yes) mechanics. It plays like an old school game with a new modern twist and it requires patience. This version also includes new playable characters.
On the Switch, Mercenary Kings Reloaded is superb. It has nice subtle HD Rumble and it looks and runs brilliantly. It even supports co-op on the same switch through split screen which is always a plus and something I've basically come to expect from ports going forward. If you own a Switch and have wanted a nice mechanically old school run and gun game that blends together a few different genres well, this is the game for you. The split screen implementation with 2 players feels like 2 different 3DS handhelds being mirrored which looks a little weird at first.
Overall this is fun, but the gameplay mechanics will ensure it isn't for everyone. The solo aspect gets a little tiring and some design decisions like you having to bend down to collect loot instead of auto picking up things when walking over annoyed me. I'd still recommend this if you have a buddy you can play with. The team has done a great job enhancing and adding content to Mercenary Kings with this free Reloaded Edition update for old players and new ports for new players.
8/10