Release Date
April 26, 2016.
Contains spoilers for Episode One and Two of The Walking Dead: Michonne.
If you were faced with the zombie apocalypse every day for the rest of your life, how on earth would you handle the constant threat of being the focus of a walker's lust for flesh? How would you try to make sense of a world where that kind of risk is normal? Imagine having to deal with losing your sanity and your most precious family members all while fending off a group of nutcases with rifles. You're getting the picture I'm trying to paint, right? The third episode of The Walking Dead: Michonne is a tense bloodbath where the conclusion of Michonne's story arc is coming to an end, with all hell breaking loose.
What We Deserve may not be as gripping as previous episodes, but it makes up for it with action. We've seen Michonne have to deal with the dead and the living in equal bouts of intensity and the final showdown sees you have to deal with both in abundance. It's great how player choice is implemented in one particular scene: you're trying to negotiate a deal with Norma in a heated situation, and as things go south it's up to you to keep your head. I hadn't seen this kind of dynamic in the previous episodes so it was refreshing to be given a chance to show your mettle in a rapidly deteriorating situation.
There is some great character interaction, especially between Michonne and Sam and her siblings. If you remember, Sam has seen her brother and her father die, all whilst facing her own death as well. As a mother herself, Michonne struggles intrinsically to show compassion for this family, but manages to despite everything she's going through herself. There is a really sweet moment where you speak with Sam's youngest brother Alex, and by choosing the right dialogue options, you can provide some much needed comfort.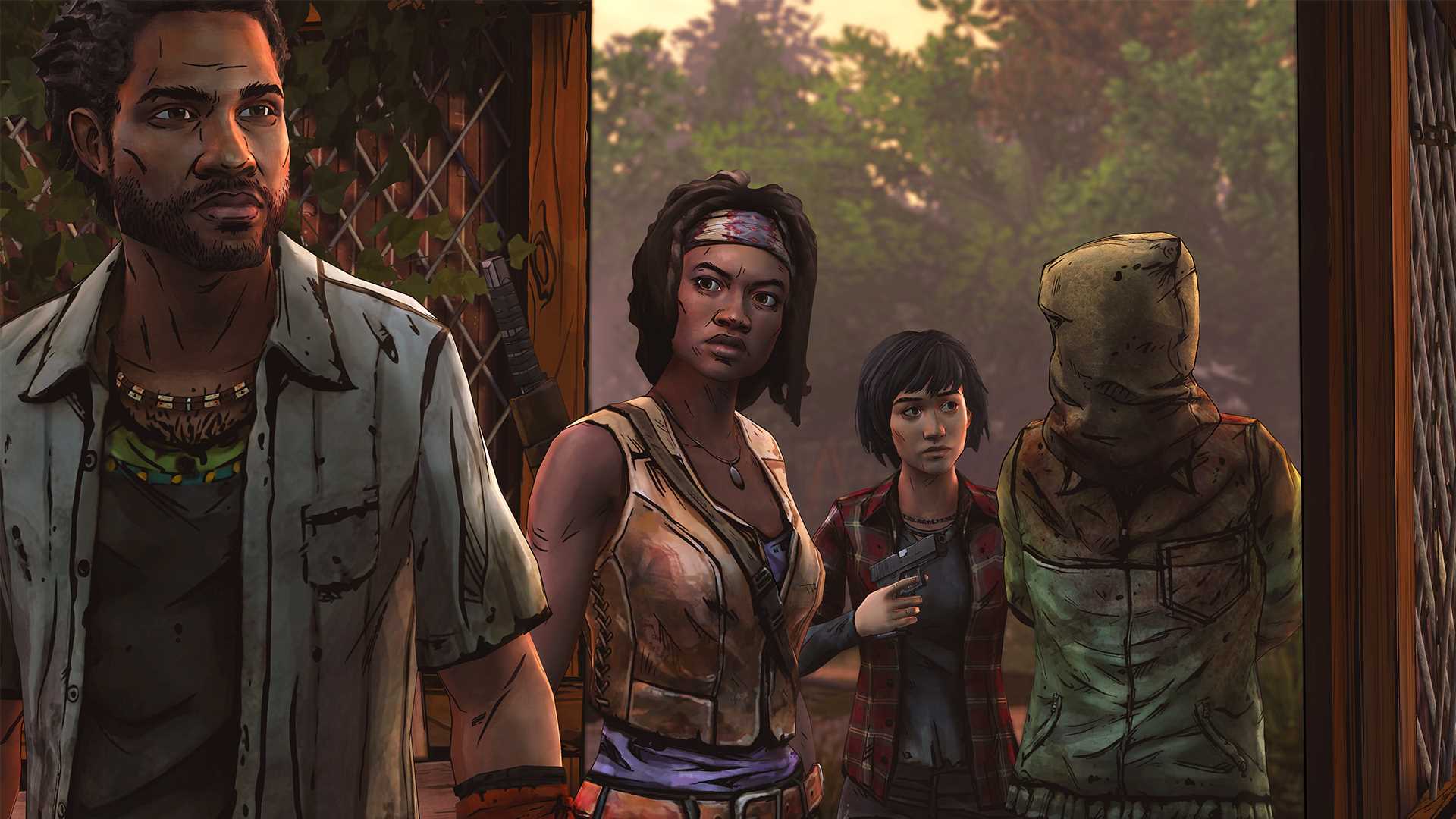 The quality of acting here is superb. The level of emotion the characters provide is astounding, and the majority of the cast have such a natural ability. Alex and James are really good in What We Deserve, especially when child actors tend to be a little wooden. The scene in Alex's fortress is particularly moving and James and Michonne's interaction over choosing to have a gun or not is a particular highlight. In the end of episode two, I battered Randall's skull with a wrench, so unfortunately he isn't in the episode (as he has been anyway), but his sister Norma is and she does a fantastic job of flitting between desperation and power.
The star of the episode (and the series) is undoubtedly Michonne. Sam Wiley is just as excellent as she has been from the start and with the constant hallucinations and freak outs becoming more frequent in What We Deserve, Michonne is falling apart. We all know her as a strong and focused character, but her emotions are tearing her apart and Sam makes us feel such empathy for her. It's a great dynamic seeing her try to right the wrongs of her daughters by protecting the children left alone after the deaths of their parents, and her love of these characters is the main reason she keeps on fighting.
There are quite a few technical concerns in What We Deserve, such as framerate issues and gruelling loading times. I hadn't noticed it before, but the wait between some scenes was awful, reaching almost two minutes at times. It broke up the tension and caused a little frustration for me, especially as I just wanted to see what was going to happen with Michonne and her fellow survivors.
I really enjoyed The Walking Dead: Michonne and I'm happy Telltale Games decided to explore one of the comic's best characters, but I felt the final episode lacked some of the series' greatness. It is in no way a bad episode, but the absence of any real important choices and lack of surprises helps to make What We Deserve the weakest of the three episodes.
Review code provided by publisher.
Positives
Superb acting, especially the children.
Tense showdown scene.
Negatives
Framerate issues.
Bad loading times.
Choices aren't as impactful as before.
What We Deserve is a great end to the series, but some technical issues and a few story choices make it the weakest of the three episodes.