Release Date
April 26, 2016 (North America)
The 3DS got some great 3D classics from Nintendo in the console's early life. Since then, SEGA has taken over by releasing some of its most-loved games as 3D Classics, developed by M2 with and upgraded with a slew of tweaks and improvements. The SEGA 3D Classics Collection marks the first time these classics have been released at retail and in a collection. It also includes various games that have been available in the eShop already, as well as a few new ones that have never been released in the West before.
Japan saw two releases of SEGA 3D Classics, with the second one making its way west in the form of SEGA 3D Classics Collection. This collection includes the following: Sonic the Hedgehog, Power Drift, Altered Beast, Puyo Puyo 2, Thunder Blade, Galaxy Force II, Fantasy Zone II and 2 bonus SEGA Master System games. What's interesting about the Master System games included (Maze Walker and Fantasy Zone II) is that Maze Walker was designed to be played with the 3D Glasses add-on on the Master System.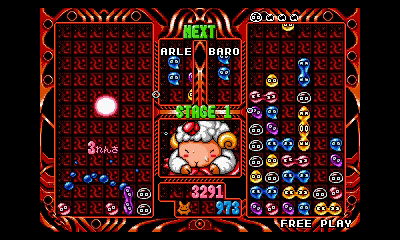 Each of the 3D classics included here have various new settings that allow things ranging from tweaking the difficulty to adjusting game mechanics and controls. For example, in Power Drift, you can adjust the screen size and even add an arcade cabinet visual around the screen for authenticity. Sonic the Hedgehog allows you to simulate a CRT display. There are also save states which are essential on handheld gaming consoles.
Power Drift is the first exclusive 3D Classic available in this collection and Yu Suzuki's racing classic plays wonderfully, truly being a whole lot of fun to play. Power Drift's arcade cabinet screen mode has a setting that makes the HUD move while you turn which is a very nice touch to go for that authentic arcade experience. While I still prefer Out Run to Power Drift, SEGA's classic racing games really were ahead of their time and they hold up great, even today.
I got my first proper taste of Puyo Puyo with Hatsune Miku: Project Mirai DX. Puyo Puyo 2 (or Tsu) has you matching 4 or more Puyo that fall from the top of the screen in pairs. Chain multiple pairs to send garbage Puyo to the opponent's side. Puyo Puyo 2 allows for local play against someone else who has a copy of the collection too. Overall, Puyo Puyo 2 is charming; so much so that I'm considering importing Puyo Puyo Tetris on the PS4 from Japan soon. There is a lot of actual Japanese in this 3D Classic, which SEGA claims is a quirk of the hardcoded Japanese language.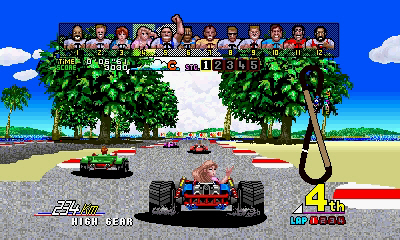 Sonic the Hedgehog 1 is a game I own on almost every platform available today. I was playing it on Apple TV a few days ago and have enjoyed it with every opportunity I get to revisit this classic. The 3D Classic version has various improvements like the ability to use Spin Dash (from Sonic 2 and later) and stage select. The Stage Select option is amazing because it lets me just get to Star Light Zone directly and listen to one of the best level themes ever. This 3D Classic is something most people probably already own on the eShop, but regardless, it is a worthy addition to this collection.
I hadn't played Galaxy Force II in any form before this collection and am pretty impressed with how good it looks and plays in 3D. As with Power Drift, Galaxy Force II features two arcade cabinet options for the screen and is a great showcase of stereoscopic 3D. There are various options to tweak the difficulty here and if you've been craving a sci-fi arcade experience, look no further.
Thunder Blade reminds me a lot of the Soviet and Jungle Strike games EA released in the late 90s. Thunder Blade obviously came much earlier and has some really nice visuals for an on-rails shooter, with a combination of top down perspective and camera chase view. It has explosions, missiles, helicopters and controls great with the C-stick. The only thing missing here is Kenny Logins' Danger Zone playing.
M2 really outdid themselves with the 3D Classic remake for Fantasy Zone II. Out of all the time I spent playing these SEGA Classics, most of it was spent playing and enjoying Fantasy Zone II. This remake includes a new endless mode but even the core gameplay is majestic. I thoroughly enjoyed upgrading the ship slowly while destroying various colourful enemies in lush stereoscopic 3D environments.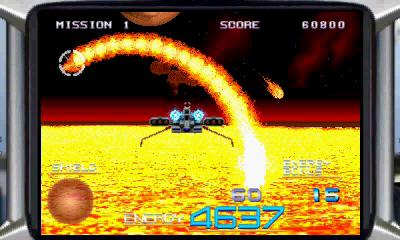 The last 3D Classic included in this collection is Altered Beast. I really wish this wasn't included and have no idea why this is considered a classic. Altered Beast is a platformer beat-em-up 2D game that is just annoying to control and play. The only purpose it has served for this collection to me is tarnish my experience. The two bonus Sega Master system versions of Fantasy Zone 2 and Maze Walker are nice additions, though I would've preferred a different game instead of an inferior version of Fantasy Zone II that I love. Maze Walker has a top down view of you navigating a maze with just a stick and I didn't really enjoy this much after a few minutes.
M2 did a fantastic job with these 3D gems, by allowing people to experience them both in the original form for the most part and with tweaks that make them more accessible to modern gamers. I hope SEGA continues to use M2 in the future, should they partake in similar projects. A special mention must be given to Professor Asobin, the rabbit who appears on the loading screen while you switch games here and who is an icon in SEGA's legacy.
Overall, SEGA 3D Classics Collection is a great value package offering some of the publishers most-loved titles, even if most of which can be bought on the eShop. This collection is great for anyone looking for an old arcade experience with the convenience of modern handheld gaming features. I hope SEGA considers localising the first 3D Classics Collection from Japan after this because I need a physical version of Out Run 3D ASAP.
Positives
Great value package
3D looks great in most games here
Various gameplay tweaks available
Puyo Puyo 2!
SEGA 3D Classics Collection is a great value package, full of worthy games that look and play wonderfully on the 3DS.