Release Date
December 12, 2017
You know that a game named Ultimate Chicken Horse is not going to be a serious affair. It's not going to be an in-depth look at genetic experimentation on animals, or an uplifting redemption tale about a cowardly horse. This is a game of sabotage and oneupmanship. In which you send cartoon animals to their death over and over again, with your friends.
That doesn't really sound like a laugh riot actually, does it? Let me explain: in Ultimate Chicken Horse up to four players (initially a chicken, horse, raccoon and sheep) will attempt to jump from one side of a map to the other. This would be easy if it weren't for the fact that there's a gaping chasm in the middle, and that the players have to build the path across, taking it in turns to drop platforms and obstacles along the way.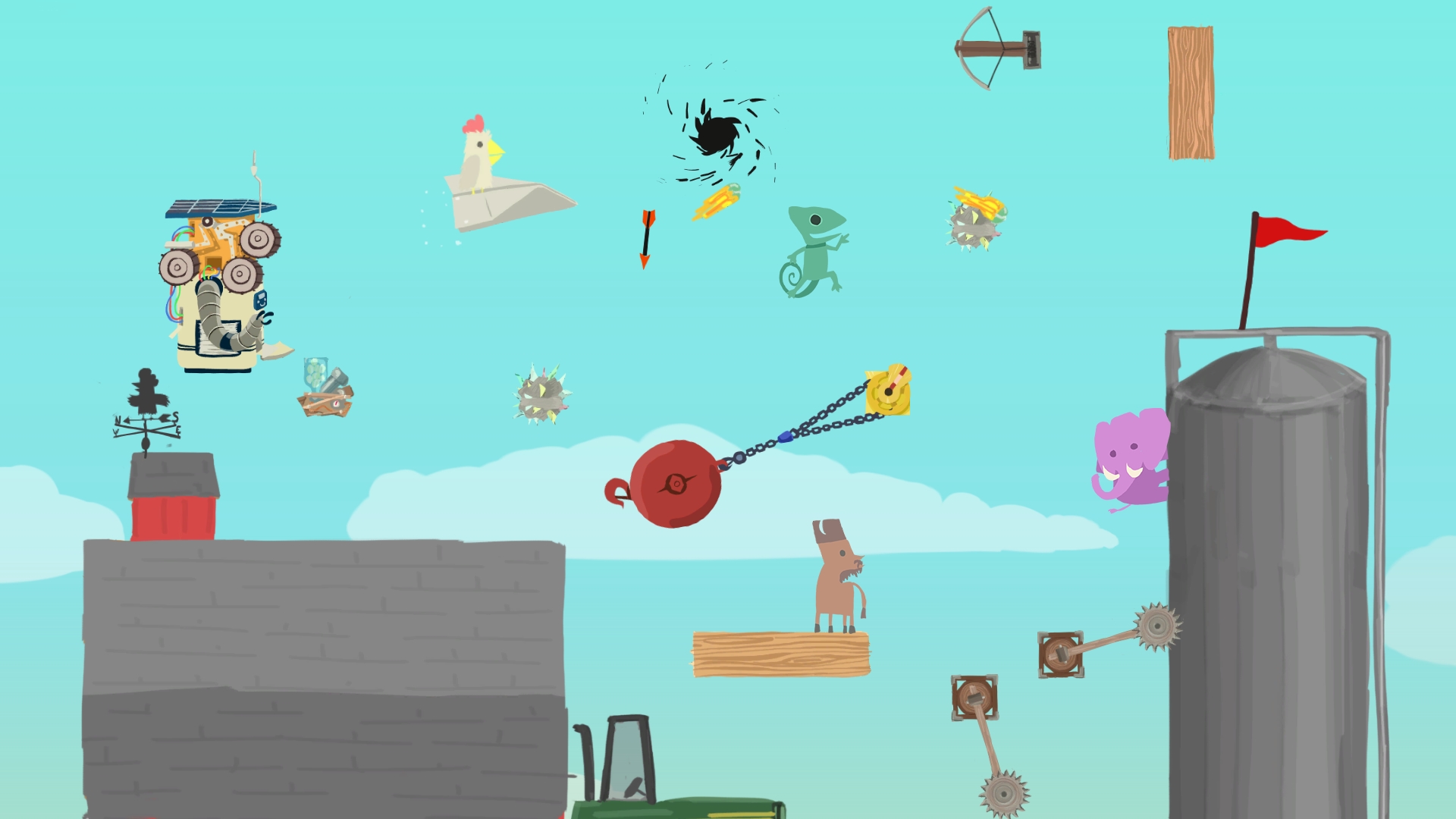 The game has two phases. Firstly, each player has a turn to place or move a single object, ranging from standard platforms to traps of horrifying design, in an effort to allow you to cross but hinder your rivals. The second phase is the actual platforming section itself, in which you each attempt to cross the pit of death. Points will be doled out to the fastest players, or the ones that skillfully evaded traps, but if everyone easily makes it to the finish line, no points are given out. Basically, if you aren't trying to get everyone else killed, you aren't doing your job correctly.
The best part is during the building phase, as everyone tries their darnedest to create the most fiendish obstacle courses known to man… or chicken, I guess. It's like a cross between The Running Man and The Krypton Factor, especially by the end of a game when there are saw blades travelling up and down walls, or wrecking balls are forever swinging over a black hole (stop giggling), not to mention the hockey pucks being belted across the screen and the crossbow bolts raining down over that final jump to the finish flag. It's amazing the amount of pure evil that comes out of a person when they only have a few seconds to place their chosen piece on the map. You can also upload levels for others to attempt, for when being evil with your friends just isn't enough – you have to share that cruelty with the rest of the world.
Although the game is built around multiplayer, there is room for single player via challenge mode, in which you select up to four levels from the selection of player created levels and attempt to beat them in the fastest time. Much like Super Mario Maker, however, a lot of the levels are designed specifically to border on the impossible, but here it's much more acceptable. Some levels are made specifically for multiplayer silliness, adding an almost infinite number of levels to the game.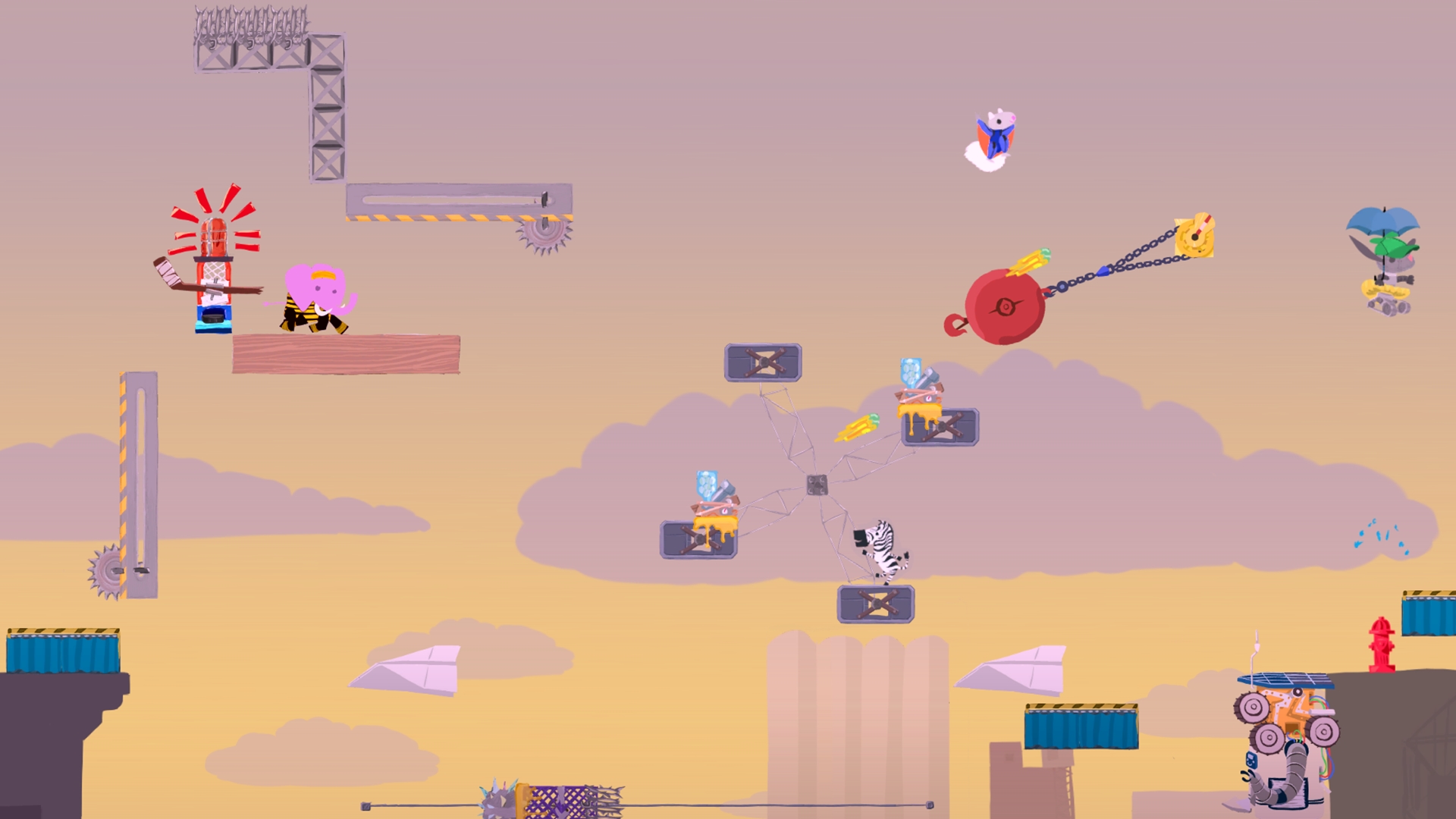 The game itself has plenty of levels and customisation even, with the ability to add hats and glasses and other assorted clothing to your chosen animal, but the way to unlock both clothes and levels is the same; at random (well, it seems that way because I saw no logic to it otherwise) a question mark will appear on a level's entrance. This denotes the addition of a mystery box within that level and collecting it will unlock its secrets, which will either be a customisation item or a new level. This means that unlocking new levels feels entirely random, making it a bit of a slog to open up new maps.
With the likes of Jackbox, Nidhogg 2, Gang Beasts, and many more, it's great to see a return to local multiplayer games. A few have appeared here and there over the last few years, but 2017 has definitely been a good year for them and Ultimate Chicken Horse is a worthy addition to the list. A good one for Christmas Day shenanigans, I reckon.
Positives
Hilarious in local multiplayer
Decent platforming physics
Negatives
Level unlocks seem random
Bringing out the wicked side of everyone who plays, Ultimate Chicken Horse is great for party gaming.