Release Date
December 12, 2017.
Okami was one of those games that oozed rare artistic perfection in its style as well as providing an engaging and fascinating adventure. It had its re-release in high definition back on the PS3, looking even better, showing off exactly why it's regarded so highly by gamers everywhere. Now, 11 years after its initial release and 5 after the HD version, Okami is back once again, featuring the same HD and 1080p graphics as the 2012 re-release, but now we're treated to 4K resolution. Do we really need to see it again, though, and does it manage to come close to the quality we get to see on a regular basis in today's gaming world? The answer is most definitely.
Okami is one of the finest video games of the last 20 years, and there's a reason Capcom has decided to bring it out once more. It's be quite remarkable to see something new from them, however, as this was such a revolutionary title in game design that something fresh would've probably been more appreciated. Nevertheless, getting to spend time with Ammy and Issun once again is such a welcome feeling.
If you're new to Okami HD, it follows the story of Amaterasu and her quest to recover the thirteen Powers of the Celestial Brush. An evil monster called Orochi has returned, and as the goddess of the sun (in the embodiment of a gorgeous white wolf), you must find these powers to vanguish the evil curse that has beset Kamiki Village and the world around it. Amaterasu, or Ammy for short, sets off on a journey to recover these powers, meeting some wonderful characters and seeing some beautiful sights.
It's quite an achievement for a game to look this good in 2017, especially as it came out over a decade ago. It performs with no technical holdups, with areas transitioning smoothly, and cutscenes flowing without any awkward cuts or broken lines of dialogue. My biggest gripe with Okami HD is the length of some of these cinematics, and the conversations. I never like to skip, but some are too long for me. Saying that, they're there to tell a tale, and the tale of Okami is one of the finest out there, even now.
The watercoloured style, and the canvased backgrounds are still breathtaking, with the most lush of scenes coming when you return the land to its evergreen and flowery scenery; some locations are cursed, and soaked in black, but beating the creatures in these locations will allow you to see the true beauty on offer. The blossom trees and mountain ranges synonomous with Japanese landscapes look utterly magnificent, and every single location offers such a rich look into the culture and history of a wonderful country.
The gameplay is relatively smooth, with combat being straightforward and easy to approach, if a little rudimentary. The boss battles are fun, but the general fighting can become repetitive. Movement is also fluid, but the camera angles can let it down. Sometimes, moving around the environment and trying to get a good look at certain areas can be hindered by this. When in the heat of battle, trying to see all the enemies can be tricky because the angles don't always allow you to see everyone.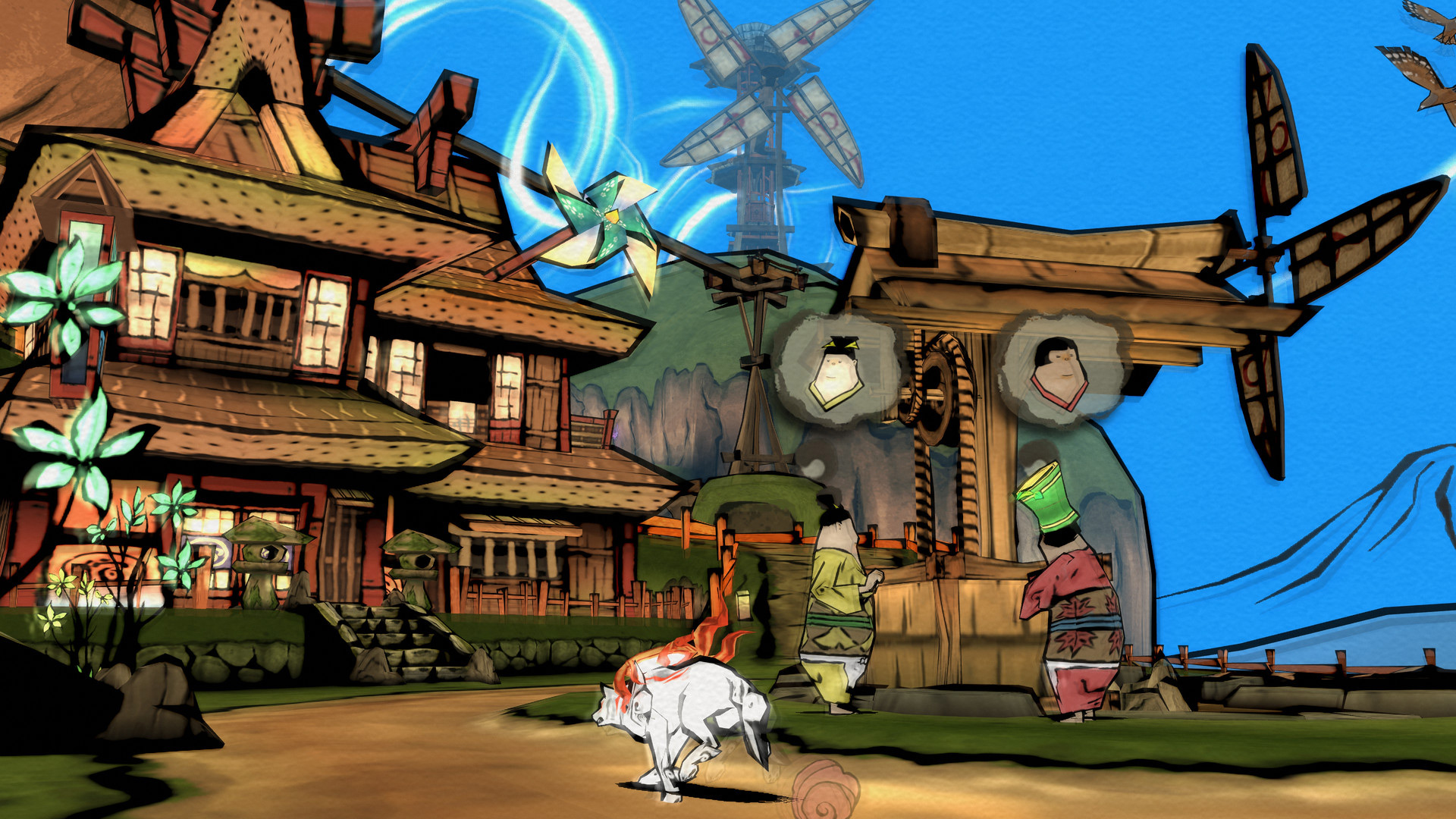 One of the nicest features is the Celestrial Brush, and as Amaterasu you get to paint the world and use the Brush to solve puzzles and battle enemies. When using the Brush, the screen pauses, allowing you to paint something. For example, you can turn night into day by drawing a circle in the sky creating a sun, rebuild broken objects, slash obstacles by drawing a line through them, or building bridges by painting lines from one place to the next. It's a great mechanic and one that never feels ike a waste of an idea, always purposal and necessary.
Okami HD is a long game, and whilst it's stunning, and gameplay is varied, some objectives aren't very clear, and the pacing can get a bit wrapped up in its own ideas. Thankfully, you'll have plenty to do along the way, such as finding collectables and levelling by collecting Praise. The story is well written, however, and there's a certain level of humour and charm that sets it amongst the genius of Nintendo's Zelda games. It's a game that wears its influences on its sleeve, and almost manages to match those levels of greatness.
This is the perfect time to play. As Christmas approaches, and you've worn out every potential GOTY candidate, Okami HD is a beautiful, warm, and interesting game that will reward you for your loyalty, and a great game to enjoy over the winter period. I doubt there're many people who've played this before and not had something positive to say about it. If you missed it in 2006 and 2012, definitely play this now.
Positives
Still as gorgeous as ever
The Celestial Brush is a great mechanic
Well written characters and story
Lovely representation of Japanese history and culture
Negatives
Cut scenes can go on too long
Camera angles can let it down
Nothing new for returning players
Okami HD is still as wonderful as ever, and now it has 4K resolution. Grab yourself a Sake, close the curtains, and sink into one of the most immersive and beautiful games ever.