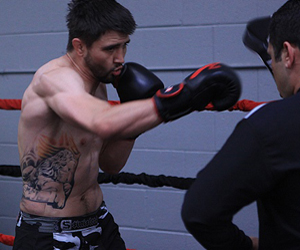 Murphy's Law definition according to Dictionary.com–"the facetious proposition that if something can go wrong, it will". Things haven't been terrific at THQ lately and this news may not be as serious as some of their other problems, but it's still kicking them while their down.
Polygon has reported on a press release that states the company is getting sued by tattoo artist Chris Escobedo for copyright infringement. The owner of Elite Tattoo is claiming that the tattoo on MMA fighter Carlos Condit in UFC Undisputed 3 was used without his permission. Escobedo said, "I would not have agreed to the recreation of the tattoo by an animator", but added that he may have complied if he was approached by THQ and received compensation for his original piece on the body of Georges St. Pierre's UFC 154 opponent.
Apparently, tattoo artists own their work, according to Escobedo's law team. "People often believe that they own the images that are tattooed on them by tattoo artists. In reality, the owner of the tattoo artwork is the creator of the work, unless there is a written assignment of the copyright in the tattoo art".
This may have some weight in court, too. When Mike Tyson's infamous face tattoo appeared on a character in The Hangover II, Tyson's tattoo artist filed a lawsuit for the same reasons as Escobedo. It was settled out of court for an undisclosed amount, but California District Court judge claimed there was a chance that the tattoo artist would have won his case.
Poor THQ.
UFC Undisputed 3 is available now for Xbox 360 and PlayStation 3