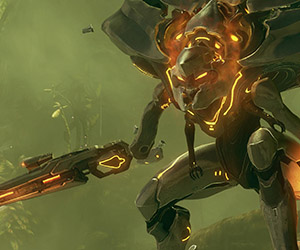 Any suckers out there want a polka dot Spartan?
Your wishes may be granted with the news that 343 Industries are to consider cosmetic micro-transactions for Halo 4.
Speaking to Digital Spy executive producer Dan Ayoub said he and his team were "looking at" how Gears of War: Judgment was using microtransactions in their multiplayer.
"We don't have too much to talk about in terms of our plans down that line," said Ayoub. "But it's certainly something… we've seen the fans of Gears are enjoying, and if it's something we think our community is going to enjoy, it's something we'll seriously talk about."
"Obviously our commitment is always that we're going to make sure there's something for people to do on Halo, whether it's playlists, or new maps or new content, something like that," he explained.
"We can't say too much about the specifics we're planning, but what we can say is we don't take that commitment lightly, and people should keep their eyes open for cool stuff."
Halo 4's Castle Map Pack, which launches today, is free to season pass holders or 800 MS points. Read our review of the map pack here.