When the World of Warcraft Trading Card Game came out a few years ago, it would be an understatement to say that I was just a little bit addicted to collecting the cards. I'd spend pound after pound on new packs, hoping to get a card that I hadn't already gotten elsewhere. I had a folder with plastic wallets specifically for collecting trading cards and everything, I would tell myself that I enjoy the artwork and that's why I was collecting them, but the truth is the I had totally succumbed to the collectors mentality. I needed more just because I was missing a few here and there; that's it.
Taking the World of Warcraft Trading Card Game into the digital world with Hearthstone, Blizzard Entertainment have taken the addictive qualities of the physical version, added a bucket load of impressive visuals, and are getting ready to release it – totally free of charge – to the public. It's people like me that they'll be hoping to catch on the end of their fishing line, people who enjoy collecting more and more cards, paying for them through the nose just because they don't have them at the moment; whether or not they use them when they're playing the game.
When you first start up Hearthstone, you'll be treated to a full tutorial explaining how to play the game in such a way that even someone that's never even looked at a Trading Card Game in the past with know exactly what they're doing within a matter of minutes. You'll start of with Jaina Proudmoore – the Mage – and once you've finished with the tutorial, you'll be well equipped to jump into either the Practice mode, or the Play mode. The Practice mode does exactly as it says on the tin, allows you to practice the game against a selection of A.I. controlled characters based on the nine classes from the original World of Warcraft game – Mage, Druid, Hunter, Warrior, Warlock, Priest, Paladin, Rogue and Shaman – all of which are able to be unlocked by beating their respective heroes on the Practice mode. Once you've unlocked all nine classes, you'll be able to take your skills to the Arena in order to, hopefully, collect more cards, more gold and more fame.
The Play mode is the mode that you'll play more often than any other. In this mode you'll be paired with another random opponent from the pool of real people that are playing the game at the same time as you are. You'll both pick heroes at the start of the match – either using the default decks for each of the classes, or your own custom created decks – and then face off against each other to see who comes out the victor. Winning a game in either of the modes will give you experience points which help your character to level up, which goes a long way to getting you some often rather impressive new cards for your repertoire. These cards can be added to your custom desk should you so wish, so that, if you plan your deck correctly, you can have a pretty impressive weapon to wield against any would-be opponents that may come your way.
As well as levelling up each of the characters in order to get new cards to add to your collection, you can also buy them from the store. Hearthstone will be totally free-to-play, and players don't have to pay a single penny in order to collect all of the cards available, but just as with physical Trading Card Games, if you want to improve your deck then you're going to want to put down at least a little bit of cash. You can buy decks of cards using real money, which is clearly going to be the normal method for a lot of people. However, if you're willing to put in the work, you can complete the quest that you're given on each day in order to attain that precious gold even faster. You'll have to be careful though: if you don't complete the quest in three days, it's gone, and so is any progress you may have made towards its completion.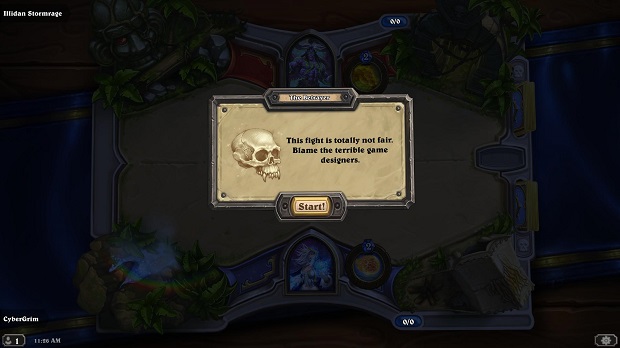 Hearthstone: Heroes of Warcraft is a hugely compelling game that's just as easy to play for hours on end as it is to play in ten to fifteen minute intervals. The cross-platform play which will work across PC, Mac and iPad (eventually) will be one of the biggest draws to the game. I am hugely looking forward to being able to sit in front of the TV with the iPad in my hand, playing a few games with some Battle.Net friends. However, because of the whole cloud connected nature of games these days, my progress will carry over to whichever platform I eventually choose to play the game on.
Hearthstone: Heroes of Warcraft takes everything you may have loved from the physical Trading Card Game and puts it into the digital world with a bang. The developers love this particular style of game, and you can see that with every single inch of Hearthstone.