No More Heroes Coming to Xbox 360 & PS3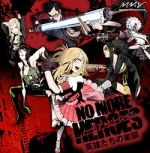 Yes the title of the article is correct, you are not dreaming! No More Heroes is coming to the Xbox 360 and PlayStation 3. No More Heroes (created by much renowned game director Goichi Suda aka Suda 51) was previously a Wii exclusive title that gained much critical praise, however that didn't translate over to the sales figures. As is the case with titles like No More Heroes, it managed to amass quite a big cult following amongst the gaming community but most people still wished and hoped for a release on the two more powerful consoles. Well their requests have been adhered to and the game shall indeed be ported over in to the Xbox 360 and PlayStation 3 in glorious high definition.

For those of you haven't played (or even heard of it) No More Heroes is  basically an action/adventure game but that doesn't even begin to explain the "crazyness" that lurks within the heart of it. The gameplay is somewhat open-ended and there is a free-roam aspect (side missions included) but the basic premise of the game is to take out the top ten assassin's in the world and take the number one spot as your own. As you would expect from a Japanese developed game, the boss fights are extremely crazy and over the top but that is what makes the game so unique. Talking of unique, the visuals are also what makes the game stand out  from the crowd and if any you have played Suda51's Killer7 then you will certainly know what to expect.
Taking the title away from Wii does bring in some concerns though as there were some features included in the game which cannot be done on the Xbox 360 or PlayStation 3 in the same way. Motion controls aside, the game used the speaker built into the Wii remote brilliantly. The main use of it was to take phonecalls but various other chatter/dialogue also came through the speaker. Maybe the development team could overcome that hurdle by using the Xbox 360 or PS3 headsets to take phonecalls?! I'm sure we will find out soon enough, for now check out some lovely screenshots of the game below.