Forza Horizon Soundtrack & Season Pass Unveiled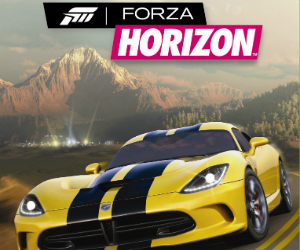 The latest Forza game is on the Horizon (ho ho ho), which makes it the perfect time to reveal some more info about the game.
Horizon looks to be an interesting diversion from the simulation-focused nature of Forza Motorsport, and the recently revealed soundtrack certainly seems to back this up.
Consisting of 65 tracks from 60 different artists compiled by BBC Radio DJ Rob da Bank, Forza Horizon splits these tunes into three fictional radio stations:
Horizon Bass Arena:
This station promises "A bleeding-edge mix of the latest electronic and dance music, from dubstep to electro to drum & bass. If it's got bass, you'll find it here."
Levels (Skrillex Mix) – Avicii
Reckless (With Your Love) – Azari & III
Cinema (Skrillex Remix) – Benny Benassi
Blind Faith (feat. Liam Bailey) – Chase & Status
Hot Mess (feat Elly Jackson) (Duck Sauce Mix) – Chromeo
Encore – Digitalism
The Power (feat. Dizzee Rascal) – DJ Fresh
Silicone Lube – Feed Me
Lies (Alex Metric Remix) – Fenech-Soler
Icarus – Madeon
Show Me A Sign – Modestep
Lick The Rainbow – Mord Fustang
Remanence (Junior Remix) – Mr Magnetik
Me & You – Nero
Reaching Out (Fred Falke Remix) – Nero
Blue Monday – New Order
Language – Porter Robinson
Everyday (Netsky VIP Remix) – Rusko
Somebody to Love (Sigma Remix) – Rusko
The Hope – Scuba
Bass 4 – The Hacker
Illmerica (Extended Version) – Wolfgang Gartner
Horizon Pulse:
If electronic and dance music isn't your thing, you can also go for "An eclectic selection of indie festival favourites, remixed to keep you driving"
Need You Now – Cut Copy
Awake – Electric Guest
Walking on a Dream – Empire of the Sun
Iron Deer Dream (Chad Valley Remix) – Fixers
Don't Stop (Color on the Walls) – Foster The People
Hawaiian Air – Friendly Fires
Hurting – Friendly Fires
No Love – Hooray for Earth
Over & Over – Hot Chip
Black, White and Blue – Ladyhawke
Let Me Go – Maverick Sabre
Paddling Out – Miike Snow
Life is Life (Yuksek Remix) – Noah and the Whale
Take A Walk – Passion Pit
1901 – Phoenix
Bom Bom – Sam and the Womp
Disparate Youth – Santigold
Spirit of the Night – Tesla Boy
Pelican – The Maccabees
Punching in a Dream – The Naked & Famous
Aroused – Tom Vek
Horizon Rocks:
For those who sit on the rockier side of the fence – "If it's got guitars in it, it's here. Whether these bands are hitting the festival scene for the first time in 2012 or are legends reforming for one last gig, you'll find a diverse selection of music on this station, all turned up to eleven."
Something Good Can Work (The Twelves Remix) – Two Door Cinema Club
Yeah Yeah – Willy Moon
R U Mine – Arctic Monkeys
Lonely Boy – Black Keys
The Infected – Four Year Strong
Back of your Neck – Howler
Give It Up – LCD Soundsystem
Bring Em Down – Lostprophets
We Bring An Arsenal – Lostprophets
Teenager – Mona
Animal – Neon Trees
Wildfire, Smoke & Doom – Pulled Apart By Horses
Lazy Eye – Silversun Pickups
Surrender – The Duke Spirit
Away from Here – The Enemy
Had Enough – The Enemy
Hate To Say I Told You – The Hives
She Bangs The Drums – The Stone Roses
Rock n Roll Queen – The Subways
Motoring – TOY
Bug – Wavves
Farewell to the Fairground – White Lies
Bite My Tongue (feat. Oli Sykes) – You Me At Six
Get Away – Yuck
Finally, Microsoft have also announced that the Forza Horizon Season Pass will be available from 26th October. At the price of a whopping 4000 Microsoft Points (£49.99), this will give you a 17% saving on the game's Expansion Pack (available on December 18th) as well as six new car packs available throughout the next year, each one containing six cars. You'll also get five exclusive season pass vehicles and a "launch day pack".
Forza Horizon will be available on 26th October in Europe, exclusively for Xbox 360.