PES 2012 Preview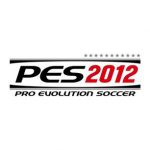 PES v FIFA is the eternal battle of the modern football (soccer) simulation, and is a battle which PES dominated last generation, reigning supreme in the PlayStation 2 era. Since then Konami have had some difficulty finding solid ground, falling behind in the current generation. Things changed last year though, with a process of revolution rather than evolution putting the series back on the map.
With PES 2011 Konami proved that an old engine can still produce new tricks, and this year they are improving existing features and adding more in the hope of creating a more complete footballing simulation.
The first thing that hits you when playing almost any game is the visuals, and it is fair to say that PES 2012 is looking very much like PES 2011. This isn't a massive surprise, as 2011 looked great and any cosmetic change or update is usually undertaken much closer to release.
One thing that has been implimented at the pre-alpha stage we saw, is a new camera angle. Each stadium will have a unique camera angle which mimics that of its real life counterpart. This is a really nice little feature which goes a long way to recreating the atmosphere of our most beloved stadiums. The camera angle can of course be changed to the good old default or tweaked to an individuals preference.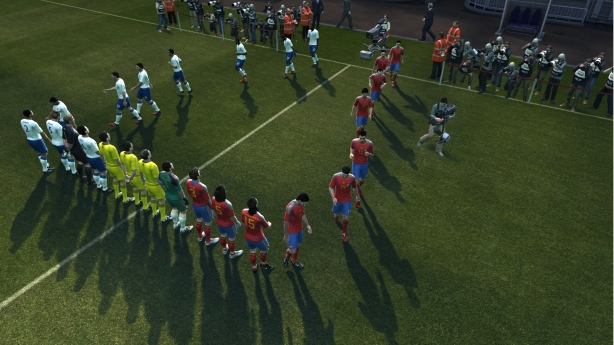 Passing once again feels great, mostly because it works very much like passing did in 2011. The power bar does a great job of letting players weight passes to create good, free flowing moves. The major change with regards to passing this year though, comes in the form of a passing slider. The slider ranges from 1 to 5, allowing passing to range from fully manual to fully automatic. Choice is always a good, and the slider is a welcome addition. At the time of playing there wasn't a similar slider for shooting, but it is something we will certainly look out for in future play sessions.
Movement on the ball has been greatly improved, and the precision dribbling which already existed in previous entries in the series has been ramped up to allow far greater control over the ball in tight situations. Taking control of a player like Messi now feels better, as you can terrorize defenses like never before. Weaving in and out in tight situations is a lot of fun, and if your opponent has not got a strong grip of the defensive system then they will end up on the wrong side of a mauling.
With new attacking options available, the defensive AI has been improved to bring balance to the footballing force. Computer controlled defenders now track back and follow runners to ensure attacking players are not left alone in the box. As a result, getting down the line and throwing in a cross is less effective, as a physical battle ensues in the box.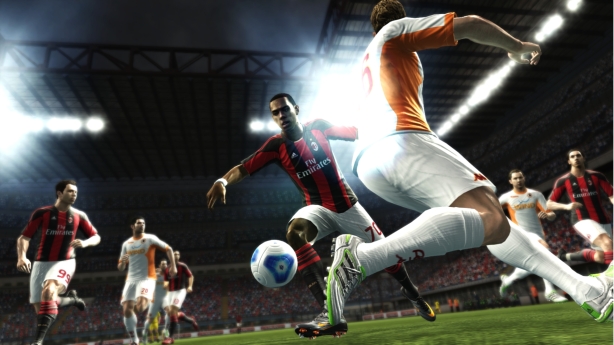 Free kicks and set pieces in general took us by surprise, as we hardly expected any major changes in this department, yet there most certainly were some! You now have the option to control the player receiving the ball instead of focusing solely on the free kick taker. The new feature makes for some interesting gameplay with attacking players trying to steal a march, whilst their defensive counterparts attempt to keep up. It all feels rather innovative and makes set pieces far more interesting.
As mentioned, we played a pre Alpha, nowhere near complete version of PES 2012. Keepers require some work to reach an acceptable standard of goal tending, whilst shooting still feels a little floaty. These niggles can be ironed out and we fully expect Konami to deliver in time for launch.
Improved dribbling, manual passing, defensive AI and intriguing set pieces; it is all looking rather good for Pro Evolution Soccer 2012, we can only hope that these improved features come together to create Konami's best simulation of the beautiful game.
[nggallery id=443]
PES 2012 will be released for PlayStation 3, Xbox 360, PC-DVD, Nintendo Wii, PSP and PlayStation 2 this Autumn.